Orange Russian tomato: growing this orange oxheart tomato
The tomato variety 'Orange Russian' stands out with its flaming orange-red colouring. Here is our guide to the weird and wonderful oxheart 'Orange Russian' tomato.
The beautiful 'Orange Russian' tomato is known for its delicious, large fruits. Here is everything you need to know about this two-toned fruit, from its history to its characteristics and how to grow it.
'Orange Russian' tomato: profile
| | |
| --- | --- |
| Other names | 'Orange Russian 117' |
| Fruit | Beefsteak tomato; orange-red striped with yellow and pink mottling |
| Taste | Fruity, sweet |
| Ripening time | Mid-season |
| Growth | Indeterminate, up to 2 m in height |
| Location | Greenhouse, outdoors with protection |
Origin and history
Despite its name, the 'Orange Russian' tomato variety actually comes from California. It was first bred by Jeff Dawson by crossing the 'Russian 117' and 'Georgia Streak' tomato varieties. This explains the tomato's real name, 'Orange Russian 117', but the number is often left out. As a collector's variety, this unique oxheart tomato has become a firm favourite with tomato lovers all over the world.
Quality and characteristics of the 'Orange Russian' tomato
The 'Orange Russian' variety grows to about two metres high. Its fruits are heart-shaped, up to 10 centimetres in size and weigh as much as 300 grams. They turn an attractive orange-red striped colour with yellow and pink mottling when ripe. The tomatoes ripen mid-late season and can be harvested for the first time from mid-August. 'Orange Russian' tastes fruity and sweet, with soft, melt-in-the-mouth flesh that has very few seeds. It is an heirloom variety, which means you can harvest and save the tomato seeds to sow again the following season.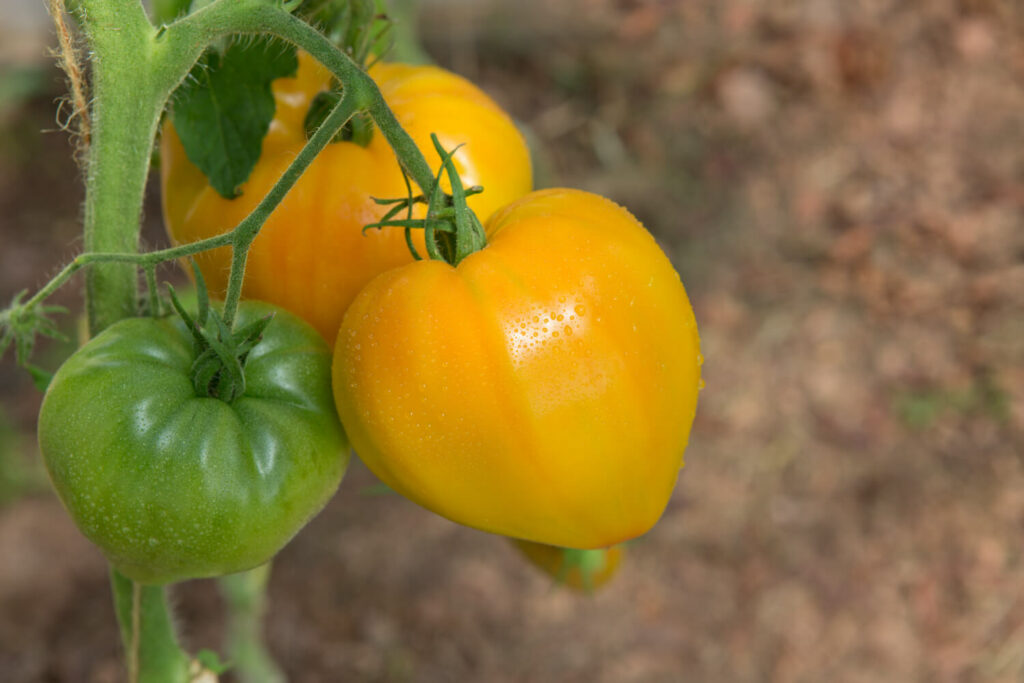 Caring for and cultivating 'Orange Russian' tomato plants
The 'Orange Russian' tomato needs a warm and protected location to truly thrive. When grown outdoors without proper shelter from the rain, the tomato plants are very susceptible to fungal diseases. They also tend to have less vigorous growth and produce poor yields. In the greenhouse, on the other hand, the plants can produce an abundance of fruit and, with the right care, remain healthy for a long time. Avoid high humidity as this can lead to diseases such as tomato leaf mould (Cladosporium fulvum). Young plants can be transplanted into the greenhouse from the beginning of May, or outside only after the last threat of frost has passed, usually around mid-May. For difficult soils that are heavy, compacted or nutrient-poor, we recommend mixing in some of our Plantura Organic Tomato & Vegetable Compost when planting. After planting, do not forget to water and support the tall-growing 'Orange Russian' by tying it to a stake.
Organic Tomato & Vegetable Compost, 40L
Perfect for tomatoes & other vegetables such as chillies, courgettes & more
For strong & healthy plant growth as well as an abundant vegetable harvest
Peat-free & organic soil: CO2-saving composition
All oxheart tomatoes, including the 'Orange Russian', can be grown with either one or two shoots. When cultivating 'Orange Russian' tomato plants with two shoots, simply leave one of the lowest side shoots and pinch out all the others. Pruning the tomatoes must be repeated regularly to remove any suckers. As soon as the plants start to form flowers, fertilise your tomato plants. Our Plantura Tomato Food is easy to apply by working it into the soil, where it is broken down slowly by the soil organisms. When growing outdoors and in greenhouses, watering and mulching tomatoes is essential to keep your plants happy and healthy.
Tomato Food, 1.5kg
Perfect for tomatoes, chillies, courgettes, cucumber & more
For healthy plants & an abundant tomato harvest
Long-lasting fertiliser that is free from animal products - child & pet friendly
Harvest and use
'Orange Russian' tomatoes are best enjoyed fresh when their fruity-sweet aroma is at its peak. They are also perfect for making bright orange tomato soup that is packed with flavour.
There are a few things to bear in mind when growing tomatoes in a greenhouse. Here are tips on selecting a greenhouse, choosing varieties and growing nightshade plants.