Paul Robeson tomato: height, history & plant care
The 'Paul Robeson' tomato variety has a distinctively dark colour and tangy taste. Read on for our top tips on how to grow and care for the 'Paul Robeson' tomato.
The 'Paul Robeson' heirloom tomato ripens early, allowing you to enjoy its alluringly tangy and fruity dark tomato flavour from the end of July. Keep reading to find out everything about this one-of-a-kind vine tomato, as well as how to grow it.
'Paul Robeson' tomato: profile
| | |
| --- | --- |
| Fruit | Salad tomato; dark red to brownish with olive to dark green tops |
| Flavour | Fruity, tangy-sweet |
| Ripening time | Early |
| Growth | Indeterminate, up to 2 m |
| Location | Greenhouse, sheltered spot outdoors |
History of the tomato variety
The 'Paul Robeson' tomato originally comes from Siberia but is named after the American Paul Robeson. The actor, sportsman, and civil rights activist was also famous in Russia, and so this dark salad tomato was honoured with his name.
Taste and properties
'Paul Robeson' tomato plants grow up to two metres high, have little foliage and look somewhat light and bare. The round to oval-round fruits weigh about 100 grams and measure about five to seven centimetres in diameter. This early salad tomato ripens from the end of July onwards, turning dark red to brownish and olive to dark green on top. The 'Paul Robeson' tomato tastes fruity and tangy-sweet, like many dark tomato varieties. As it is an heirloom tomato variety, you can save 'Paul Robeson' tomato seeds to grow again and again. For instructions on how to save tomato seeds, check out our dedicated article.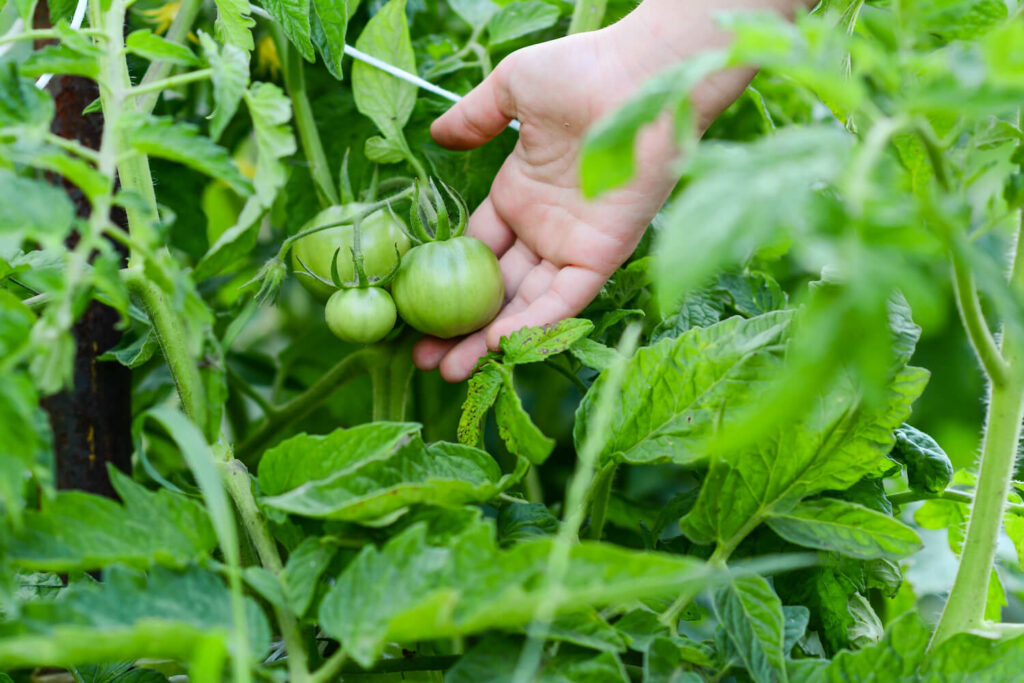 'Paul Robeson' tomato: planting and care
This alluringly dark variety grows best in the greenhouse or even as an outdoor tomato. However, the thin-skinned fruits tend to burst when it rains, so choose a sheltered location. Plant the 'Paul Robeson' tomato in the greenhouse from the beginning of May and outdoors after the middle of May. Before planting outdoors, harden off the plants for 7-14 days in a cold frame or sheltered spot, to allow the plants to gradually acclimatise. When planting in topsoil, we recommend adding our Plantura Organic Tomato & Vegetable Compost. The compost revitalises and promotes soil life and improves the soil structure in difficult soils in the long term. Place the young tomato plant in a deep planting hole with part of its stem beneath the topsoil surface to help support its tall height; new roots will form on the submerged stalk, giving the plant more strength. Remove any leaves that will be buried under the soil. Fill the planting hole with soil and lightly press it down around the plant.
Organic Tomato & Vegetable Compost, 40L
Perfect for tomatoes & other vegetables such as chillies, courgettes & more
For strong & healthy plant growth as well as an abundant vegetable harvest
Peat-free & organic soil: CO2-saving composition
Pinching out is another aspect you need to consider with the 'Paul Robeson' tomato plant. Growing your plant with two stems can result in a richer harvest of the delicious salad fruits. Pinch out all side shoots growing from the leaf axils (point where an offshoot branches off from the main stalk); Leave one of the lowest side shoots growing on the plant as this will become the second main stem. Stake this second main stem. Fertilise for the first time in June, as the fruit begins to grow. Using a natural slow-release fertiliser, such as our Plantura Tomato Food, supplies the plants evenly with nutrients over a long period of time. Unlike mineral fertilisers, these plant-based granules have a positive effect on soil life and release nutrients gradually. Apply the tomato fertiliser to the soil surface around the tomato plants and water the plants evenly.
Tomato Food, 1.5kg
Perfect for tomatoes, chillies, courgettes, cucumber & more
For healthy plants & an abundant tomato harvest
Long-lasting fertiliser that is free from animal products - child & pet friendly
Harvesting and using 'Paul Robeson' tomatoes
From the end of July, it is finally time to harvest the first ripe fruits of the 'Paul Robeson'. The tasty tomatoes are best eaten fresh, as a snack or in a salad. This tomato also gives a unique dark colour and tangy-sweet flavour to sauces and preserves.
When growing tomatoes outdoors or in a greenhouse, you should be mindful of each plant's neighbours. Learn everything about the concept of companion planting with tomatoes and find out how planting your tomatoes next to the right neighbours can protect them from pests and disease.