Tomato varieties: the 60 best new & heirloom varieties
According to experts, there are over 35,000 different tomato varieties worldwide. We compiled a list of the best varieties of tomatoes.
The tomato (Solanum lycopersicum) has an enormity of varieties. Based on expert estimates, there are over 35,000 different varieties worldwide. With this information in mind, it's all the more surprising that most supermarket shelves offer just three or four different types of tomatoes. However, you can explore the full potential of various tomato types in your own garden (or on your balcony). We have compiled the best varieties for you below, so that you can find the right variety for yourself. The list below is a brief introduction to the various types of tomato plants and will hopefully help you decide which of them fits you the best!
Generally speaking, there is no official classification of tomatoes. Tomatoes are usually sorted according to their size, shape, resistance or colour. In agricultural context, tomatoes are also often classified according to their growth type (determinate/indeterminate) and intended use. Size, shape, resistance and colour can vary greatly between varieties. A wild tomato can be tiny, while an ox-heart tomato may weigh up to 1.5 kg. Before we share the best varieties with you, we will explain what the term tomato resistance means.
What are resistant tomato varieties?
Mildly resistant varieties: infestation is less severe than with ordinary varieties.
Tolerant varieties: although these varieties are not completely resilient to diseases, they are usually hardly affected and do not die as easily from the disease in question.
Resistant varieties: in contrast to mildly resistant and tolerant varieties, resistant varieties are completely immune to the corresponding pathogen. There are modern varieties for example that are resistant to Fusarium wilt or spotted disease. At present, there is no completely resistant variety against tomato blight.
We compiled a list of the best tomato varieties with brief introductions that hopefully help you choose a suitable variety to grow on your own.
Tip: The right fertilisation also makes tomato varieties more resistant. Therefore, use a high-quality fertiliser with long-term effect such as our Plantura Tomato Food.
Tomato Food, 1.5kg
Perfect for tomatoes, chillies, courgettes, cucumber & more
For healthy plants & an abundant tomato harvest
Long-lasting fertiliser that is free from animal products - child & pet friendly
Stake tomato varieties
Stake tomatoes are one of the most widespread tomato varieties, accounting for about 70 percent of world tomato cultivation. Typically the on average medium sized fruits have two chambers. They grow during the entire vegetation period (180 to over 200 cm) and therefore require some kind of support such as rods or strings. The tomatoes constantly form new leaves and blossoms up until autumn. Regular removal of the side shoots will ensure good ripening of the fruit even at home in your own garden.
Hellfrucht/Hilmar: this open pollinated variety bears medium sized, red fruits. It can reach a decent height and is quite resilient even in gardening pots. It is very popular due to its pleasant fruity taste. It is an old variety you can enjoy fresh or use in purees and soups.
Harzfeuer F1: the first German F1 hybrid with dark red, round fruit and an aromatic sweet taste. It is very robust and resistant to most diseases. It can be grown outdoors, in a greenhouse or in a pot of your choice.
Red Zebra: the medium-sized, red-yellow striped tomatoes are an absolute eye-catcher and characteristic for their surprisingly spicy but also fruity aroma. Due to its possible height of approx. 2.5 m, this variety requires a growth aid, but can also be planted in containers.
Wintertomate: starting in July this variety forms small, heart-shaped tomatoes that have a beautiful red shine and a delicious aroma. The harvest period for this variety is relatively long.
Green Bell Pepper: variety with green flame-like colouring on the strongly ribbed tomatoes. The juicy fruits are almost hollow on the inside, and due to their spicy taste very suitable for filling. Growth aid is recommended as they grow up to 2 metres tall.
Philona F1: this F1 hybrid has a very broad resistance against many diseases. In addition, the fruits of this variety have an excellent aroma and are particularly popular with hobby gardeners.
Phantasia F1: F1 hybrid with high resistance to herbaceous and brown rot as well as resistance to powdery mildew. This variety bears large, round fruit and its great aroma makes it an ideal ingredient for salads or Italian cuisine inspired dishes.
Green Zebra: an old variety with striking flame-like colour. These tomatoes remain green and with yellow stripes. They are popular as a snack, in salads, as a base for soups and other dishes. This fruity and aromatic variety is perfect for growing in greenhouses, outdoors or on the balcony.
Gold Stripe: as the name suggests, the 50 to 200-gram red tomatoes are decorated with gold stripes. Moreover, this variety is known for its excellent flavour and is suitable to grow outdoors, in a greenhouse or a pot.
Sacher (Chocolate Tomato) F1: this F1 hybrid owes its name to its dark skin colour and its fruity-sweet aroma. The flesh of the slightly flat tomatoes is also dark. It is quite resistant to viruses and has a high lycopene content.
Goldene Königin: a very old and proven variety that carries bright golden yellow tomatoes. This type is juicy and has a mild but pleasant fruity aroma. The approximately 100 cm tall plants are particularly suitable for the outdoors and require a branch or a rod to support them.
Matina: extremely resilient and reliable variety with round, large fruits and a multi-chambered flesh with a fruity aroma. It is fairly resistant against many tomato diseases and a real eye-catcher in the garden due to its striking potato-like leaves.
Moneymaker: this old English tomato variety is extremely productive and bears bright red, fleshy fruit with a very good aroma. They are ideal for tomato mozzarella salad.
Auriga: an open pollinated stake tomato variety with bright red-orange fruits that have a great sweet-sour aroma.
Deutscher Fleiß: an old German variety with red, round fruits and a balanced sweet-sour aroma. The potato-leaved plant prefers a growth aid. Monitor the growth of the shoots and adjust regularly.
De Berao: traditional variety from Russia; height of up to three meters. It is one of the largest tomato varieties. This tomato type can bear plenty of fruit which is particularly great in sauces. It is also resistant to herbaceous and brown rot.
Bush and vine tomato varieties
As soon as leaves and flowers have formed, the shoots of bush or vine tomatoes stop growing and form side shoots with new inflorescences. This makes the plants very branched, but also very compact (height 30 to 150 cm). Bush and vine tomatoes are therefore ideal for pots and planters (and thus ideal for terraces and balconies) as they usually do not require support.
Hoffmanns Rentita: due to its compact growth, this old variety is ideal for planting in a pot on a balcony or a terrace. It bears numerous, bright red tomatoes with a pleasantly spicy aroma.
Vilma: a typical balcony tomato that takes up very little space. The variety bears abundant aromatic fruit and is naturally resistant to cold, wet and disease.
Quedlinburger Frühe Liebe: this former GDR variety produces small, round fruit and is among the earliest tomatoes to be harvested from the beginning of July. Its foliage reminiscent of potato plants is also striking.
Little Red Riding Hood: a potato-leaved, tried and true tomato variety from the former GDR, which carries lightly ribbed, red tomatoes. Their compact growth makes them ideal for balconies.
Lyterno F1: a F1 vine tomato variety with round, deep red fruit. Interestingly, this variety has an extremely high lycopene content and is rich in antioxidants. Also, this tomato type is fairly resilient and its fruits are very tasty.
Cocktail tomato varieties
All small varieties with a fruit weight of 20 to 60 g are called cocktail tomatoes. As the plants also tend to be small, they require little space and are ideal for growing in pots. Cocktail tomatoes are extremely aromatic and can have different shapes depending on the variety.
Tropical F1: F1 hybrid with good resistance to Fusarium wilt, Cladosporiumleaf mold, tomato mosaic virus and nematodes. The dark red fruits have an excellent taste and are versatile.
Santorange F1: F1 hybrid with rich orange plum-shaped fruit and outstanding sweet aroma.
Yellow Pear: This old variety is also known as 'Yellow Pearshaped' and these pear-shaped tomatoes are striking for their deliciously sweet taste.
Katinka: an absolute aroma wonder! This variety carries very small, orange tomatoes with an excellent sweet fruity taste.
Fahrenheit Blue: this new variety bears sweet fruit that ripens from a rich dark blue to a bright red. Due to its height of almost 2 metres, this variety needs a growth aid.
Blue Pitts: an absolute stunner for every garden! Small dark blue-purple tomatoes turn into a rich dark red colour when ripe. The firm flesh impresses with a slightly sweet aroma.
Helsing Junction Blues: an American variety with initially blue and when fully ripe dark purple to red fruits.
Dancing with Smurfs: the dark blue, slightly violet tomatoes are an eye-catcher in any vegetable garden. When fully ripe, the fruit get light red blush and has a slightly sweet but spicy aroma.
Bosque Blue: this variety has an extraordinary blue colour. When fully ripe, the tomatoes turn violet-red and develop spicy-fruity aroma. However, outdoors this variety is very susceptible to brown rot and should therefore be planted in a greenhouse.
Tigerella: the small, red tomatoes are decorated with fine, yellow stripes and have an impressing sweet, fruity and spicy aroma. This old variety is suitable for both growing outside and in a greenhouse.
Giant Grape: this old variety originally comes from Germany and is one of the most productive tomato varieties. Hundreds of flowers form on the panicles, from which up to 40 small red tomatoes develop. The fruits have a mild, slightly sweet-sour aroma.
Cherry tomato varieties
All small varieties with a fruit weight of up to 20 g are cherry tomato plants. The mostly very sweet tomatoes can have a round, oval or oblong fruit shape. The colour spectrum of these tomato types is extremely varied.
Primavera: a variety with open pollinated seeds with bright red fruit and good resistance to herbaceous and brown rot. The juicy flesh tastes wonderfully fruity.
Heartbreaker's Vita: very resilient variety with beautiful, heart-shaped tomatoes. The fruits are juicy and have a pleasant sweet aroma.
Black Cherry: the 'Chocolate Cherry' variety has many dark red tomatoes with an extremely aromatic flavour. It can be grown outdoors or in a greenhouse.
Philovita F1: this F1 hybrid is highly tolerant to herbaceous and brown rot. The very juicy yet crunchy tomatoes have an excellent flavour.
Lizzano F1: F1 hybrid with good resistance to herbaceous and brown rot. The overhanging shoots make it an ideal variety for cultivation in pots or hanging planters. The fruits of this variety are bright red and have a sweet aroma.
Romello: this mini plum tomato is bright red in colour and tastes pleasantly fruity-sweet. As an F1 hybrid, the variety is tolerant to herbaceous and brown rot; ideal for growing in hanging planters.
Limetto F1: a resilient hybrid variety with lime green tomatoes and a special fresh fruity aroma. Once the cherry tomatoes turn yellowish, their taste is perfectly ripe. Due to their resistance to tomato mosaic virus, Fusarium and Verticillium wilt, Cladosporium leaf mold and Stemphylium leaf spots, they grow well outdoors and in greenhouses.
Gardener's Delight: the small tomatoes ripen bright red and their flesh is pleasantly sweet in taste. An ideal variety for planting in pots.
Roma tomato varieties and San Marzano tomato varieties
Due to their elongated and cylindrical shape, Roma tomatoes are sometimes referred to as egg-tomatoes. Because of these varieties are quite fleshy and contain fewer seeds, they are ideal for preserving, cooking or making sauces.
Old Ivory Egg: this variety is especially characteristic for its bottle-shaped fruits with a sweet and spicy aroma. This type of tomato is also quite resilient.
Orange Banana: this variety originated from Russia. Its fruit becomes bright orange after ripening. They also have a sweetish aroma and texture.
Striped Roman: the juicy flesh is very firm, with only a few seeds, and has a sweet, spicy and fruity aroma. In a warm location (greenhouse or by a house wall) this variety can be very productive. The fruit of this variety is exceptional in its cylindrical form and a pattern with yellow longitudinal stripes.
Meaty tomato varieties
The large fruits of the meaty tomatoes have many chambers and can weigh anywhere between 100 g and more than 1 kg. The best known types are 'Ox-heart' – bag-shaped fruits and 'Marmande' – ribbed tomatoes. These varieties prefer a very warm and sunny location to develop their excellent aroma.
Ox-heart: (Syn.: Coeur de Boeuf, Cuore di Bue, Bulls Heart- or Giant Ox-Heart Tomato) an old tomato variety, which came from Hungary to America around 1900, is probably the best known 'meaty tomato'. The very large fruits rather lack in seeds and are sweet.
Brandywine: an old, heirloom tomato with a history tracing back to around 1885. It owes its name to the river Brandywine Creek in southern Pennsylvania. The large, fleshy tomatoes have a very good taste and the potato-like leaves are simply beautiful.
White Beauty: very unusual variety of tomatoes, which stand out due to their white skin. The flesh is low in acidity; so to speak 'melts' on the tongue. This plant is very robust and brings rich harvests even in the open air.
Saint Pierre: a very old and popular variety that originates from France. The fruits are large, juicy but firm and have a fruity aroma.
Marmande: an old variety from Italy with tomatoes that weigh up to 500 g. The multi-chambered flesh of this variety has a strong tomato aroma.
Voyage: a unique variety with a curious and distinct fruit shape. The fruits have ribs, which can be easily broken off without losing much of the fruit juice – makes them ideal for travelling! The flesh has a spicy, slightly sour taste.
Paul Robson: very old American variety with fruits that upon ripening reach a brown-red colour. The thick-fleshed tomatoes are extremely juicy and known for their very strong and distinct flavour.
Pineapple: very late ripening variety with strongly ribbed fruits; orange-red in colour and they have an interesting pattern with yellow marbling. Their soft, juicy flesh has a wonderful fruity-sweet aroma.
Red Russian: an old variety with very large, deep red tomatoes, that are ribbed and taste very aromatic.
Black Krim: an old variety from Russia especially popular in France. The somewhat irregular fruits ripen brown-red and enchant with their incomparably spicy taste. However, this plant is somewhat susceptible to late blight and should therefore be planted in a protected place.
Tchernij Printz/Black Prince: an old robust variety from Russia, whose large fruits have an astonishing dark red colour. The fleshy tomatoes are very juicy and have a spicy yet fruity-sweet aroma.
Paprika tomato varieties
Contrary to what the name of these varieties might suggest, these are not in fact crosses between tomato and pepper. The most striking characteristic of these varieties is the shape, that is quite similar to that of a bell pepper.
Licobello: this variety bears distinct paprika-shaped fruit. The shiny red tomatoes taste pleasantly fruity. These plants are vigorous and robust and produce plenty of fruit both outdoors and in a greenhouse.
Yellow Stuffer: a hollow fruity variety with large yellow tomatoes. Their shape is reminiscent of a bell pepper. They are particularly suitable to for stuffed tomatoes.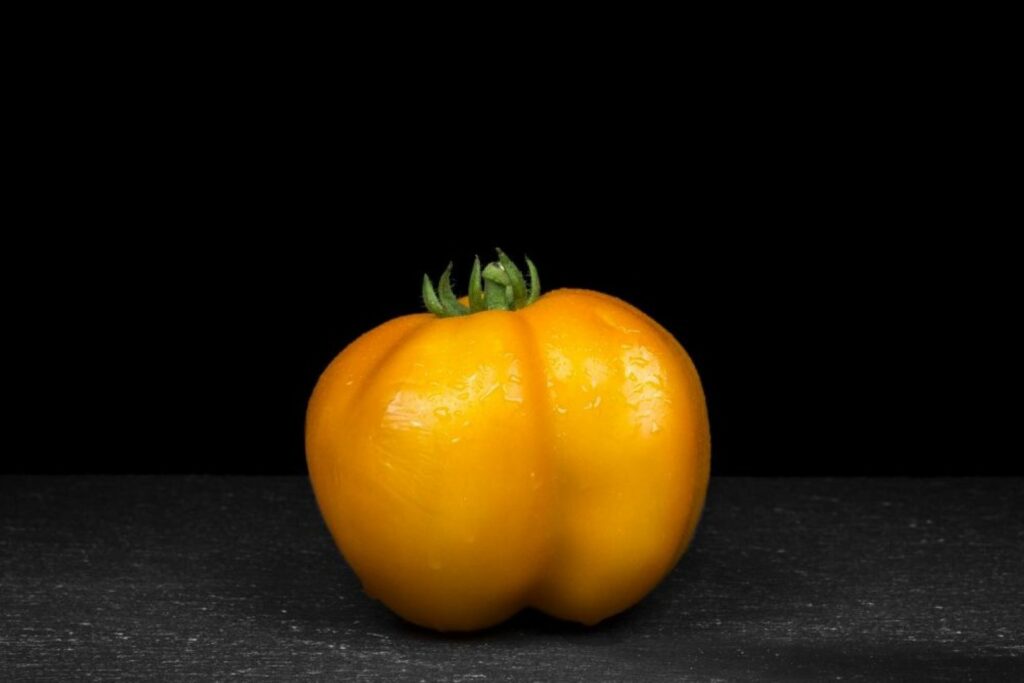 Wild tomatoes
Wild tomatoes are natural species that adapted to their habitat by natural selection. In other words, they have not been altered by intentional breeding. This makes them naturally strong and resistant to diseases or pests in their habitat. These are three varieties, very similar to the real wild tomato but selected from wild species or crossed with garden tomatoes.
Rote Murmel: this variety bears very small, pink tomatoes, producing a lush harvest. Their sweet flavour will tempt you to snack on.
Red Currant Tomato: the name says it all! The small tomatoes from the Andes resemble currants in size, shape and their bright red colour. However, they are extremely sweet and their scent differs greatly from classic tomato aroma. This variety is also particularly resistant to diseases such as late blight and brown rot.
Golden Currant: the golden yellow tomato bears many small fruits that resemble currants and taste wonderfully sweet. A stick or a rod will help the individual shoots to stand and grow nicely. The variety is naturally insensitive to herbaceous and brown rot and other diseases.
If you have now decided on one or more varieties, you will find everything you need to know about sowing and planting tomatoes in this article.
Organic Tomato & Vegetable Compost, 40L
Perfect for tomatoes & other vegetables such as chillies, courgettes & more
For strong & healthy plant growth as well as an abundant vegetable harvest
Peat-free & organic soil: CO2-saving composition