Climbing plants: the best climbers for walls & fences
Do you prefer flowering fences over plain old privacy screens? Check out these ten plants that will turn your garden wall into a beautiful living centrepiece.
If you want to enjoy your garden in peace and quiet without being disturbed by nosy neighbours or passers-by, a fence or a wall is often the only option. Unfortunately, privacy screens are often anything but elegant and tend to clash with the otherwise green garden. Fortunately, nature provides a great solution to this problem in the form of climbing plants. Climbing plants wind their way up walls and fences effortlessly and, while doing so, look enchanting with their colourful flowers and green leaves. Ivy is not the only climbing plant you can use to add greenery to walls and fences.
Read on to find out about 10 alternative climbing plants which you can use to spruce up your walls and fences and that are perfect for turning your privacy screen into a thing of beauty.
1. Morning glory
Unlike perennial climbers that often take years to grow to full size, the Mexican morning glory (Ipomoea tricolor) is a fast growing climbing plant. Sown in spring, the vines will be winding elegantly along walls and fences by summer and can reach impressive heights of up to three metres. Climbing morning glory plants are particularly suited to sunny, sheltered locations. In summer, water and fertilise it regularly to ensure an abundance of radiant flowers. The large, trumpet-shaped flowers are gorgeous: when they first emerge, they are pink, and later then change to sky blue with a touch of white and yellow towards the centre – a magnificent display.
2. Sweet pea
For those not only looking for beautiful sight but a lovely scent too, sweet pea (Lathyrus odoratus) is the plant for you. The annual climber is especially vigorous and can grow up to three metres high. From June to August, these climbing sweet pea plants produce lots of delicate flowers in violet, red, pink or white. But the plant is not only a feast for the eyes – the flowers of the sweet pea exude a wonderfully intense fragrance.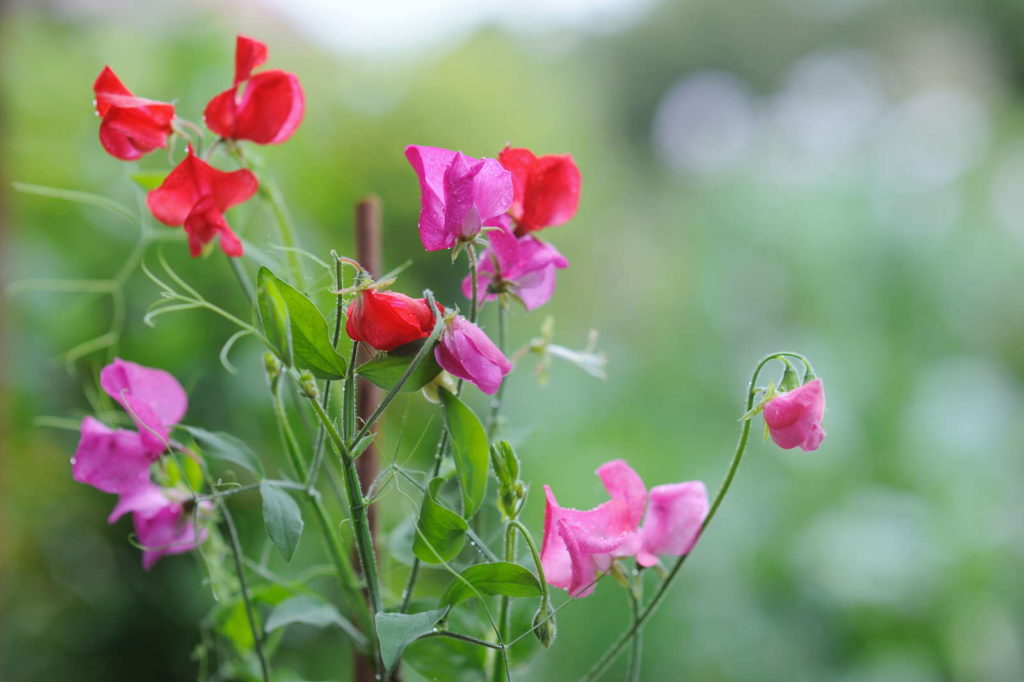 Sweet pea climbers prefer a spot in full sun with shelter from the wind as well as regular fertilisation and watering (but make sure to avoid waterlogging). A plant-based fertiliser, such as our Plantura Flower Food, ensures a longer flowering period for sweet peas and other flowering plants. While they make an elegant climbing plant on a fence or wall – sweet peas are also romantic in a bouquet or in a vase.
3. Black-eyed Susan vine
Intensely coloured flowers with a deep black eye in the centre: the flowers of the climbing black-eyed Susan (Thunbergia alata) are very striking. This climber feels most at home in sunny and warm places, and can reach an impressive height of two metres. In addition to its yellow or orange flowers, the black-eyed Susan is loved for its heart-shaped leaves. If given sufficient nutrients and regular watering (but be sure to avoid waterlogging), it will become a spectacular, decorative screen in no time at all.
4. Winter jasmine
While other plants are still dormant early in spring, winter jasmine (Jasminum nudiflorum) is already in full bloom, teeming with small, bright yellow flowers. Depending on the temperature, this spectacle can even take place before Christmas, making climbing winter jasmine undoubtedly one of the most beautiful colourful plants in winter. It retains its flowers until April and even after, this evergreen climber continues to be an ornamental staple in the garden. Its overhanging growth is particularly impressive along walls. Winter jasmine likes to grow in shaded areas. In sunny locations, the flowers are much smaller. Also, winter jasmine requires regular pruning to prevent it from becoming woody and withered.
5. Clematis
Clematis (Clematis) is one of the most fascinating climbing plants in European gardens. It can grow to an incredible height of ten metres! In May and June, the clematis also bears a blanket of delicate flowers that can shine in colours from brilliant white to dark purple, and sometimes, it even exudes a subtle fragrance. There is also a huge range of clematis varieties to choose from. The plant is not a self-climber, but rather a trellis plant: it needs support to grow on walls and fences. The clematis also likes to keep its feet cool – ground cover with a dense carpet of leaves helps create this cool environment and can also form a great visual combination with the elegantly climbing clematis.
6. Boston ivy
Perhaps you do not have a green thumb, but you still want a vibrant privacy screen? Then climbing Boston ivy (Parthenocissus tricuspidata) is just the plant for you. The extremely vigorous self-climber also grows over walls and high fences in record time. Boston ivy is particularly popular as a climbing plant for house facades because it does not need any climbing support but still reaches heights of up to 20 metres. But not only that, it requires hardly any care and is extremely hardy. However, regular pruning is necessary to keep the spreading of the vine in check. Boston ivy is stunning in autumn when its leaves turn scarlet, but the abundant green leaves also provide a charming image in summer. The small yellow flowers seem rather subtle, but are certainly not useless – as a bee-friendly plant, the flowers are a real feast for busy-bees and insects.
7. Climbing hydrangea
Large, white flowerheads against dark green, glossy foliage – the climbing hydrangea (Hydrangea anomala ssp. petiolaris) is a flowering delight. The hydrangea, with its many varieties, is a universally popular garden plant. Both free-standing and climbing, its breath-taking flowers and height of up to 15 metres make the hydrangea a fabulous addition to the garden. But this splendour of flowers is far from high maintenance: in fact, the hydrangea is extremely robust and easy to care for. Only the right location is essential – make sure the soil is neither too chalky nor too compacted. If you put it in the right spot, the hydrangea is perfect for greening walls and fences.
8. Climbing roses
Often when people think of flowering climbers, the first thing that comes to mind is the climbing rose (Rosa hybrids). The queen of flowers has always been one of the most popular plants in garden design and is also perfect for walls and fences. With their leathery dark leaves and lush blossoms, roses create a sight that is as enchanting as it is beautiful. And there is now a great deal of climbing rose varieties. With the right care, climbing roses can reach a height of up to 3.5 metres. But for the climbing rose to thrive, it needs the gardener's full attention. Make sure to prepare the location of the climbing rose before planting and fertilise your plant regularly. Regular pruning of the climbing rose and good winter protection are also essential to preserve the beauty of the rose for years to come.
9. Firethorn
The firethorn (Pyracantha hybrid) offers a splendour of colour all year round. From May to June, the shrub is covered with beautiful white blossoms, which, from October onwards, can be seen as glowing orange berries. As an evergreen shrub, the firethorn also displays its decorative glossy leaves throughout the seasons. Fortunately, the plant is also extremely easy to care for and very tolerant of pruning. In a light to semi-shady location with loose, nutrient-rich soil, the firethorn feels completely at home. In winter, make sure the firethorn is not exposed to strong, direct winter sun or cold winds.
10. Chinese wisteria
When Chinese wisteria (Wisteria sinensis), also known simply as wisteria, flowers in May, it transforms fences and walls into a sea of blossoms. With its huge panicles of flowers, often in blue, purple, pink or white, it is the unrivalled beauty of any garden. But even after climbing wisteria has finished flowering, it is an attractive garden ornament. In a warm and sunny spot in your garden, this plant will thrive. However, it needs a lot of regular watering, especially in summer. Pruning shears are also a must: prune back your Chinese wisteria regularly for spectacular flowering.
To find out more about climbing plants, why not take a look at our article on the most beautiful evergreen climbing plants to make privacy screens with.