Flowering hedge plants: the most beautiful winter-hardy hedges with flowers
Hedges covered in blossoms make much more attractive privacy screens than bare fences and walls. Here are our top 12 flowering hedge plants for your garden.
When we think of hedges, we often have the image of neatly trimmed, green hedge plants in mind. And no wonder! Classics like arborvitae (Thuja) or Lawson's cypress (Chamaecyparis lawsoniana) are still some of the most popular hedges we see in gardens today. But if you don't fancy the same old green hedges, you don't have to do without a privacy screen altogether. Flowering hedge plants are a beautiful alternative. Their changeability from season to season offers the variety that many gardeners miss with evergreen hedges. What's more, flowering hedges also enrich the biodiversity in the garden, attracting a variety of beneficial insects, and birds who find both nourishment and refuge in the hedges. We have put together a list of our twelve favourite flowering hedge plants for you below.
1. Ninebark
If you don't fancy boring green hedges, why not try ninebark (Physocarpus opulifolius). The 'Diabolo' variety, for example, is a real eye-catcher with its blood-red leaves that look almost black in the sunlight. Especially from May to June, this flowering hedge plant forms a dramatic feature when its creamy white flowers open. The red-leaved 'Diablo' or the yellow-leaved variety 'Dart's Gold' also display impressive flowers and foliage colouring. Ninebark is also popular because it is very easy to care for: it is not only winter hardy but also very robust. And with a height of up to three metres, ninebark forms a reliable screen in summer.
2. Flowering currant
Thanks to its robust nature, the flowering currant (Ribes sanguineum) is perfect for creating a low-maintenance flowering hedge. This hardy plant hardly needs any care apart from regular watering. And thanks to its dense branching and height of up to two metres, the plant makes an effective privacy screen. The plant's pretty red flowers appear from April to May and not only attract all eyes but are also a real magnet for beneficial insects. As an ornamental, the flowering currant produces only barely edible fruits that have a rather sour taste and are quite unpopular with humans. Birds, on the other hand, love the berries.
3. Barberry
Barberry is probably one of the best-known flowering hedge plants. The barberry (Berberis buxifolia 'Nana') has grown in popularity, especially recently, because it is considered a good substitute for box (Buxus). Barberry is particularly suitable for smaller hedges because it is very robust and tolerates pruning. In May, when the evergreen flowering hedge displays its golden-yellow flowers, it trumps the boxwood, attracting beneficial insects of all kinds. Its spherical, black-blue berries are then enjoyed by birds.
4. Wintersweet
A flowering hedge in winter? You need to see the beautiful wintersweet (Chimonanthus praecox) blossoms to believe it. In January or even before Christmas in milder winters, this yellow flowering hedge plant begins to display its splendour as its star-shaped flowers open. The exotic plant offers a ray of hope for people in winter as well as a welcome food source for beneficial insects in the barren months. With a height of up to three metres and a sparse growth habit, the winter flower is particularly suitable for mixed flowering hedges. However, it needs winter protection in the first few years. As soon as the wintersweet flower has established itself, it can easily withstand temperatures down to -10 °C, so it is considered winter hardy in most regions of the UK.
5. Common lilac
With its intense scent, the common lilac (Syringa vulgaris) is a welcome addition to many gardens. Lilac is not only a treat for the nose but as soon as the shrub displays its blue-violet flowers in May, the plant also becomes a real feast for the eyes. If you are looking for a low-maintenance flowering hedge, the hardy lilac is a great choice.
6. Sweet mock orange
With its strong jasmine fragrance and impressive abundance of flowers it's no wonder the sweet mock orange (Philadelphus coronarius) is also called false jasmine. Its intensely fragrant white flowers, which appear from May to June, make the mock orange hedge plant a wonderful addition to any garden. Beneficial insects also love sweet mock orange – it is considered a bee-friendly shrub. In a relatively short time, it can reach stately heights of up to four metres and looks particularly attractive with its slightly overhanging growth and matt, deciduous leaves. So, sweet mock orange is perfect for creating a flowering hedge for privacy protection.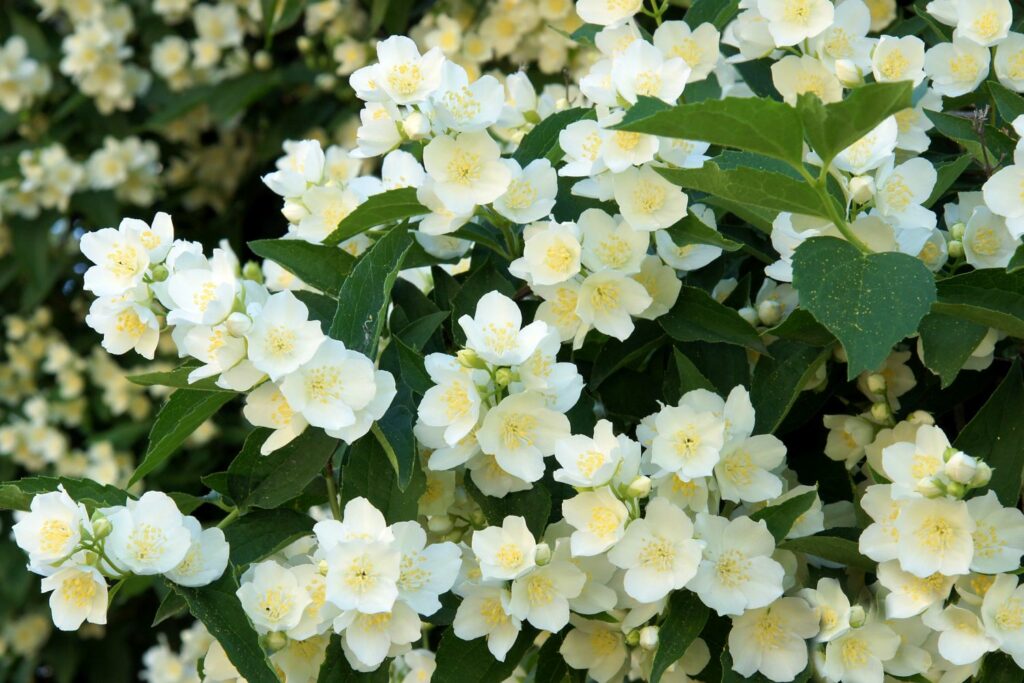 7. Beauty bush
Between May and June, the beauty bush (Kolkwitzia amabilis) is a stunning sight with its light pink, slightly shimmering flowers. The unique glow of its pastel-coloured flowers has even given the pink flowering hedge the pretty nickname "mother-of-pearl shrub". But the beauty bush is not just a treat for the eyes – when the hedge plant is in flower, it gives off a pleasant fragrance in the garden that also attracts lots of beneficial insects. Thanks to its rapid growth, which can be around 30 centimetres a year, and its particularly robust nature, this flowering hedge plant is ideal for creating a quick and low-maintenance screen in summer. In winter, on the other hand, it is less suitable as a screen, because although the flowering hedge is hardy, it gradually loses its leaves after a pretty autumn colouring.
8. Japanese snow flower
When talking about flowering hedges, you can't forget the Japanese snow flower (Deutzia gracilis). The Japanese snow flower puts on a luxuriant floral display of small star shaped flowers from May until June. During this time, the white flowering hedge fills the garden with a pleasant, sweet fragrance that is a real magnet for bees. With a height of up to one metre and its robust nature, this deciduous plant is particularly suitable for creating a small, flowering hedge.
9. Rose
For many people, a garden is not complete without roses (Rosa). However, not everyone knows that roses can also be wonderfully integrated into a privacy screen in the garden. In fact, flowering hedges of wild roses, such as the beach rose (Rosa rugosa) or the soft downy rose (Rosa mollis) are a great alternative to plain, ordinary hedges. The abundance of blooms, whose flowering time can vary greatly depending on the variety, attract not only people but also a wide variety of insects. In fact, wild roses provide a valuable food source for all kinds of beneficial insects – in contrast to the common cultivated roses, which are inaccessible to insects because of their double flowers. In late summer, a rose hedge will also delight you with its healthy rose hips, which are a tasty treat for humans and many bird species alike.
10. Blackthorn
If you want a practical hedge as well as a pretty screen, you should not be without blackthorn (Prunus spinosa). The sloe, as this flowering hedge plant is also called, is not just a beautiful sight with its rich display of blossom from March to April but is extremely insect friendly too. The white flowering hedge also exudes a pleasant, sweet aroma. From late autumn, edible sloe berries appear on the blackthorn, which can be harvested after the first frost. People love liqueurs, such as sloe gin, or jams made from the tart, aromatic fruits, while birds like to devour the berries straight from the tree. The deciduous blackthorn is particularly popular in natural gardens because it is not only an important source of food for bees and birds, but also provides reliable privacy thanks to its height of up to 5 metres and dense growth.
11. Rose mallow
This is one the best kept secrets of the flowering hedge world. The rose mallow (Hibiscus moscheutos) displays stunningly huge bell-shaped flowers from July until October. The white, pink or red flowering hedge not only attracts people's attention, but also attracts plenty of beneficial insects. Thanks to its bushy growth, the evergreen flowering hedge is perfect as a privacy screen for balconies and gardens. In contrast to other hibiscus varieties, it is particularly hardy – established rose mallows can tolerate temperatures as low as -30 °C. Only young plants need light protection from the weather in winter.
12. Weigela
Hardly any other flowering hedge plant is as popular as the weigela (Weigela florida). The indestructible perennial is particularly easy to care for and is one of the few hedges that flower almost all year round. The white to pale pink flowers open from the end of April and continue to bloom tirelessly until June. But even in July, and possibly until the first frost, there are the occasional repeat blooms. With a height of up to three metres, the weigela makes a wonderful screen – but be sure to prune weigelia regularly, otherwise this vigorous-growing shrub will soon outgrow its space.