Sowing tomato seeds: when & step-by-step instructions
Growing tomatoes starts early in the year. Here is our guide on what to consider when sowing your seeds and which growing medium is best for getting tomato plants started.
Tomatoes (Solanum lycopersicum) are adored by most gardeners. In summer, tomato plants grace the vegetable beds, greenhouses and walls of our gardens with their green foliage and vibrant fruits. But to successfully grow tomatoes like this, you must first succeed in sowing them. Growing your own tomatoes is not only worthwhile if you have a garden, but also on balconies and patios. Even with a little space on a windowsill, you will soon see little seedlings sprouting up towards the sun. Read on for instructions and helpful tips on how to successfully sow tomato seeds.
When to sow tomato seeds
The best time for sowing tomato seeds is between the end of February and the end of March. By May, you can then transplant healthy young plants into the greenhouse or garden beds. Tomatoes have a long cultivation period. By sowing them early, you give the plants a head start indoors. Before May, it is generally still too cold outside for these heat lovers. It is also not a good idea to sow your tomatoes too early, as they tend to develop tall shoots in the limited sunlight and often fall over because they are not receiving enough energy to support themselves. Tomatoes that are sown too late produce fruit that may not ripen or that ripens late in autumn.
Sowing tomato seeds: temperature and location
To start tomato seeds, it is best to choose a warm and bright windowsill. Light and warmth are essential for the little tomato seedlings. The germination temperature for tomatoes is 20 to 22 °C. With these conditions met, the first seeds will germinate after just a few days. If you do not have a bright warm windowsill, there are alternative solutions: an LED grow light for plants can provide the colour spectrum and light that the tomatoes need and a heating mat can keep the roots of the little tomato plants warm on cooler nights and stimulate the seeds to germinate more quickly.
Step-by step: how to plant tomato seeds
To sow tomato seeds, you should first choose a suitable container. You can either use plastic seed trays or alternative sowing containers. A couple of our favourites are old egg boxes and biodegradable fibre pots. You will prick out your tomato plant seedlings just a few weeks after sowing anyway, so any small growing containers that can hold some soil are suitable. The ideal sowing soil for tomatoes must be permeable, water-retaining and low in nutrients to support the tender roots. A low-salt and low-nutrient growing medium, such as our Plantura Organic Herb & Seedling Compost, is a great option. Lightly firm the compost into the growing container with your fingers and place the tomato seeds on top. Then cover the seeds with about 0.5 cm of soil. At this point, it is a good idea to label the seedling pots so that you know later which tomato variety you have sown.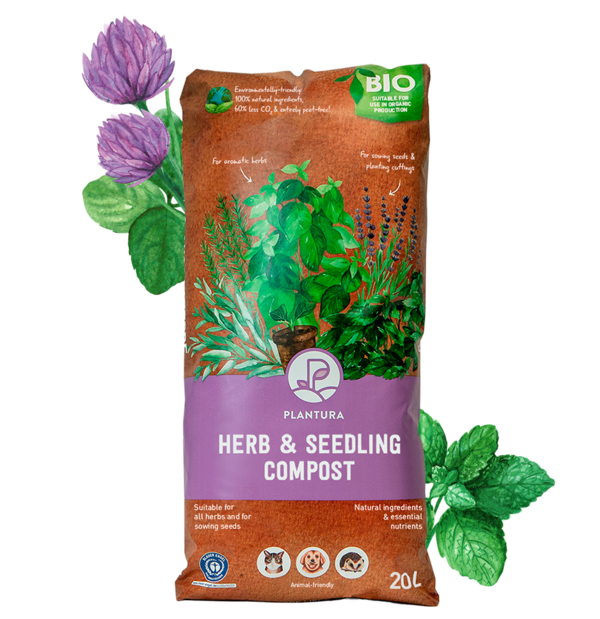 Organic Herb & Seedling Compost, 20L
Perfect for herbs as well as sowing, propagating & transplanting
For aromatic herbs & healthy seedlings with strong roots
Peat-free & organic soil: CO2-saving composition
After placing the seeds on the soil, water them to stimulate germination. From then on, keep the soil slightly moist but never wet. The young roots do not tolerate drying out at this stage. However, if the soil is too wet, the seeds and roots can rot or "dampen off". So, it is important to find a balance between bone dry and soaking wet. To prevent water from evaporating too quickly from the soil, cover the pots or containers with cling film or a plastic or glass lid. This reduces the amount of watering needed and makes it easier for the seedlings to germinate and free themselves from their seed coat. A small propagator or a home-made mini greenhouse is also suitable. After just 3 to 10 days, depending on the variety and age of the seeds, the first little plants will appear.
Summary: Sowing tomatoes
Fill the sowing container (seed trays, pots or an alternative container such as an egg carton) with nutrient-poor sowing soil, lightly firm the soil.
Spread the seeds on the surface, cover with approx. 0.5 cm of soil and press down.
Water the soil and seeds lightly and keep the soil moist from then on.
Place in a warm, bright location (preferably on a windowsill), alternatively illuminate with LED growing lights.
A transparent cover, mini-greenhouse and/or heat mat help accelerate tomato seed germination.
After a short while, the tomato seedlings will grow up and then need to be transplanted into more nutrient-rich soil. Find out more about transplanting tomato seedlings in our article on how to prick out and plant out tomatoes.