RAF tomato: plant cultivation & care
The 'RAF' tomato is an unusual tomato variety with unique, bushy growth. Read on to find everything you need to know about the 'RAF' tomato variety.
'RAF' tomato variety: profile
| | |
| --- | --- |
| Fruit | Beef tomato, deep red |
| Flavour | Tangy, fruity |
| Ripening time | Late |
| Growth | Determinate, up to 1m in height |
| Location | Greenhouse, outdoors in veg patch or pot (with shelter from rain) |
Origin and history of 'RAF'
The French company Clause developed 'RAF', an abbreviation for "resiste à Fusarium", or "resistance to Fusarium", in Valence in 1961. Its name refers to its resistance to root rot caused by Fusarium fungi. It is thought to be a cross between a 'Marmande' and various other resistant American varieties.
In 1967, 'RAF' registered as a tomato variety and began its successful reign in the commercial greenhouses of Spain. Until the 1990s, 'RAF' was grown in Alicante, Murcia and Almeria for the supermarkets of Europe.
Back then, even the unripe, green, or only partially ripe 'RAF' tomatoes were touted as delicacies. They were known as "salt tomatoes" because, supposedly, their aromatic flavour was a result of the salty soils and salty waters of their environment.
Eventually, higher-yielding and more disease-resistant hybrid varieties superseded 'RAF', and non-commercial tomato lovers were left to cultivate the variety in their home gardens.
Characteristics and taste of 'RAF'
The 'RAF' tomato plant is a small bush variety, that does not grow to more than a metre in height. It is a seed-saving variety, which means you can save 'RAF' tomato seeds and cultivate the same plant repeatedly.
'RAF' seeds form in large, round and often heavily ribbed fruits that weigh up to 300 grams and turn deep red when ripe. The fruit is tangy and fruity, like 'Marmande' varieties, and late-ripening – in the UK, you will only be able to harvest the fruit from the end of August.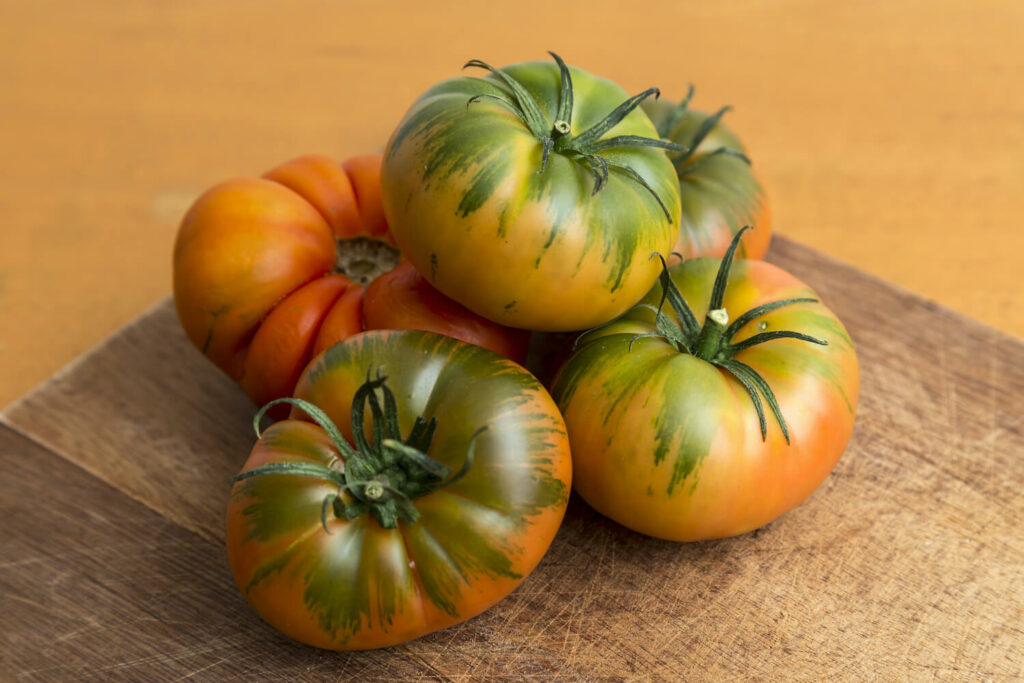 Cultivating 'RAF' tomato plants outdoors and in containers
'RAF' tomatoes grow well in greenhouses, outdoors and in containers. To cultivate 'RAF', plant the tomato outdoors and in containers from mid-May, making sure to acclimatise young plants to the cold by hardening them off. Remember to shelter 'RAF' from the rain to protect it from late blight.
Use a specially adapted compost for planting, such as our Plantura Organic Tomato & Vegetable Compost, to create optimal conditions and give the young plants a healthy start. The nutrients contained in this compost provide 'raf' with everything it needs for its first few weeks of growth.
Organic Tomato & Vegetable Compost, 40L
Perfect for tomatoes & other vegetables such as chillies, courgettes & more
For strong & healthy plant growth as well as an abundant vegetable harvest
Peat-free & organic soil: CO2-saving composition
'RAF' tomato plant care
Whether they are in a greenhouse, outdoors or in a pot, after planting your tomatoes, water them and add mulch to the soil. A layer of mulch reduces evaporation, which saves a lot of water.
It is important to grow bushy 'RAF' tomato plants with no more than two shoots so that they have thick stalks to support their large fruits. To force this, remove all side shoots except for one of the lower ones, and then prune your tomato plant every few weeks.
As with all tomato varieties, fertilise 'RAF' for the first time in June. We recommend using a liquid fertiliser, like our Plantura Liquid Tomato Food. Apply this fertiliser about once a week when watering. Its high potassium content helps the fruit ripen and improves the quality of the tomatoes.
Although they were known as "salt tomatoes", do not water 'RAF' tomato plants with salt water. The high salt content not only damages their roots, but prevents water absorption, which will cause the plants to wilt. 'RAF' tomatoes develop their delicious flavour through balanced, even fertilisation and watering, as well as plenty of warmth and sunlight.
Liquid Tomato Food, 800ml
Perfect for tomatoes & other vegetables
Liquid fertiliser for healthy plant growth & an abundant harvest
Quick & easy application - child & pet friendly
Harvesting and using the 'RAF' tomato
Enjoy the delicious 'RAF' tomato raw, add it to your cooking or preserve it for winter.
Warning: Never eat unripe 'RAF' tomatoes raw! The poisonous alkaloid solanine, which occurs naturally in aubergines, green tomatoes and in the green parts of potatoes, can cause stomach cramps. As the fruit ripens, this substance breaks down, so you can eat partially ripe fruits that are no longer green. However, 'RAF' tastes best ripe and with olive oil and sea salt.
Still confused by the number of fertilisers on the market? Read our article on fertilising tomatoes to find out more.