Primabella tomato: growing & care
Though the variety 'Primabella' is pretty new to the scene, there is a lot to like about it. In this article, we will show you what exactly makes the 'Primabella' tomato special and how to grow these cocktail tomatoes in your own garden.
The new tomato variety 'Primabella' boasts an especially high yield and the best resistance to water moulds (Phytophthora) on the market. Here is everything you need to know about this hardy cocktail tomato with tips on how to cultivate it.
'Primabella' tomato: profile
| | |
| --- | --- |
| Fruit | Cocktail tomato; red |
| Flavour | Aromatic, sweet and sour |
| Ripening time | Early |
| Growth | Indeterminate, up to 180cm in height |
| Location | Outdoors |
Origin and history of the 'Primabella' tomato
The 'Primabella' tomato variety was first bred in 2017 by plant-breeding scientist Dr. Bernd Horneburg, at the University of Göttingen. As part of an extensive outdoor tomato breeding project, he and his team created the first open-source tomato, the 'Sunviva', in 2017, along with the 'Primabella' variety. 'Primabella' is currently the tomato variety with the greatest resistance to late blight (Phytophthora infestans) and they are propagated by Culinaris, a seed company for organically certified seeds in Göttingen.
Taste and other characteristics
'Primabella' tomato plants grow up to 180 centimetres high. Early in the season, usually around July, round, bright red 'Primabella' tomatoes ripen on the plant's long vines. 'Primabella' tomatoes reach an average weight of about 30 grams, and they store well, so the variety is also recommended for people selling their produce. The young plants grow compactly but will begin to stretch out after planting. 'Primabella' tomatoes are very aromatic and have a balanced sweet and sour flavour, with just a hint of acidity. The 'Primabella' tomato is also an heirloom variety, so you can harvest and save the seeds to sow them again in the next season.
Planting and caring for 'Primabella' tomato plants
The 'Primabella' tomato was specially bred for outdoor cultivation. It can be perfectly healthy and produce high yields outdoors even without rain protection. Plant your young 'Primabella' plants outdoors from mid-May onwards. When planting, mix in a specially adapted soil, like our Plantura Organic Tomato & Vegetable Compost, into garden beds and veg patches to create a healthy soil ecosystem. After planting, make sure to give the freshly planted 'Primabella' a good watering and tie it to some form of support.
Plantura Organic Vegetable Compost
Peat-free & environmentally-friendly: for tomatoes & all other vegetables, ensures a rich & aromatic harvest, child & pet friendly
Cocktail tomatoes can be grown with multiple shoots, depending on the space available. To do this, leave up to four side shoots at the bottom of the main stem and remove all the side shoots above it. It is important to pinch out tomato plants regularly, meaning remove any new side shoots to keep good air flow around the plant and the fruits get enough sunlight. Apply the first round of fertiliser from June onwards, when the plant flowers and fruits begin to form. A plant-based slow-release fertiliser, such as our Plantura Tomato Food can supply the fruiting plant with all the essential nutrients. In August, a second round of fertiliser can then be applied, but with a lower dose. Soil life and tomato plants benefit from a mulch layer, especially when planted outdoors. This article summarises what you should consider when watering and mulching tomatoes.
Harvesting and using 'Primabella' tomatoes
'Primabella' plants are an indeterminate variety, producing a rich harvest of small fruits up until the first frost. The delicious tomatoes are perfect for eating straight from the plant. They can also be canned and dried to preserve them for the chilly winter months.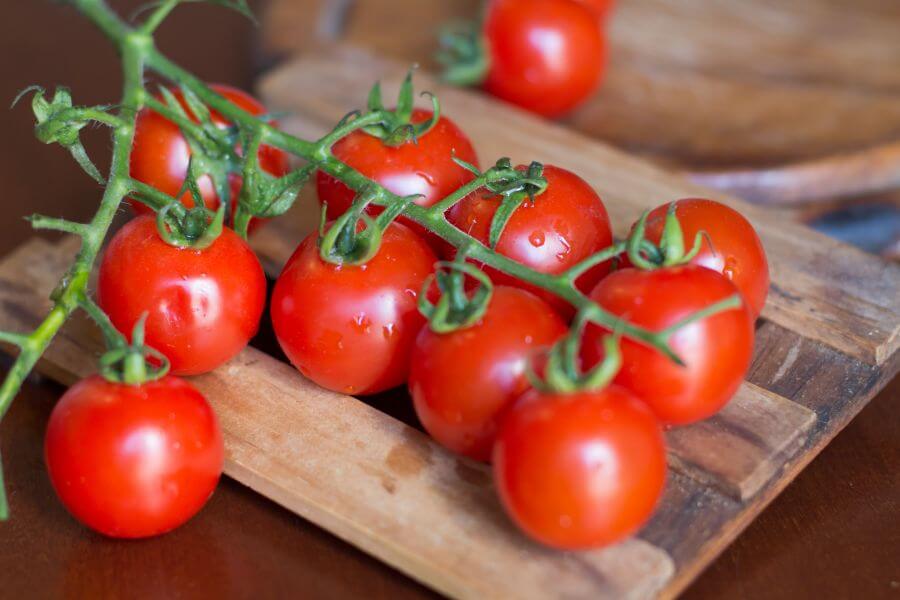 Another particularly robust outdoor tomato is the 'De Berao', a plum tomato that comes in an array of colours.