Chocolate Stripes tomato: cultivation & care
The striped beef tomato 'Chocolate Stripes' has an unique appearance and delicious taste. Here you will find everything there is to know about the 'Chocolate Stripes' tomato.
Striped beefsteak tomatoes like the 'Chocolate Stripes' are quite rare and add a splash of colour to both your garden and your plate. We have put together important information and tips on the 'Chocolate Stripes' tomato to help you successfully cultivate this unique beefsteak tomato.
'Chocolate Stripes' tomato: profile
| | |
| --- | --- |
| Fruit | Beefsteak tomato; dark red with green and brown stripes |
| Flavour | Sweet, aromatic, slightly acidic |
| Ripening time | Mid to late |
| Growth | Indeterminate, up to 2m in height |
| Location | Greenhouse, outdoors, tubs |
History and origin of the 'Chocolate Stripes' tomato
The tomato variety 'Chocolate Stripes' was first bred by the American farmer John Siegel in the early 2000s by crossing 'Shimmeig Creg' with a pink beefsteak tomato. Around 2006 and 2007, the new variety entered the Seed Savers Exchange (SSE) seed bank through Al Anderson. In the following year, the variety won an award for the best-tasting variety at the Caramel TomatoFest. In the past decade, this American variety has started to gain popularity in Europe.
Properties and taste
'Chocolate Stripes' grow as vigorous, indeterminate plants up to a height of around 200cm. The variety ripens medium-late from August and can be harvested continuously until the end of October. 'Chocolate Stripes' tomatoes are around 7 to 10cm wide and very wide with slight ribbing. When ripe, the fruit takes on a dark red color with green-dark brown stripes and weigh on average 200 grams.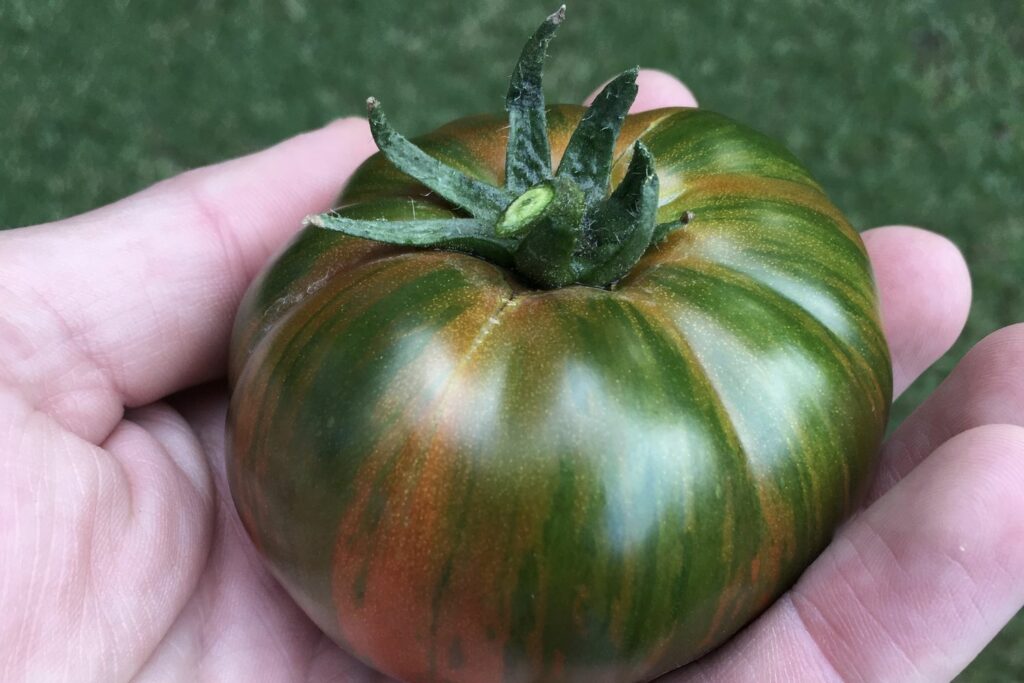 'Chocolate Stripes' tomatoes are sweet and aromatic with a slight acidity. All around, this beefsteak tomato offers a good balance of sweetness and acidity mixed with a tangy, earthy aroma. This aroma is typical of many darker tomato varieties, such as the 'Black Plum' tomato. This tomato is an heirloom variety, which means you can save the 'Chocolate Stripes' tomato seeds after harvesting to grow new tomato plants. Read our guide saving tomato seeds for instructions on how to harvest and store them.
Caring for and planting 'Chocolate Stripes' tomatoes
The 'Chocolate Stripes' variety is best suited for growing in a warm greenhouse or polytunnel. If you would like to cultivate your 'Chocolate Stripes' tomato plant outside, a warm location with protection from the rain is an absolute must. In unsheltered places that cool down quickly in autumn, this variety may not ripen, which means a lower yield.
Young plants can be planted in the greenhouse from the beginning of May and outdoors or on a balcony from mid-May after the last frost has passed. In cooler climates, we advise hardening off tomato plants before moving them outside completely. To harden off your tomato plants, gradually leave them outdoors in a cold frame or sheltered spot over a 7 to 10 day period before planting.
Organic Tomato & Vegetable Compost, 40L
Perfect for tomatoes & other vegetables such as chillies, courgettes & more
For strong & healthy plant growth as well as an abundant vegetable harvest
Peat-free & organic soil: CO2-saving composition
To plant a 'Chocolate Stripes' tomato plant, first dig a deep planting hole or fill a third of a 10 to 15 litre pot with a nutrient-rich potting soil such as our Plantura Organic Tomato & Vegetable Compost. Place the tomato seedlings deep enough so that only the top of the plant is above the soil level. This way, new roots will quickly form on the stem and supply the tomato plant with water and nutrients. Remove any leaves that would otherwise disappear under the surface of the soil. Finally fill the planting hole or container. Lightly press the soil down evenly and then water vigorously. Also make sure to give the plant a strong support.
As a beef tomato, 'Chocolate Stripes' bears large, heavy fruit so you need to prune the plant regularly. However, in addition to the main shoot, you can leave a low side shoot. If this side shoot is well pruned and supported, it will also bear its tasty fruit. Remove all side shoots higher up the plant so that the plant can focus on forming fruit on its two main shoots.
Tomato plants require lots of nutrients, which is why they are called heavy feeders. Fertilise your plants from June onwards with liquid fertiliser, such as our Plantura Liquid Tomato Food, to provide the necessary supply of potassium and nitrogen. Apply liquid fertiliser about once a week or to provide a quick remedy for acute deficiency symptoms.
Liquid Tomato Food, 800ml
Perfect for tomatoes & other vegetables
Liquid fertiliser for healthy plant growth & an abundant harvest
Quick & easy application - child & pet friendly
'Chocolate Stripes' tomato: harvest and uses
From August onwards, 'Chocolate Stripes' tomatoes begin to ripen. When its flesh "gives" a bit to the touch, it is ready to eat. 'Chocolate Stripes' tomatoes are ideal for eating fresh as a snack or in a salad. You can also cook them in delicious soups and sauces.
Looking for more unique tomatoes? While aromatic green tomato varieties may seem a little intimidating, with enough know-how they can be a tasty addition to the garden. This article will introduce you to some green tomato varieties and give you tips on how to tell when they are ripe.