How to grow chillies: where, when & step-by-step instructions
Although it may be hard to believe, you can actually grow chillies in our climate! Here is everything you need to know about where, when and how to grow chillies.
Without a doubt, the freshest chillies (Capsicum) come straight from your own garden. With their delicate white blossoms and colourful pods, chilli plants also make a great ornamental addition to many gardens, patios and balconies. Chillies belong to the pepper genus (Capsicum) which is part of the large family of the Solanaceae. Within this genus, a distinction is made between five different species, which are divided into an estimated 2,500 to 3,000 chilli varieties. With their fiery heat and diversity, they have long been an integral part of Asian and Latin American cuisine. But also in Europe, dishes spiced with chilli are gaining more and more popularity. Do you fancy growing chillies in your own garden too? In this article, you will learn everything there is to know about planting chillies, including the best time to plant, the right location and how to sow them.
How to grow chillies: the right location
To understand the demands of the chilli, it is worth taking a look at the origin of the plant. Researchers believe that the Capsicum genus of chilli plants, including the ancestors of our current chilli peppers, originated in Mexico – a very hot and sunny region. You should take this into account when choosing a location for your chilli plants: a bright, sunny and airy place is perfect for chilli plants. All chilli varieties can be cultivated in both pots and in garden beds. Chillies prefer sun; a sunny spot in the greenhouse or next to a wall will give the chilli all the light it needs and keep it nice and warm.
Chilli plants also need a particular kind of soil: moist, loose and nutrient-rich. For planting chillies in the garden, make sure that the soil ideally has a neutral to slightly acidic pH. On top of that, we advise fertilising the soil well with compost before planting. This way, the nutrient hungry plant is provided with all the essential nutrients for healthy growth. Alternatively, apply a long-acting fertiliser, such as our Plantura Tomato Food, which improves the soil quality over a long period of time.
When planting chillies in pots, a specially adapted potting soil, such as our Plantura Organic Tomato & Vegetable Compost, is best. With a particularly high potassium content, this compost improves the cell wall stability of the chilli plants, ensuring greater plant health and resistance to fungal pathogens.
Summary: Where to grow chilli plants
Sunny and warm
Good airflow
Moist, nutrient-rich soil with a neutral to slightly acidic pH balance
Add compost and bone meal or a slow-release fertiliser to the soil when planting
Tip: Small chilli varieties are great for mixed cultures outdoors. Good companion plants for chillies are fast-growing summer greens such as rocket (Eruca sativa), radishes (Raphanus sativus var. sativus) or parsley (Petroselium crispum ssp. crispum). In a greenhouse, chilli plants like to grow next to low-lying herbs such as basil (Ocimum basilicum).
When to plant chillies
Because of their slow development, you should sow your chillies as early as January and transplant them outdoors from mid-May onwards. Even before the planting date, you can put the plants outside in the sun during the day and bring them back in at night. This helps the plants to adjust to the colder temperatures and brightness of the sun in a process known as hardening off.
Growing your own chillies
Anyone who has grown chillies for a while will sooner or later try cultivating their own plants from seed. Exotic chilli varieties in particular are often only available as seeds, not as young plants, so propagation from seed is the only option. But it is not as hard as you might think! The most important thing is to start your plants early: Many chilli varieties need well over 100 days from sowing to the first harvest, so sow them indoors as early as possible. Depending on the variety, you should sow the chillies between mid-January and early March.
However, before you start sowing the chillies, you need to awaken the seeds from hibernation. To do this, place them in lukewarm water for a few hours before sowing so they can swell. The swelling process dissolves germination-inhibiting substances on the seed coating. It also allows the seed to absorb water, which it needs to break through the seed coat.
In the meantime, you can already prepare the plant pots. As a growing medium, we recommend a loose, airy soil with a low nutrient content for sowing chillies, such as our Plantura Organic Herb & Seedling Compost. This promotes good root development to support healthy plants in the long run.
After the seeds have spent a few hours in their warm water bath, you can press 3 to 4 seeds per seed pot into the soil. Chillies need darkness to germinate, which means it is important to make sure that each seed is carefully covered with soil. In a bright, warm location (at least 20°C) chillies take about 10 to 20 days to germinate. During this time, keep the soil consistently moist with regular watering. A mini-greenhouse or a propagator box also helps to create ideal conditions for the chilli seedlings. However, make sure to ventilate them regularly.
As soon as they sprout their second pair of leaves, it is time to prick out the chilli seedlings. Separate the young chilli plants with the help of a dibber or wooden stick and plant them in new, more nutrient-rich soil. In a larger pot with a high-quality vegetable soil, the home-grown chillies can now wait to be moved into their final planting place in your garden or greenhouse. In this phase too, it is important that the soil of the chillies is always kept moist without waterlogging.
Summary: Grow your own chillies
Sow from January to March
Place seeds in warm water for several hours before sowing
3 to 4 seeds per seed pot in nutrient-poor growing soil
Cover seeds with soil
During germination, temperatures of at least 20°C and a bright location are crucial
Keep soil moist
Ventilate greenhouse or propagator regularly
Once the four-leaf stage is reached, prick out the seedlings
How to plant out chillies
Once you have found the right location and the outdoor temperatures are stably warm, the time for planting out your chillies has come. Before planting, loosen the soil well and enrich it with compost and a slow-release fertiliser. With a plant spacing of at least 40cm, transplant the chillies into the soil with the entire root ball below the surface. For support, attach the plant to a cane or stick. Finally, water the young plants well.
Step-by-step: How to plant chillies
Loosen the soil well
Enrich with compost or with fertiliser, such as Plantura Tomato Food
Keep plant spacing of 40cm
Attach plants to stick or other support
Water well
Tip: When planting in the garden, you can use a plastic mulch sheet. This suppresses weeds effectively, prevents water loss through evaporation and warms up the soil. Simply lay it out on your garden bed and cut slits to put in the plants.
Should chillies be planted outdoors or in a greenhouse?
Since chillies are particularly heat-loving and sensitive to frost, the greenhouse offers some advantages. Heated greenhouses in particular protect chillies from late frosts in spring or early frosts in autumn. However, a non-heated greenhouse also helps protect against cold and weather to a certain extent. Given the chilli's long growing season, this weather protection brings an enormous advantage: chillies can be planted earlier in the greenhouse, as they are less dependent on temperatures and weather. This increases the likelihood of your chillies ripening in time before winter.
It is essential to ventilate when growing chillies in a greenhouse. For one thing, pollination can be poor in a closed greenhouse, as insects or at least some air movement is needed for this. Also, closed greenhouses often have high humidity, which can lead to fungal diseases. Regular ventilation is therefore needed to keep the plants healthy and achieve a high yield. In summer, you can often even leave the greenhouse open all day when temperatures are high.
Summary: Growing chillies in a greenhouse
Planting in the greenhouse can increase yields due to heat and ensures ripening until the end of summer
Regular ventilating in greenhouses is very important for pollination and preventing fungal diseases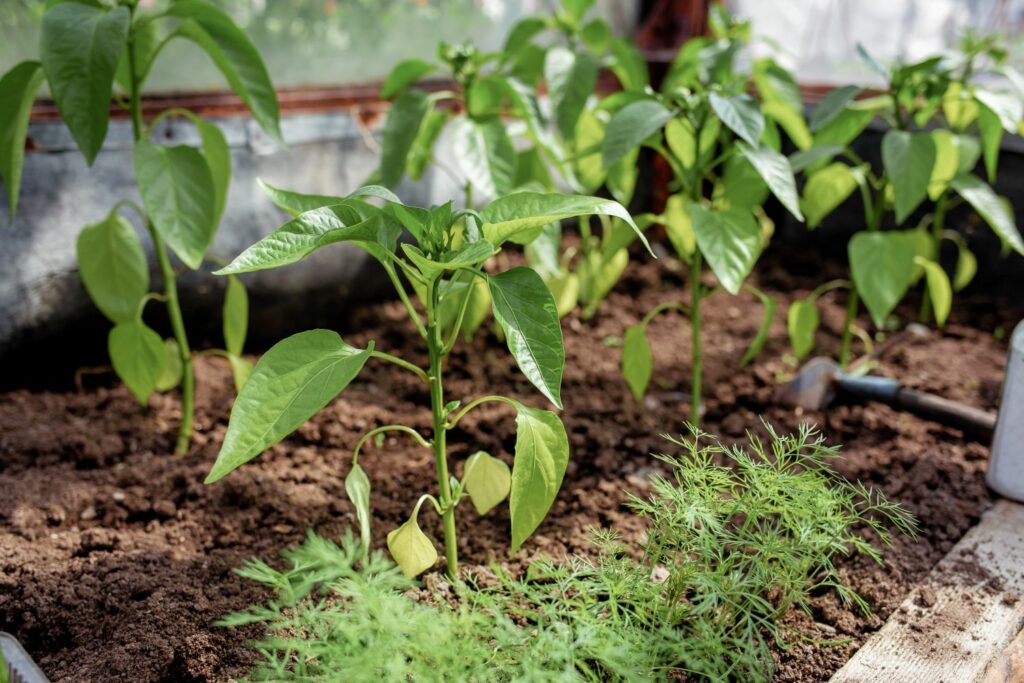 Growing chilli peppers in pots
The advantage of growing chillies in a pot is that you can quickly bring the plants back inside when the weather gets too cold. However, the growth of chillies in a pot is limited, so they do not always develop as well as plants in beds. To plant your chillies in a pot, you will need a large enough planter that is at least 6 litres in volume. Make sure it has a drainage hole too and place a drainage layer in the bottom of the pot below the soil.
In summer, place your potted chillies on your terrace or in a sunny, sheltered place in the garden. Chillies love a slightly acidic pH value of 6.5. A high-quality vegetable soil, such as the peat-free Plantura Organic Tomato & Vegetable Compost, is perfect for this.
Plantura Organic Vegetable Compost
Peat-free & environmentally-friendly: for tomatoes & all other vegetables, ensures a rich & aromatic harvest, child & pet friendly
Growing chilli plants on the balcony
Many chilli varieties grow well in pots on balconies. However, not every balcony is suitable for growing chillies – the orientation of the balcony must be taken into account. South-facing balconies are best for this heat-loving plant, because this is where the chillies can soak up the most sun. East or west facing balconies can work if sunlight is guaranteed for at least five hours a day. A north-facing balcony, on the other hand, is far from ideal due to low sunlight.
Choosing the right chilli variety is equally important for growing on a balcony: owners of smaller balconies should look for small-growing chilli varieties such as 'Habanero White' (height about 50cm) or 'Royal Black Chilli' (height about 75cm). This is because many well-known chilli varieties grow up to 1.60m tall – not exactly ideal for tiny spaces. For balconies in partial shade, choose a fast-growing and robust chilli variety, such as 'Siberian House Pepper' or 'NuMex Twilight' if possible – these grow reliably even in less than ideal conditions.
Summary: Planting chilli plants on a balcony
South facing balconies are most suitable, but east or west facing balconies work too
Choose small growing chilli varieties, if possible
For balconies in partial shade, robust and fast-growing varieties are recommended
How to grow chillies as a houseplant
Chilli plants are not only stunning in the garden, but also as a houseplant. In fact, all chilli species are suitable for cultivation indoors, although smaller varieties are often preferred to save space. Being grown indoors is often positive for chilli plants, as the heat-loving plant enjoys the consistently warm temperatures. However, when growing chilli indoors, you need to ensure that the plant gets enough light. For those without large windows or bright rooms, you can resort to a grow light to keep the sun-hungry chillies happy. On top of that, humidity plays a major role for chilli plants indoors: dry air in heated homes causes them to wilt. A humidity of around 50% is optimal, which can be achieved by regularly spraying the plant with water or placing a water bowl near the radiator.
If you want to keep your plant indoors year-round, you will also need to help with pollination to ensure that the plant bears fruit. Since there are no pollinator insects or the necessary breeze to transfer pollen indoors, you will need to pollinate the chillies by hand. To do this, carefully go from flower to flower with a human hair brush or paintbrush to pick up and spread the pollen.
Summary: Growing chilli plants indoors
Use small chilli varieties
Choose a bright, sunny place
If there is not enough light, use a plant light
Keep humidity at least 50%.
If necessary, pollinate flowers by hand to obtain fruit
How to plant Capsicum pubescens
When planting Capsicum pubescens, also known as arocoto tree chillies, follow the same planting steps as for normal chillies, both in a pot or in a bed. A location with good shelter from the wind is particularly important for the tree chillies. They also prefer partial shade, rather than full sun. Give the plant a stick or cane for support.
Chilli plant care after planting
The right care is crucial for the quality of the chilli. Especially during fruiting, chillies need to be watered well and often. Chillies prefer a permanently moist soil, so water regularly, daily in summer.
To reap an abundant crop, fertilising chillies with a slow-release fertiliser, like our Plantura Tomato Food, is recommended. A long-term fertiliser is ideal when transplanting the chillies outdoors. As mentioned before, chilli plants need plenty of nutrients when forming their flowers, which makes a second round of fertilisation very helpful for the hungry plant.
If you have a lot of nettles in your garden, you can make your own "nettle tea" that is rich in both nitrogen and potassium. However, a liquid fertiliser like this should only be used as a supplement to the basic fertiliser. It cannot entirely replace traditional fertiliser without permanently depleting the soil. Liquid fertiliser applications remedy acute nutrient deficiencies quickly and support chilli plants before their flowering and fruiting phase. Our Plantura Liquid Tomato Food also contains a high balance of nitrogen and potassium, and is a fast-acting alternative for those who do not have nettles on hand.
Throughout the growing period, keep your bed of the chillies clear of weeds, as these compete with the plants for valuable nutrients. It is also important to maintain an optimal humidity of 75% when growing in a greenhouse. If the humidity is too high, it promotes the formation of harmful fungi. On the other hand, humidity that is too low causes plants to dry out through evaporation and can even lead to decreased yield due to the flower organs drying out.
Tip: To obtain a particularly rich harvest, remove the first flower buds on the plant. This promotes additional branching and thus a higher flower and fruit set.
What makes chillies spicy? Discover how to grow extra hot chillies.