Bottlebrush: plant care, cultivation & more
Want to know how to properly plant bottlebrushes and what to pay attention to when caring for them? Learn all about the bottlebrush plant here.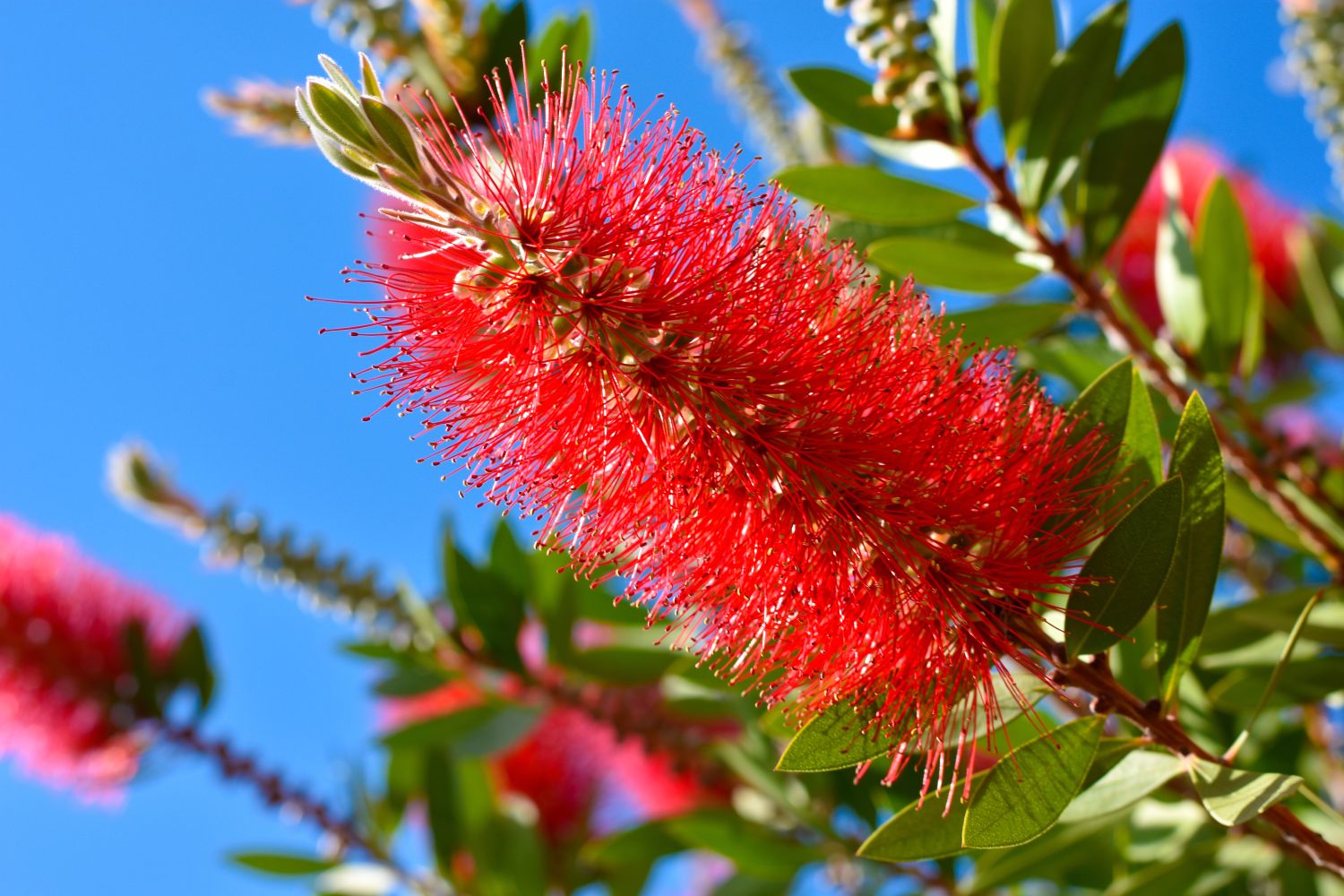 Bottlebrush plants (Callistemon) are very popular evergreens for containers. With their unique, exotic-looking flowers, bottlebrushes will transform your patio or balcony into a beautiful tropical oasis in the summer.
Bottlebrush: origin and properties
There are approximately 35 known bottlebrush species belonging to the myrtle family (Myrtaceae). Bottlebrush plants originate from Australia and arrived in Europe in 1789. The genus Callistemon was described taxonomically for the first time in 1814. One of the most well-known Callistemon species is the crimson bottlebrush (Callistemon citrinus), an evergreen that reaches up to 7 m high in its natural habitat in Australia. Bottlebrush plants also grow into stately bushes in Mediterranean regions. In temperate climates, on the other hand, they only reach up to about 3 m high. They grow as upright shrubs or small trees with overhanging branches and bloom continually throughout up to four flowering periods between May and September.
Bottlebrush flowers form cylindrical clusters which are arranged in spikes and have numerous long stamens projecting vertically outward. They resemble the end of a bottle brush cleaner, hence the name. Crimson bottlebrushes produce bright red flowers. The flowers of other species bloom in various shades of red, orange, yellow and white. The leaves of Callistemon citrinus are lance-shaped, grey-green in colour and have a hard surface which protects the plant from excessive water loss through evaporation in its hot natural habitat. The leaves also contain essential oils and, when rubbed between the fingers, exude a pleasant lemony scent.
Growing bottlebrush
Since bottlebrush is not hardy, we can only grow it in pots here in the UK. This way, you can bring them inside and overwinter them in a suitable place. From about April, when no more frosts are expected, you can take your bottlebrush plant outside again. In accordance with the conditions of its natural habitat, bottlebrush plants need lots of sunlight. So, choose a warm, wind-protected full sun spot on your balcony or in your terrace or garden. In October, move your Callistemon back to a frost-proof place. Bottlebrush plants can also be kept year-round as houseplants in a conservatory or bright room. That said, keeping bottlebrush plants indoors means they will not have a proper dormancy period, so you cannot expect them to flower quite as abundantly.
Choose a big enough container to plant your bottlebrush in, allowing plenty of space for the roots to grow. Repot young bottlebrush plants into larger containers annually in spring. These plants need well-draining soil, slightly acidic soil that is relatively low in lime. Peat-free potting soils, such as our Plantura Organic Flower Compost, are ideal. For better drainage, add some expanded clay balls or lava chippings to your soil.
Organic Flower Compost, 40L
Perfect for all flowering plants in garden beds & pots
For beautiful blossoms & healthy plant growth
Peat-free & organic soil: CO2-saving composition
Tip: Young bottlebrushes are especially susceptible to root rot, so it is important to use a high-quality, well-draining soil.
Bottlebrush plant care
Given the right care, bottlebrushes will flower abundantly. Besides water, they require the occasional bit of fertiliser during the growing season in summer. Pruning young bottlebrush plants regularly encourages them to bloom and helps them grow more compactly.
Watering bottlebrush plants
Young plants in particular require lots of water and do not tolerate drought. If the root ball dries out, the plant will produce fewer flowers and shed its leaves. To avoid this, check the soil moisture daily. Water your bottlebrush once the top 2 cm of soil feels dry. Make sure that the pot has a drainage hole at the bottom to allow excess water to drain into a saucer, otherwise the soil may become waterlogged. This can eventually lead to root rot and severely damage the plant. Put clay shards in the bottom of the pot to further improve water drainage.
How to fertilise bottlebrush
To ensure your bottlebrush plant keeps producing lots of beautiful flowers, fertilise it regularly during the growing period. Our Plantura Liquid Flower Food is great for this. It reliably supplies Callistemon plants with all the key nutrients. From April to September, add a little liquid fertiliser to your watering can and fertilise the bottlebrush every one to two weeks. When using our Plantura Liquid Flower Food, add 3 to 4 ml of liquid fertiliser for every litre of water.
Liquid Flower Food, 800ml
Perfect for all flowers & balcony plants
Liquid fertiliser for a lush blossom throughout the season
Quick & easy application - child & pet friendly
Pruning bottlebrush plants
Bottlebrush plants can be pruned in spring and late summer. Selective pruning helps you to maintain your bottlebrush plant's shape and encourage it to bloom. After flowering, the shoots, at the ends of which the flowers are located, continue to grow in long rods. Due to these spreading shoots, Callistemon plants can quickly lose their compact shape. To rectify this, remove any wilted flowers. This will encourage new branches and flower buds to grow beneath the pruned sections. In addition to pruning for aesthetic purposes, always remove damaged or dead shoots. Brown shoots in the middle part of the plant often indicate a lack of light. To remedy this, thin out the plant a bit so that all areas get enough light. If you want to grow your bottlebrush into a bottlebrush tree with a trunk and crown, prune in early spring to avoid disturbing budding and flowering.
Overwintering
Callistemon plants are not hardy and must be moved to a frost-proof location in the autumn. In winter, keep them somewhere as bright as possible and ensure temperatures stay between 5 and 10 °C. You can also overwinter your bottlebrush indoors in a warmer place. However, as previously mentioned, keeping bottlebrush plants indoors prevents them from going dormant as they will not be exposed to cold enough temperatures. This lack of dormancy leads to reduced flowering the following year. Keep the soil moist throughout the winter, but do not fertilise your bottlebrush during this period.
Propagating bottlebrushes
You can propagate bottlebrush plants by seed or by cuttings. The bottlebrush is a pyrophyte, which means that its seed pods can last for years and only burst open and release the seeds when exposed to intense heat. In its natural habitat of Australia, the bottlebrush, like other pyrophytes, strategically spreads its seeds on fertile ground during bushfires when its own existence is being threatened by the fire.
To get to the seeds, you will need to heat the fruit capsules of the bottlebrush either over a flame or in the oven. Exposure to heat simultaneously breaks seed dormancy and forces them to germinate. Sow your bottlebrush seeds in growing trays filled with soil. Opt for a low-nutrient growing medium, such as our peat-free Plantura Organic Herb & Seedling Compost. Since bottlebrush seeds require light to germinate, only cover them with a very thin layer of substrate or not at all. The optimum germination temperature is 15 °C. Keep the soil moist.
To propagate bottlebrush plants by cutting, take around 10 cm-long, ideally flowerless and minimally woody head cuttings from the shoots. Remove the lower leaves, leaving only the top pair of leaves. Cut at an angle with a sharp knife to maximise the area from which new roots will form. You can also use rooting powder to stimulate root growth. Place the cuttings in containers filled with potting soil and place them in a bright place without direct sunlight, ideally somewhere between 18 °C and 20 °C. Always keep the soil moist with a spray bottle. You can also place a plastic bag or something similar over the container to help keep humidity high. Just make sure to air things out for a few minutes each day. You will know when the cutting has successfully taken root once you see new leaves growing. At this point, you can plant the seedlings into the same type of soil as mature Callistemon plants need and keep them in a sheltered, sunny to partially-shaded location at first.
Tip: Propagating bottlebrush via cuttings is usually more successful and faster than propagating by seed. Bottlebrushes propagated by cuttings are also more likely to bloom.
Wondering whether bottlebrush plants are poisonous? Luckily, there are no known toxic effects of the bottlebrush. Nevertheless, it is an ornamental plant that is not suitable for consumption.