Types of thyme: overview of the best thyme varieties
Thyme is best known for its Mediterranean aroma, and as such, it is commonly used as a culinary herb. Its aromatic foliage and attractive flowers also make this plant a decorative addition to the garden.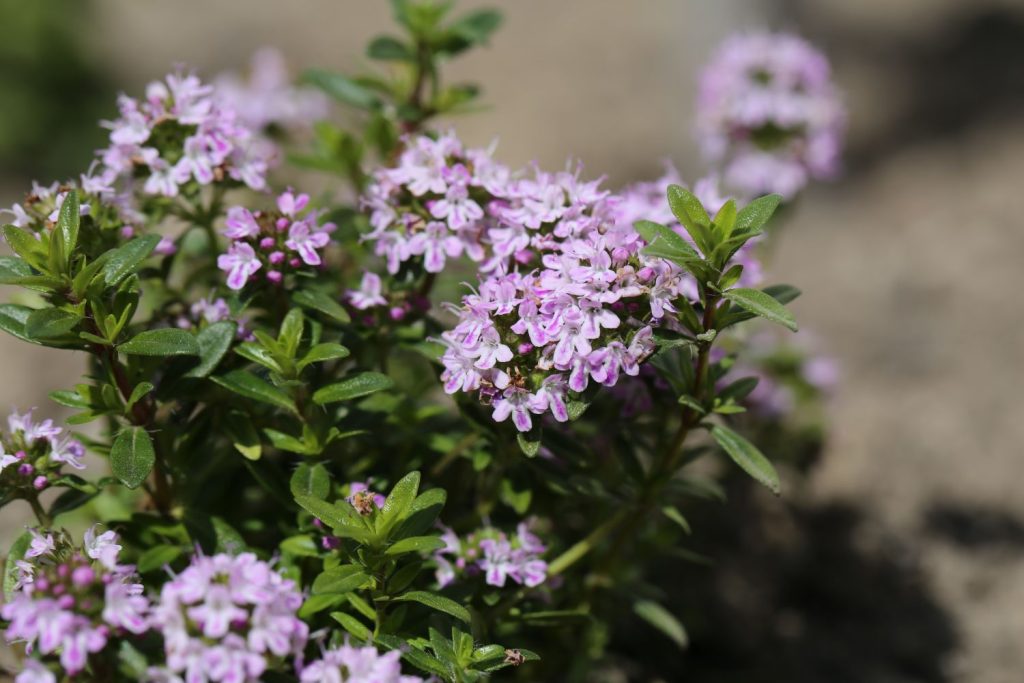 Perhaps the most famous species within the Thymus genus is common thyme (Thymus vulgaris). However, the genus is hugely diverse and offers great variation in growth habit, leaf colour and fragrance. Read on to discover some of our favourite and most interesting species and varieties of thyme.
What are the different types of thyme?
The Thymus genus encompasses a wide range of thyme species. With more than 200 different species and as least as many varieties, thyme comes in countless growth forms, colours and flavours. Some thyme plants grow as creeping groundcovers, whilst others grow as upright shrubs. Even leaf shape and colour can vary as can the colour of the fragrant lipped flowers. Additionally, there are clear distinctions in flavour between the different types of thyme. As such, the uses of thyme plants vary from culinary to medicinal, as well as from ornamental to groundcover.
The best species and varieties
In order to get an overview of the large range of thyme, we have put together a list of some of the most interesting and popular thyme species and varieties. To find out how best to look after your thyme plants, you can read all about thyme plant care in our dedicated article.
Thyme species at a glance
Aromatic thyme (Thymus odoratissimus): this species grows upright and compactly up to 15cm tall. The pink flowers are rich in nectar and provide a great food source for butterflies and bees from June to August. This thyme is particularly fragrant, especially on sunny days.
Broad-leaved thyme (Thymus pulegioides): is a dwarf shrub that can grow up to 25cm high. Its leaves are intensely aromatic due to the high content of essential oils, making it a popular choice as both a culinary and medicinal herb. In contrast to common thyme, it does not tend to become woody. Between June and August, it produces delicate, red to purple flowers.
Juniper leaf thyme (Thymus neiceffii): the distinctive feature of this thyme species is its silvery grey-green foliage, alongside pink flowers, which appear from June to August. It can reach 10cm tall and grows relatively slowly. Over time it forms small mats. Its particular aroma makes this species unsuitable for culinary use.
Orange scented thyme (Thymus vulgaris ssp. fragrantissimus): this subspecies of common thyme has an intense orange aroma. It grows upright, cushion-like and reaches a height of up to 25cm. In June and July it delights with its pink-white flowers. On warm days, your garden will be filled with its orange fragrance. On cold days, your orange scented thyme could be made into a wonderful tea. This species can withstand temperatures between -12 and -17 °C, so in southern parts of the UK it may be quite comfortable throughout the year. However, in northern and highland areas orange thyme will need to be protected from moisture and frost in the winter.
Waterfall thyme (Thymus longicaulis ssp. odoratus): also known as cascade thyme, this fast-growing species forms creeping or hanging shoots that are up to 15cm long. The leaves are a striking light green colour. The lipped flowers are intensely scented and light purple and appear between June and July. This abundantly flowering thyme makes a decorative choice for tubs, balcony boxes and hanging baskets.
Creeping thyme plants
Creeping thyme may refer to one of several species of thyme, which are low growing and spreading rather than upright shrubs. They also tolerate moderate foot traffic. As such, they are commonly grown as ground cover thymes. This may be as a lawn substitute, between stepping stones or in an ornamental border. We have put together a selection of some of the best types of thyme for ground cover:
Breckland thyme (Thymus serpyllum): also known as creeping thyme, elfin thyme and wild thyme, Breckland thyme is native to most of Europe, including the UK. It can be used in the kitchen as well as medicinally. It is low-growing and mat-forming, reaching around 5 to 10cm in height and is popular in rock gardens. This creeping thyme is also suitable for green roofs since it does not need pruning. Between June and August, wild thyme produces a profusion of pink to purple lipped flowers, which attract bees. The variety Thymus serpyllum 'Coccineus', or red creeping thyme, blooms deep pink to crimson flowers, which are excellent for attracting butterflies. Thymus serpyllum 'Albus' is another popular variety of Breckland thyme, producing charming white flowers, whilst Thymus serpyllum 'Elfin' is a miniature creeping variety.
Caraway thyme (Thymus herba-barona): this floriferous creeping thyme species forms a dense carpet of green leaves and deep pink flowers, which bloom from June to July. The foliage has a strong caraway scent, which also makes this creeping thyme plant a popular choice for seasoning.
Lemon thyme (Thymus x citriodorus): owes its name to its beautiful lemon fragrance. Depending on the variety, it has green, yellow, or silvery-white leaves and light purple flowers. As well as its popular use as a groundcover, lemon thyme is also used as a culinary herb. This creeping thyme plant can reach heights of up to 20cm. The high content of essential oils in lemon thyme leaves makes it particularly aromatic. Within the species there is a wide range of varieties with different colours and growth forms. Popular varieties include 'Aureus', 'Golden King', 'Silver Queen', and 'Creeping Lemon' thyme.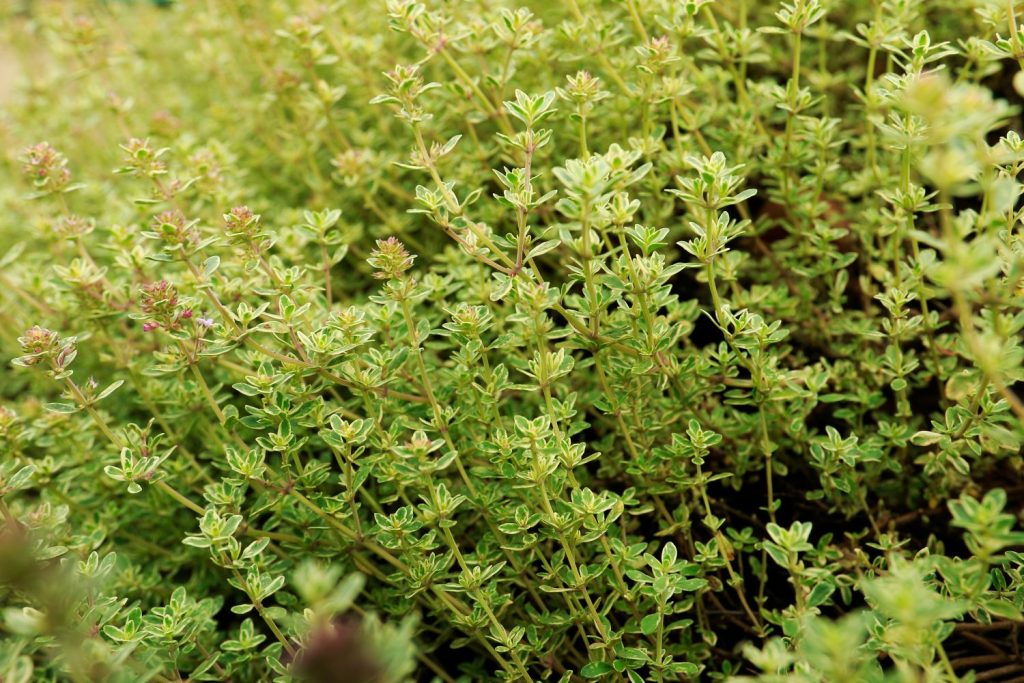 Mother of thyme (Thymus praecox): this creeping thyme forms long woody hairy stalks. Growing up to 10cm tall, it is perhaps the most popular among the groundcover thymes. When it blooms from June to July, its red to pink flowers attract numerous bees and insects.
Silver needle thyme (Thymus cherlerioides): this unusual species of groundcover thyme grows up to 10cm high and its leaves are silvery green. Silver needle thyme abundantly produces small, purple lipped flowers that attract a range of different insects. This thyme's flowering period is from June to August. If you are looking for a purple flowering creeping thyme, this is an excellent choice.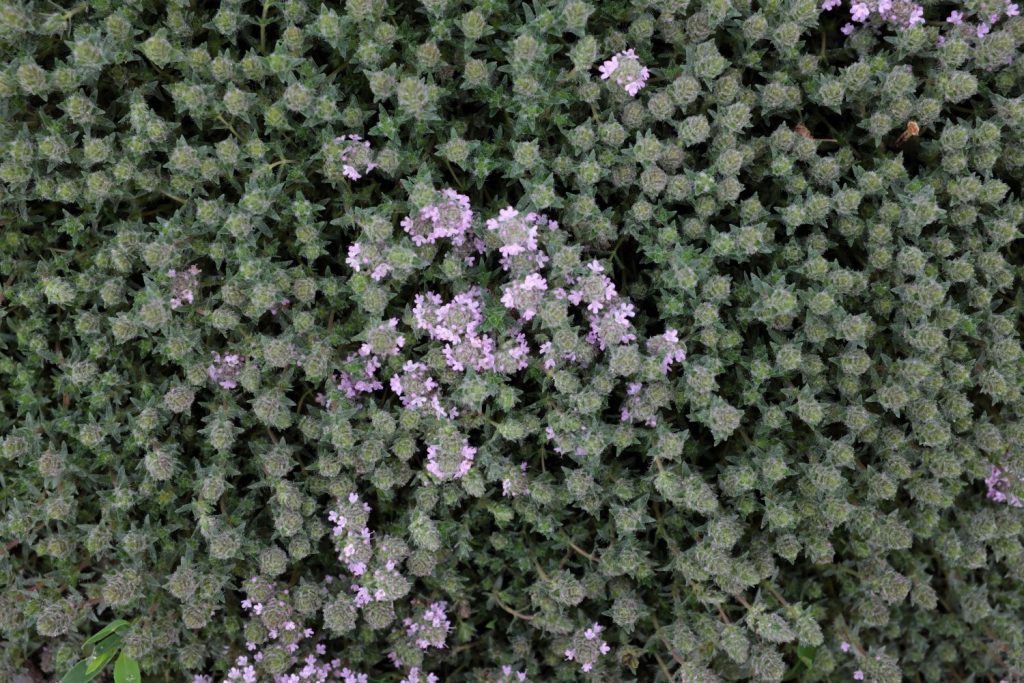 Woolly thyme (Thymus pseudolanuginosus): is unsuitable for culinary use, as it is only mildly fragranced, but its hairy leaves and dense foliage form a thick mat when grown as a groundcover. This dwarf shrub produces deep purple to pink tubular flowers from June to July and grows up to 10cm in height.
Varieties of common thyme
The most well-known type of thyme, common thyme (Thymus vulgaris), offers a wide range of varieties. Also known as garden thyme, it can reach a height of 15 to 40cm and grows upright with woody shoots. The small leaves are green to grey-green. Depending on the variety, common thyme blooms in purple, pink or white from June to September and attracts a variety of insects. Its quintessential Mediterranean aroma is due to its high content of essential oils, making it a popular choice as a culinary and medicinal herb. Here are some of our favourite varieties of common thyme:
'Argentus': the notable feature of this variety is the green and yellow patterned leaves. This thyme grows upright up to 20 to 30cm high. It blooms pink flowers through June and July.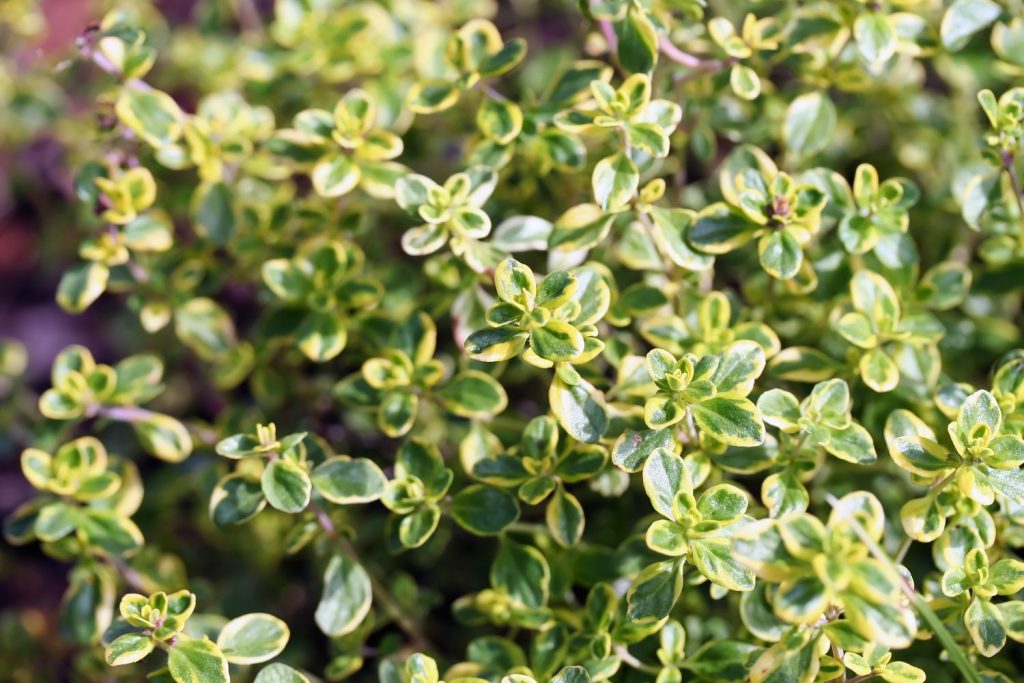 'Compactus': this variety features a compact, bushy habit, making it ideal for growing in pots. It grows up to 20cm high and produces light purple flowers from June to July.
'Fleur Provençale': the aromatic Provençal fragrance of this variety makes it well suited to seasoning dishes. It grows up to 20cm tall and blooms white to pale pink flowers from June to August. However, this variety is quite sensitive to cold, so it should be protected from frost over the winter.
'Orange Spice': this variety is characterised by a fresh tart aroma with a clear note of orange and lemon. It grows 5 to 10cm tall and forms dense cushion-like carpets, which develop fragrant pink flowers in June and July. This variety should be protected from the frost over winter, as it is very sensitive to cold.
'Rose Thyme': as the name suggests, this unusual variety smells of roses. This makes rose thyme a particularly special spice plant that is popular in teas. Rose thyme grows compact, upright and bushy, reaching 20cm tall. Its white to soft pink flowers bloom from June through to August. This variety should be overwintered well and protected from frost.
Tip: to ensure frost sensitive plants sprout again next spring, they must be overwintered properly. You can find all the information about overwintering thyme in our other article.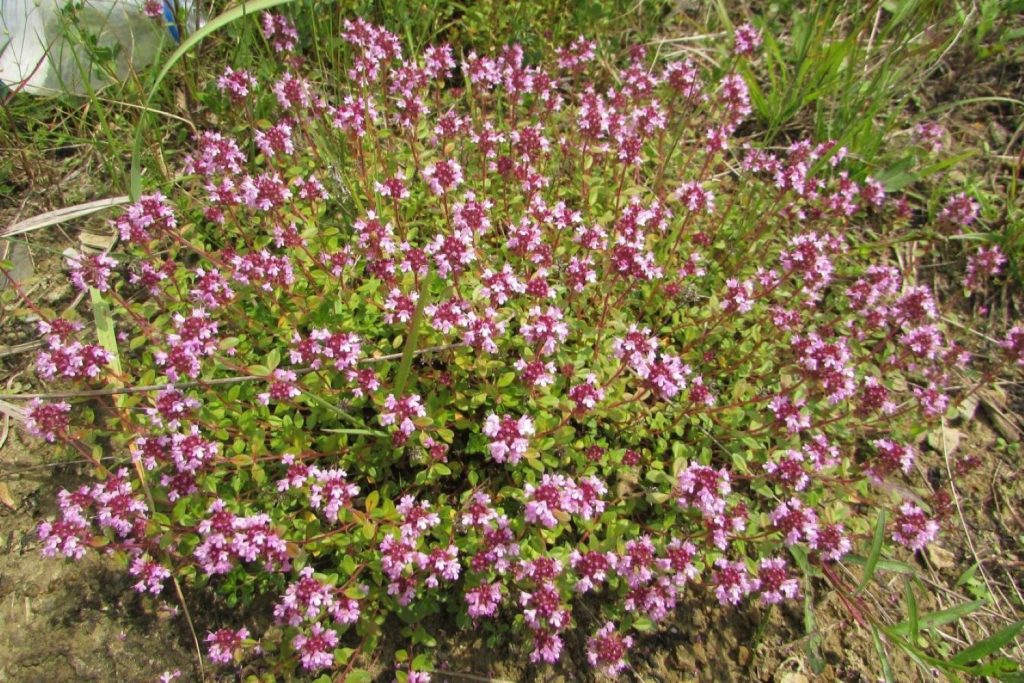 Whilst you can use your freshly harvested thyme right away, it is also possible to preserve thyme so that you can utilise its benefits later. Find out about harvesting, drying and storing thyme in our dedicated article.