The best peppermint varieties to grow at home
Peppermint comes in many varieties with a wide range of flavours, scents and colours. Be it for cooking, making teas or adding flavour and colour to drinks, learn all about some of the best varieties of this aromatic herb.
Peppermint (Mentha x piperita) is a hugely popular garden herb. It is a hybrid between water mint (Mentha aquatica) and spearmint (Mentha spicata) and was first cultivated in England back in 1750. There are over 25 horticulturally cultivated species of mint, but peppermint is the most commonly used. Mint is grown as a perennial herb for its aromatic leaves all around the world. The leaves can be used for cooking, for tea and even for medicine.
Types of peppermint plants
Peppermint varieties all have small but subtle differences between them. These nuances can include appearance, aroma and growing requirements. The hardier high-yielding peppermint varieties originate from commercial cultivation and have become the most popular mint plants to grow at home.
Here are some of the best tried-and-tested peppermint varieties as well as a number of outstanding newer varieties worth discovering.
Classic peppermint varieties
'Mitcham' (Mentha × piperita 'Mitcham') is one of the staple classic peppermint plant varieties. It is known as English peppermint and its dark green and smooth leaves are often tinged with red. Mitcham peppermint grows up to 80 cm and is very high yielding. It offers that full-bodied peppermint aroma but, unfortunately, this variety is susceptible to mint rust (Puccinia menthae). We recommended re-potting or moving it to a different location every year.
Tip: A great choice of potting compost for peppermint plants is our Plantura Organic All Purpose Compost, which is perfect for growing healthy garden plants.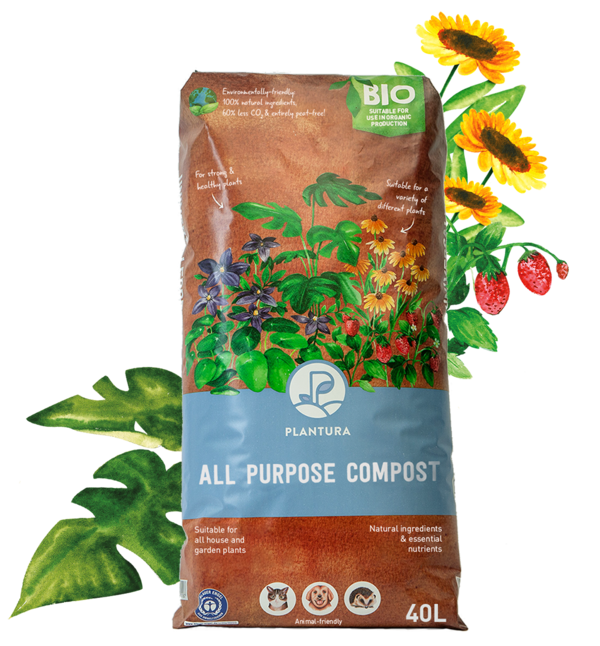 Organic All Purpose Compost, 40L
Perfect for all your house, garden & balcony plants
For strong & healthy plants as well as an active soil life
Peat-free & organic soil: CO2-saving composition
'Black Mitcham' (Mentha × piperita 'Black Mitcham') is strongly aromatic and has oval, pointed and serrated dark green leaves with flashes of dark red and bronze. Like most mint, it has a spreading growth habit and grows up to 40 cm tall and 90 cm wide.
'Agnes' (Mentha × piperita 'Agnes') is a mildly aromatic peppermint variety that is rich in menthol and grows up to 80 cm. An advantage of this variety is its low susceptibility to fungal diseases, such as powdery mildew (Golovinomyces).
'White Peppermint' (Mentha × piperita 'White Peppermint') lacks the red flushes on its leaves. Its large leaves are a lighter shade of green, pointed, and with a serrated edge. It also has slightly fuzzy stems. A 'White Peppermint' plant grows up to 45 cm. It has a milder taste than other peppermint varieties.
Variegated Peppermint (Mentha × piperita 'Variegata') is one of the less vigorous peppermint plant types. It boasts cream variegated foliage and spikes of pink flowers in late summer. It grows up to 60 cm.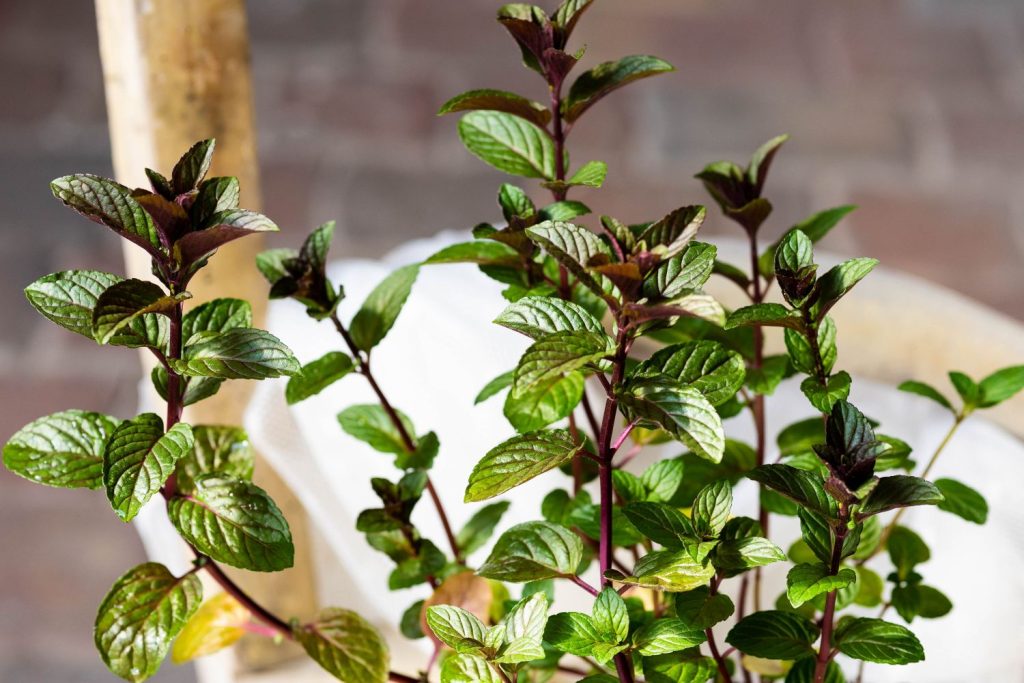 New peppermint varieties
'Chocolate Mint' (Mentha x piperita 'Chocolate') has a full-bodied flavour with a hint of citrus. A 'Chocolate Mint' plant has dark green oval, pointy leaves complimented by a purple underside and a dark green stem. It grows up to 40 cm. Chocolate mint does not like heat, so make sure to plant it in a shady spot.
'Black Peppermint' (Mentha x piperita) is a widely popular mint variety. Its dark purple-black leaves and deep purple stem make it a real showstopper. This variety grows up 50 cm and is stronger in taste than white peppermint, making it popular in teas.
'Orange Peppermint' (Mentha x piperita f. citrata) has a very strong flavour and scent compared to other peppermint varieties. The red foliage is highly aromatic, with a rich spicy citrus perfume. Its oval leaves have dark red tones that complement the plant's red stems. Orange peppermint is used for both cooking and tea, while its outstanding fragrance make it great for garden borders.
'Lemon Mint' (Mentha x piperita f. citrata) offers a fantastic lemon fragrance from its light green leaves. The whole plant gives off a delicious smell, making lemon mint a great choice for both teas and summer cocktails.
Although there is a wide range of fantastic peppermint varieties to choose from, it is not a good idea to plant different types of peppermint next to each other in the garden. Since all mint plants spread vigorously, planting different types right next to each other will cause them to spread and mix, making it difficult to identify each type. Also, it will increase the risk of mint rust spreading and different varieties of mint can cross-pollinate with each other.
If you want to find out more about mint, you can discover how to propagate and overwinter mint in our article.