Coriander: varieties, taste & uses of cilantro
Coriander has many uses and is considered one of the oldest medicinal plants in the world. Here are our top tips on choosing varieties and how to use this aromatic herb.
Coriander, also known as cilantro in the US, is known and loved around the world. We will introduce you to the best coriander varieties and give tips on how to use them.
Coriander: origin and characteristics
Coriander (Coriandrum sativum) belongs to the umbelliferae family (Apiaceae) so it is closely related to anise (Pimpinella anisum), parsley (Petroselinum crispum) and caraway (Carum carvi). The herb is also known by a few other names including cilantro, Chinese parsley and dhania. Coriander has been used as a culinary herb, spice and medicinal plant for thousands of years. The feathery herb is mentioned in ancient Sanskrit texts and also in early biblical texts. Coriander seeds were even found during the excavation of Tutankhamun's tomb. It can be assumed that the annual herb has its origins in the Mediterranean region.
Coriander is an annual herb that is not frost-hardy. It grows up to 70cm high with dense branching and pinnate foliage similar to flat-leaved parsley. The coriander's umbellate, white to pale pink flowers appear from June to August – they have much larger petals on the outside than in the centre. The flowers attract lots of beneficial insects. After pollination, peppercorn-sized, hemispherical, light brown seeds form. From September, the coriander seeds can be harvested and dried for use as a spice.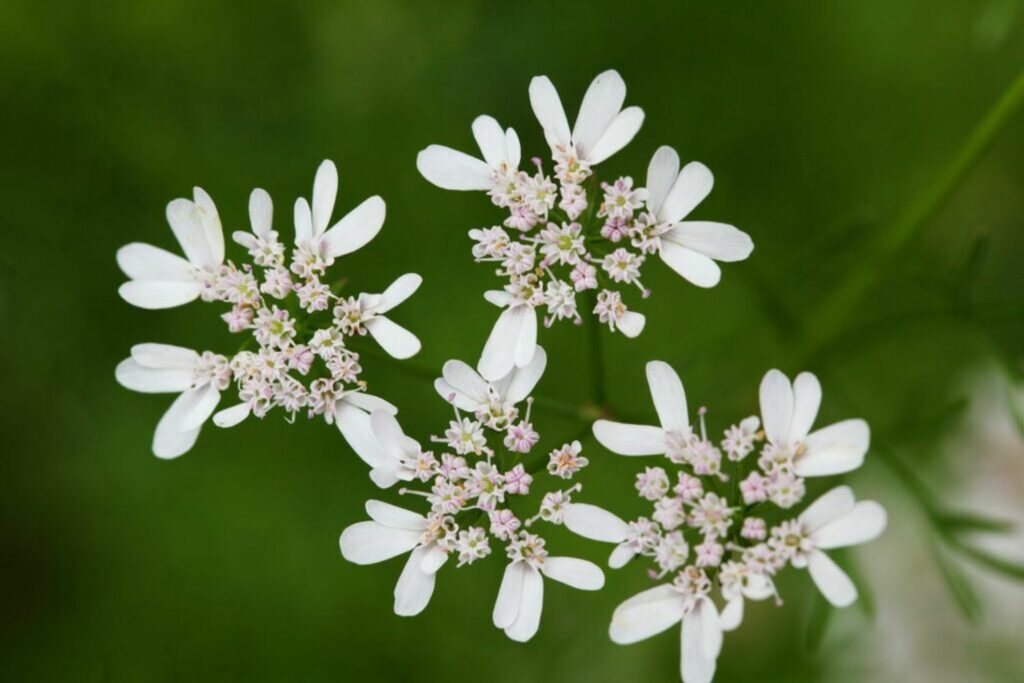 What is the difference between coriander and parsley? Parsley and coriander are closely related. The biggest difference between coriander and parsley is the flavour, with coriander having a much stronger, earthy, cumin-like aroma with hints of citrusy orange.
The most aromatic types of coriander
The coriander genus Coriandrum is made up of just three species, with only one, Coriandrum sativum, being cultivated commercially. Some coriander varieties have been specially cultivated with a focus on flavour or seed size:
'Indian coriander': annual coriander up to 70cm with elongated seeds and sweeter flavour than many other varieties. Key ingredient in garam masala spice mix.
'Jantar': Nutty tasting coriander with very shiny foliage and quite small but very aromatic seeds. Both the foliage and the fresh and dried seeds can be used.
'Thüringer': Old, German traditional variety with good seed production. The plants reach a height of about 40cm.
It's not just the dried or ground seeds that are a delicious addition to your cooking, the coriander leaves can also be used. While the seeds have a spicy, woody taste, the leaves have a strong, earthy, pungent aroma. There are now varieties on the market that have been specially cultivated for their leaves.
'Caribe': Coriander with a particularly high leaf yield and a growth height of 40 to 60cm.
'Confetti': Coriander with finely divided, dill-like foliage and a sweeter flavour than many other varieties.
'Dwarf Lemon': Compact growing coriander variety up to 30cm with a lemony aroma.
'Marino': Coriander with strong leaf growth and spicy flavour.
Mexican coriander (Eryngium foetidum), also called long coriander or cilantro, belongs to the Umbelliferae family too, but to a different genus than our ordinary coriander. The elongated, tooth-edged leaves on the plants, which grow up to 30cm high, have a strong coriander aroma. Vietnamese coriander (Persicaria odorata) is similar in smell and taste, but belongs to the Polygonaceae family so is not related to coriander. However, Vietnamese coriander has a clear advantage over cilantro: it is perennial and more hardy to cool temperatures, although it should still be overwintered indoors.
Once you have decided on the right variety, read our article on planting coriander for our top tips.
What does coriander taste like?
As the coriander seeds ripen and dry after harvesting, they develop their characteristic spicy, earthy, cumin-like aroma with a slight hint of orange peel. The coriander leaves, which can also be used as a culinary herb, have a rather spicy-hot, peppery to bitter taste. Coriander leaves are a bit of a marmite herb, you either love it or hate it. For some, coriander greens taste soapy and unpleasant, which is probably down to genetics.
Coriander benefits
Coriander is a healthy herb that also stimulates digestion. It is packed with essential oils, such as coriandrol, geraniol and myrcene, that can have an antibacterial effect. The coriander leaves contain loads of vitamins as well as minerals like iron and potassium.
Coriander uses
Coriander has many different uses, as all parts of the plant are edible. In Thailand, even the roots are used in various dishes. Summer is the time to harvest coriander, first the leaves as well as the flowers, then in autumn, the seeds. Read our article on harvesting and storing coriander for step by step guides.
Using coriander seeds
The essential oils that give coriander seeds their flavour are partly formed only when the seeds are dried. So, drying after harvesting is essential for a full flavour. Ground coriander seeds are used, for example, in curries, cheese and baking as well as spice mixes for gingerbread, marinades or spirits such as gin and Carmelite water.
As a medicinal plant, coriander has been used since time immemorial to treat loss of appetite, colds, joint pain and migraines. For flatulence and other gastrointestinal complaints, the seeds are crushed and infused in tea, although the beneficial effect of coriander for digestive complaints and to relieve cramps is less than that of fennel (Foeniculum vulgare) and caraway. Coriander is also known to cause dizziness and intoxication if consumed in excess. Furthermore, the oil extracted from the seeds is used as a fragrance in the perfume industry.
Using coriander greens
The leaves of coriander are used fresh in many dishes of Indian, Asian and South American cuisine. The cilantro leaves also give the signature green colour to a traditional Spanish garlic sauce, mojo verde.
Coriander flowers
In addition to the leaves and fruits, the coriander flowers are also edible and have the typical aroma of the herb. This makes them a delicious garnish!
Substitute for coriander
Coriander can be replaced by a mixture of milder tasting parsley, tarragon (Artemisia dracunculus) and cumin for those who do not enjoy the taste.
To get the most abundant yield of coriander leaves or aromatic seeds, make sure you are providing the right coriander care.