African blue basil: growing, care & more
On top of it being a fine ornamental plant, you can use African blue basil as a herb. It also serves as an oasis for bees and many other beneficial insects.
Why not decorate your herb garden with African blue basil (Ocimumkilimandscharicum x Ocimum basilicum) and its beautiful flowers while also using it to add a delicious Mediterranean aroma to your cooking. Find out everything you need to know about growing African blue basil successfully.
African blue basil: origin and properties
Botanically speaking, African blue basil belongs to the Lamiaceae family and is a cross between basil (Ocimum basilicum) and camphor basil (Ocimumkilimandscharicum), an African basil plant. With consistent warmth and sun, the plant's stem becomes woody with age and grows up to 1m high and very bushy. Today, this perennial shrub is mostly cultivated in pots in herb gardens. However, to grow African blue basil as a perennial, you need to overwinter the frost-sensitive herb properly.
The lower sections of African blue basil's upright stem are woody. The leaves grow in an opposite pattern along the stalks, forming elongated ovals with smooth or slightly serrated edges. African blue basil flowers from May to October. Its pink and purple lipped flowers are clustered together in a spire of whorls.
Is African blue basil bee friendly? Yes, it is very bee-friendly. The herb is a non-stop bloomer, meaning the flowering period extends from May to October. As such, it is able to feed bumblebees, wild bees, butterflies and other beneficial insects all summer long.
What is the difference between common basil and African blue basil? African blue basil is a type of perennial basil plant, which are subspecies or cultivars of regular basil. The term perennial basil may also refer to entire species and even hybrids, such as the sterile 'African Blue'. As a hybrid of basil and camphor basil, it is very closely related to the common, barely woody kitchen basil. While conventional basil grows as a tender, only slightly woody, green annual and is particularly popular as a fresh herb, African blue basil grows as a shrub that is somewhat easier to care for than conventional basil. Its flavour is stronger than that of regular basil.
The best basil cultivars
African blue basil is not the only woody, perennial basil shrub available. The different varieties offer a spectrum of colours and tastes, with some growing more densely than others. Here are some popular perennial basil cultivars:
'Holy': this basil is used in Thai cooking and has green, fragrant leaves with small pink and purple flowers. It is a short-lived perennial that requires protection from frost in winter.
'Greek': Greek basil grows up to 70cm tall and only rarely displays its pink flowers. Its leaves have a gentle cinnamon aroma. It requires warmth and can only be propagated by cuttings.
'Mammoth': this cultivar can reach a height of up to 1.2m and is extremely robust. The reddish stems have large, aromatic leaves with a cinnamon scent. Mammoth basil is very persistent and even tolerates light frost, which is why it can grow outside until November.
'British': this short-lived perennial requires winter protection. It has glossy mid-green leaves with spikes of white to lilac flowers.
'African Blue': is a hybrid between red rubin basil and camphor basil, originating in Africa. Stronger flavour than common basil. Grows up 1m high and becomes very bushy with age.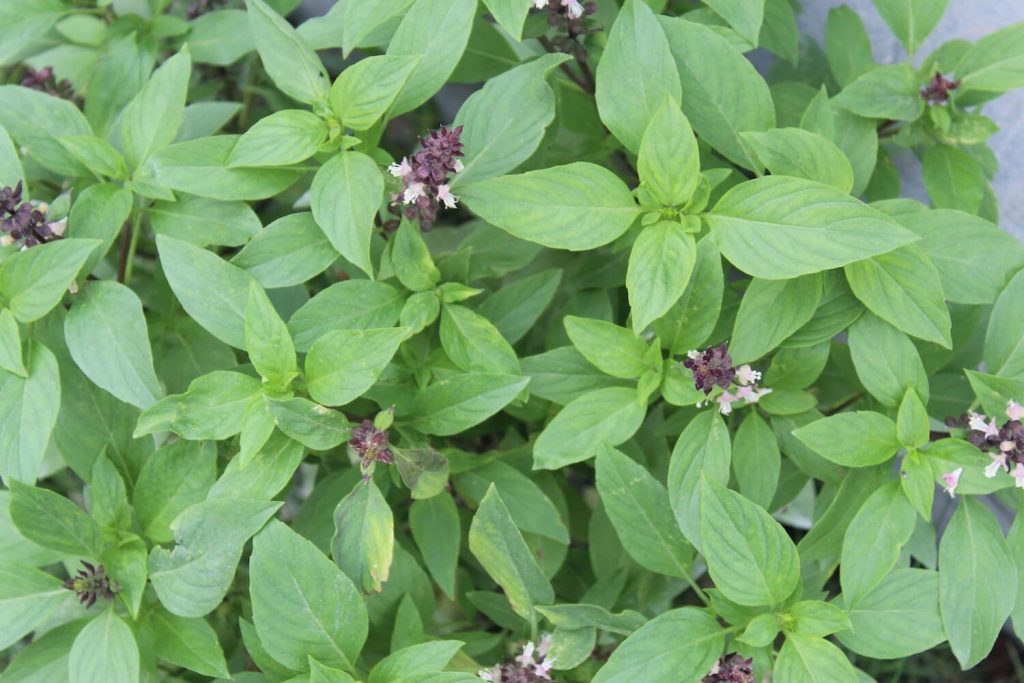 African blue basil: growing & propagating
Even though you can easily propagate many perennial basil plants from seed, African blue basil is a hybrid and can only be propagated by cuttings. To do this, cut off 10 cm long, non-woody shoots without flowers. Remove the lower leaves and place the cuttings in a glass of water. The first roots will appear after just a few days and you can plant the cuttings after 2 weeks. The best time for propagating cuttings is in midsummer, as the shoots will root more vigorously.
Planting African blue basil cuttings:
Do not transplant the plants outside until mid-May. The same goes for bringing potted African blue basil outdoors. Accustom the young plants to the sun slowly.
Our Plantura Organic Tomato & Vegetable Compost, for example, is a suitable planting soil. Mix it with a third of sand to provide the nutrient-hungry African blue basil with all the nutrients it needs. In addition, this soil is completely peat-free, which means that around 60% less CO2 is emitted during production compared to peat substrates.
For potted perennial basil, choose a sufficiently large pot so that the roots still have plenty of room to spread. It should also have good water drainage. You can add a drainage layer in the lower third of the pot.
Plant at a spacing of 40 cm. For ornamental arrangements, you may plant three or four plants in one spot.
If you have a fertile perennial basil, you can harvest the seeds yourself. Let the flowers wither, enabling the seeds to fully ripen. Then cut off the withered flowers and strip the seeds from the stem in the bracts. Grind the mixture of bracts and seeds in your hands and separate the seeds. You can use a sieve for this. Allow the basil seeds to dry for another 2 to 3 days and then store them in an airtight, labelled container. Or you can simply buy seeds.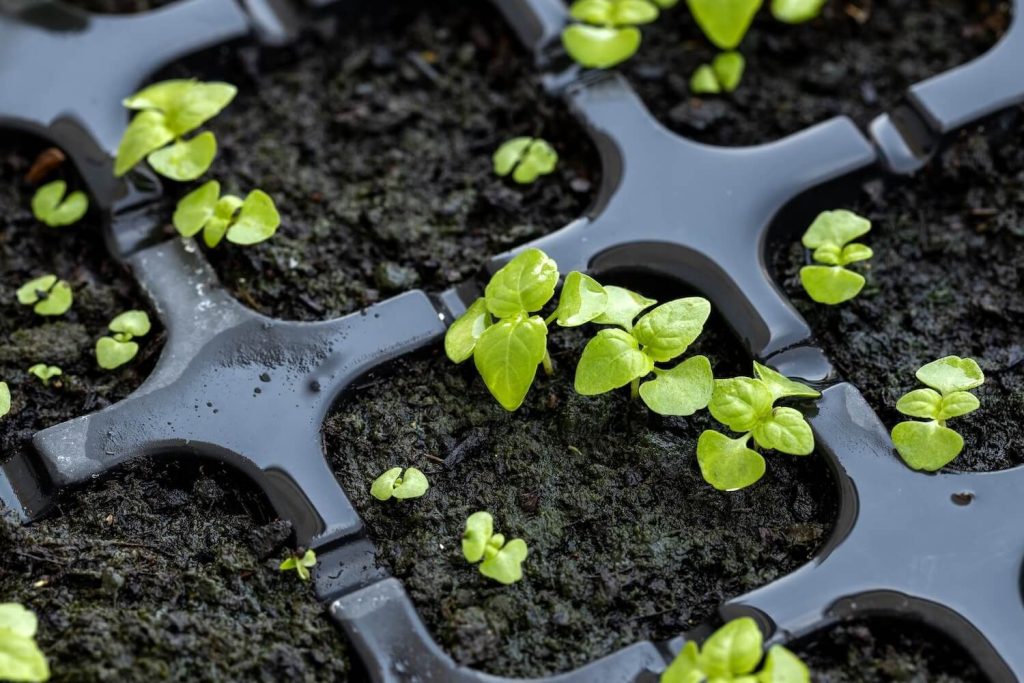 Sowing perennial basil yourself:
Start the seeds indoors or in a greenhouse as early as March.
Sow seeds outdoors from the end of April.
A suitable growing medium is nutrient-poor and well-structured, allowing the young plant roots to fully develop, such as our Plantura Organic Herb & Seedling Compost.
Scatter the seeds on the compost and press down lightly. As basil needs light to germinate, do not cover the seeds with soil.
At temperatures of at least 20 °C, fresh seeds will germinate into seedlings after 3 days.
Never let the soil surface dry out completely, always keep it slightly moist.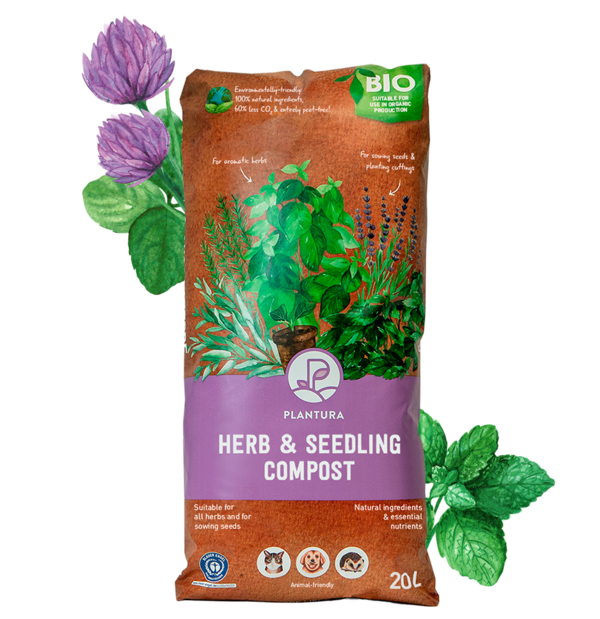 Organic Herb & Seedling Compost, 20L
Perfect for herbs as well as sowing, propagating & transplanting
For aromatic herbs & healthy seedlings with strong roots
Peat-free & organic soil: CO2-saving composition
African blue basil: plant care
Because of its tropical origins, African blue basil needs a particularly warm and bright location. A sunny spot in the herb garden is ideal. The more sun the plant gets, the more aromatic and intense the leaves will taste. African blue basil also grows well in pots – place the pot on a bright windowsill, balcony or terrace. In winter, simply find a suitable location for overwintering the potted plant. Make sure you grow African blue basil in a sheltered place, as it reacts sensitively to draughts and constant wind. It prefers humus and nutrient-rich soil that is consistently moist.
Watering and fertilising
African blue basil's biggest need is proper watering. Water it regularly to keep the soil from drying out. Especially in the warm summer months, water it daily. In this time, use stale rainwater and water in the early morning or late evening hours. Prevent waterlogging at all costs. You do not need to water an African blue basil growing in humus-rich soil outdoors as often as one growing in a pot.
Fertilise the basil shrub regularly to provide it with necessary nutrients. A slow release fertiliser that you can work into the soil when planting is a good choice. Such a fertiliser, like our Plantura All Purpose Plant Food, does not release all the nutrients at once, but rather slowly releases them to the plant over a long period of time. Alternatively, you can use mature compost as fertiliser.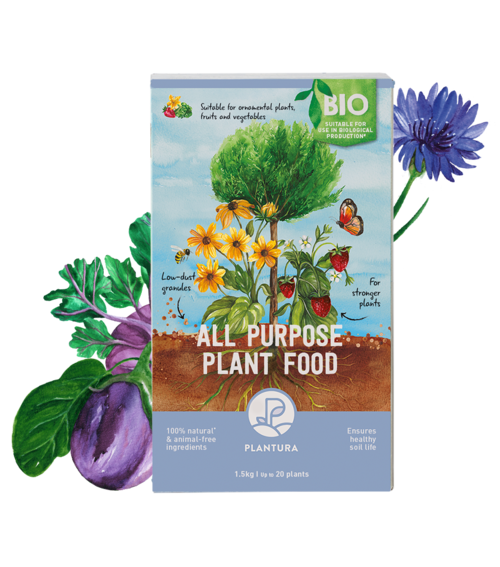 All Purpose Plant Food, 1.5kg
Perfect for a variety of plants in the garden & on the balcony
Promotes healthy plant growth & an active soil life
Long-lasting fertiliser that is free from animal products - child & pet friendly
Pruning African blue basil
You do not need to prune your African blue basil, especially if you are regularly harvesting the shrub. Harvest the top of shoots to encourage new shoots to branch out and support bushy growth. In autumn, you can prune African blue basil back heavily, making it easier to overwinter and come spring new shoots will grow. In spring, remove any wilted branches that occurred if the overwintering conditions are too warm.
Is African blue basil hardy?
No, African blue basil is not hardy. It originates from tropical Africa and Asia and therefore prefers a lot of sun and warmth and is very sensitive to cold. In order to grow perennial basil for more than one season here, you need to overwinter it properly.
When temperatures dip below 10 °C at night, you should start overwintering your perennial basil. Find a place that is bright and cool, ideally between 10 to 15 °C. Avoid cold droughts and water the plant occasionally so that it does not dry out completely. A bright, cool stairwell, a cellar or an unheated conservatory are suitable locations. If your African blue basil has been growing in a garden bed during the summer, it is essential to dig it up and plant it in a pot to overwinter indoors.
After the cold period, gradually accustom the perennial basil shrub to the sun again. From mid-May, when the night temperatures no longer fall below 10 °C, you can move it back outside. Alternatively, you can grow African blue basil as an annual.
Tip: if you want to stock up on basil for the winter, you can find out everything about harvesting and storing basil here.
African blue basil: harvesting and uses
You can always harvest leaves from perennial basil shrubs, but the aroma is most intense just before they flower. All parts of the plant are edible, even when it is still in flower, although usually only the leaves are used, as they are the most tender. To harvest, either cut off the tips of the shoots with the uppermost leaves or cut the whole shoot in half. If you can, use the leaves when fresh. If you want to preserve the herb, you can dry it, freeze it or pickle it in oil. However, you will lose some of the flavour in the process.
You can use African blue basil in countless ways, from salads to pesto or Mediterranean dishes. Try drinking it as tea after a meal to reduce bloating and digestion issues.
Apart from African blue basil, there are other, even more exotic basil varieties, such as Thai basil. Find out everything about Thai basil in our article.