Christmas plants: the most festive plants for the Christmas season
As far as festive plants go, Christmas trees are not the only option. In this article, we have put together a list of the most beautiful Christmas plants, both indoor and outdoor, and how to care for them.
Although conifers are everyone's favourite at Christmas, there are lots of other popular plants for decorations or gifts during the festive period which help make your home feel a little more Christmassy. Find out all about these ten Christmas plants and how to care for them to spread a little festive joy throughout the season and beyond.
1. Christmas cactus
For a long time, the Christmas cactus (Schlumbergera) was really underrated, but in recent years this Christmas plant has grown in popularity. Its flowers, which bloom from pink to red to yellow and white during the festive season, are partly to thank for this. The Christmas cactus also requires very little care, which is convenient in the sometimes-stressful run up to Christmas. Simply make sure to water your Christmas cactus regularly and avoid placing it directly above a radiator, as this may cause its sensitive root system to get too hot. In fact, temperature also plays a big role in the flowers of the Christmas cactus; if your plant bears yellow or orange flowers, their colour can change to pink if the temperature rises above 15 °C.
2. Holly
Christmas plants are not just limited to indoor plants. Your garden can also benefit from some festive foliage, such as holly (Ilex) – a real Christmas classic. This evergreen deciduous shrub has dark green, leathery leaves, and bright red berries which remain on the plant until spring. Not without reason is this plant sometimes referred to as Christmas holly; in England and America in particular, holly has long been used in Christmas decor. The branches of the holly look very festive as a holly wreath or an arrangement with other plants and are ideal for crafts and decorations. However, be sure to supervise small children and pets around the holly, because as tempting as the small berries of the holly may look, just like the leaves they are very poisonous. In the garden, holly is an extremely undemanding and low-maintenance plant. Simply fertilise the plant once a year and prune it back as needed.
3. Amaryllis
The amaryllis (Hippeastrum) is also a very popular gift at Christmas time. Its gorgeous flower can grow up to 30 cm tall and often blooms in December – just in time for Christmas. With almost 600 cultivars, there are many amaryllis varieties to choose from, with flowers varying from dark red to brilliant white. When in bloom, be sure to water your amaryllis well. Placing the plant in a saucer of water works well as this watering method allows the plant's roots to absorb the water it needs. Even when the amaryllis is no longer in bloom, there is no need to throw the plant away. Simply continue to water and fertilise the amaryllis regularly after flowering. In September, place it in a slightly cooler location and keep it dry. The amaryllis will then sprout new, beautiful flowers again come December.
4. Poinsettia
The poinsettia (Euphorbia pulcherrima) is particularly popular as a gift, which has made it one of the best-known Christmas plants. Its colourful bracts are a stunning feature. Poinsettia leaves most often come in a festive red, but can also be white, yellow or pink. And these beauties are not just for Christmas! Poinsettias can in fact flower until Easter if given the right care. Keep your poinsettia at room temperature somewhere without cold draughts and fertilise weekly. In spring, you can also cut back the plant and place it in a flower bed outside. To get your poinsettia to flower again, bring it back inside at the beginning of autumn and place it somewhere it will get plenty of natural light.
5. Orchid
Orchids (Orchidaceae) are not just for Christmas, they also make great ornamental house plants throughout the year. And for good reason! These graceful plants' produce stunningly beautiful large flowers. Among the myriad orchid species, red and white orchid varieties in particular are perfect for the festive season. However, it is crucial to take proper care of your orchid to keep it beautiful for as long as possible. First of all, orchids need a bright location with a constant temperature of 18 to 25 °C. In addition, orchids are prone to root rot so avoid overwatering. To water your orchid, immerse it in a water bath once a week. When fertilising orchids, make sure to use an orchid fertiliser and apply it sparingly to keep the plant happy and healthy.
6. Rose of Jericho
A grey, dried out tangle of stems, the Rose of Jericho (Anastatica hierochuntica) may seem like an unusual choice for festive decor. Nevertheless, for many families the Rose of Jericho, also known as the holy rose, holy family's rest or resurrection plant, is as much a part of Christmas as the Christmas tree and presents. Far from boring, if you put the shrivelled Rose of Jericho in water, within a few days the stems will unfurl and regain their olive-green colour. Unfortunately, this "resurrection" is temporary; it is a purely physical effect, as in reality the plant is still dead. However, this also makes the Rose of Jericho extremely easy to care for. It can remain in water for up to a week, after which time it may start to form mould. If you then let the Rose of Jericho dry thoroughly and store it in a warm, dry place, it will keep almost indefinitely, and you can repeat the "resurrection" as often as you like.
7. Camellia
A robust mimosa shrub, camellia (Camellia) can easily tolerate temperatures as low as -15 °C outdoors. Yet, camellia is very sensitive as an indoor plant and will wither quickly if it is too warm. Ideally, you should keep your camellia somewhere temperatures do not exceed 15 °C; under these conditions its flowers can last up to five weeks. You should also pay particular attention to how to care for camellia. Only water with water low in lime (rainwater, for example) because, like the rhododendron (Rhododendron), it reacts very sensitively to high lime content in water. In return, your camellia will give you beautiful flowers up to 15 cm in size, which look very much like peonies and are a perfect part of your Christmas decorations.
8. Mistletoe
One of the most classic Christmas plants, sprigs of mistletoe (Viscum album) are often brought indoors in December to be used as part of the festive decor. Mistletoe is a type of hemi-parasitic evergreen, meaning it requires a host plant to fully mature. In winter, it bears beautiful delicate little white berries. We all know the tradition of kissing under the mistletoe, but did you know you can grow your own to use as festive decor? Read more about this traditional Christmas plant, the origin of the kissing tradition, and how to grow and care for your own in our article on mistletoe.
9. Azaleas
For many years now, indoor azaleas (Rhododendron simsii) have been sought-after Christmas plants and popular as festive decorations. And no wonder! Hardly any other houseplant shows such a beautiful, lavish display of flowers in winter. What's more, the variety and versatility of azaleas is truly impressive. With well over a hundred varieties with flower colours ranging from elegant white to bright pink, there truly is something for everyone. However, there are a few points you should bear in mind when caring for them. Firstly, azaleas react very sensitively to high amounts of calcium in water, so ideally use rainwater. Secondly, azaleas do not tolerate waterlogging well, but equally, the soil should always be moist – it really is a case of finding the right balance. As long as you get these things right, you will be rewarded with an exceptionally beautiful flowering Christmas plant.
10. Christmas roses
When the Christmas rose (Helleborus niger) starts to bloom, you know Christmas is just around the corner! Christmas roses bloom in the middle of winter, even in snow and ice – truly a little Christmas miracle! It is not surprising then that the Christmas rose also has a long tradition as a Christmas flower. There is even a legend about this beautiful flower. On Christmas Eve, a shepherd girl named Madelon is said to have set out to meet baby Jesus, but as she had nothing to give him, she wept. Then before her very eyes a beautiful flower blossomed on the spot where her tears had fallen, and full of joy she brought it to the child in the manger. Even today, the Christmas rose has lost none of its magic. To ensure that it stays that way, look after your Christmas rose by keeping it in a cool room and do not water too often as it does not tolerate waterlogging.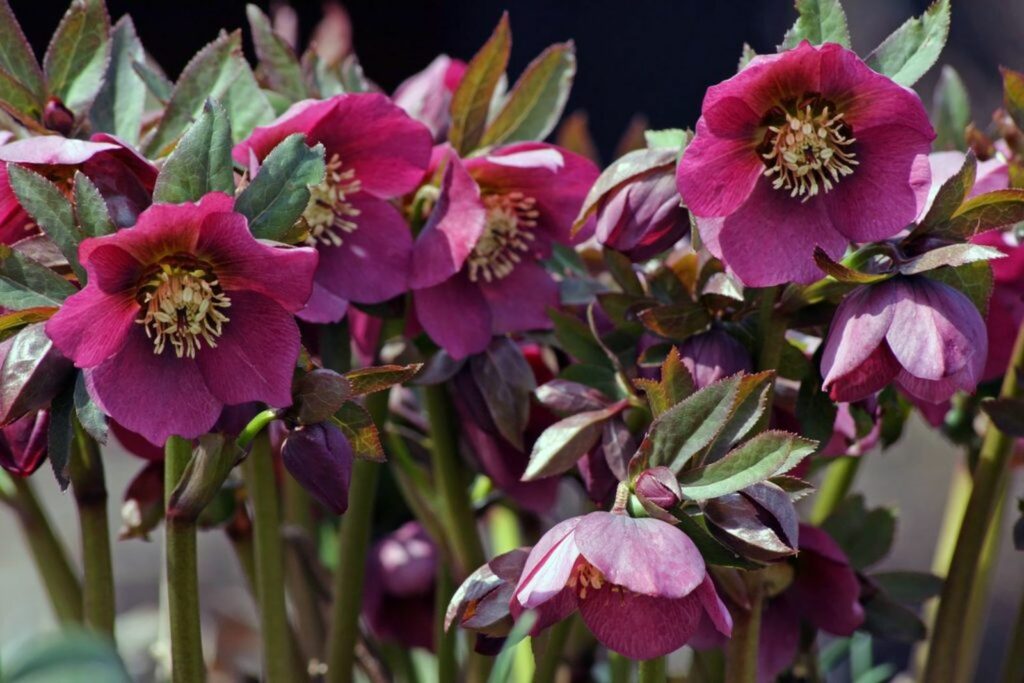 Christmas plant care: the right soil
A plant should be for life, not just for Christmas! To make sure your Christmas plants keep spreading joy long after the festive season comes to an end, pot them in high-quality potting soil. Using the right soil is one of, if not the, most important step in caring for your plants, but the quality of various potting composts on offer differs immensely. Low quality potting soil often cannot meet the requirements that the plant needs to thrive. Instead, much more time and effort must be invested in taking care of your plants so that they can flourish. High-quality potting compost, on the other hand, can boast an excellent soil structure, better root support and a well-adapted nutrient composition – the perfect mix for healthy, happy and, above all, long-lasting plants. Our peat-free Plantura Organic Flower Compost, for instance, is perfectly adapted to the needs of your flowering plants. It also has an optimal pH value and balanced nutrient composition to create ideal conditions for abundant flowering.
Organic Flower Compost, 40L
Perfect for all flowering plants in garden beds & pots
For beautiful blossoms & healthy plant growth
Peat-free & organic soil: CO2-saving composition
As beautiful as these Christmas plants are, it simply wouldn't be Christmas without a Christmas tree! If you are interested in a more sustainable alternative, you might like to consider a Christmas tree in a pot this year.