Edible flowers: what flowers can you eat?
Edible flowers can turn any dish into a delightful floral creation. Find out what flowers are edible and learn about the best ways to use them in your kitchen.
For many gardeners, flowers are an absolutely essential part of the garden. But, aside from looking pretty, what other uses do these colourful plants have? As a matter of fact, there is a whole range of flowers that can excite your taste buds while also pleasing your eyes and sense of smell. Whether you put them in a salad, the main course or on a dessert – you can use these flowers universally to enhance almost any dish. And on top of adding some oomph to your cuisine, many of the brightly-coloured edible petals make a wonderfully artistic garnish. Read on to discover which flowers you can eat and which foods they pair well with.
Our favourite edible flowers
1. Common cowslip
With its delicate fragrance and beautiful flowers, the cowslip (Primula veris) never fails to enchant, and its delicately sweet taste makes it a real treat for the palate. Bear in mind though, that cowslip flowers can contain stomach-irritating saponins, so enjoy them in moderation.
2. Phlox
Phlox (Phlox) are perennials that are best known for their abundance of colourful flowers, making them very popular for borders and enlivening fences and walls – and this flower also looks great on a plate. The intensely fragrant flowers of the border phlox (Phlox paniculata) stand out because of their bold aroma and go perfectly with a variety of dishes.
3. Cornflower
Strikingly blue and beautiful – the cornflower (Centaurea cyanus) is considered one of the most spectacular wildflowers. The gorgeous flowers do not just put on a breath-taking display in the garden, they also make a stunning garnish. Even though the cornflower is edible, their taste is somewhat less exciting: slightly peppery and a little bitter, this flower is not really a delicacy, but still lovely to look at. Cornflower petals are commonly used in variations of earl grey tea.
4. Garden forget-me-not
The dainty flower's name speaks for itself: once you have seen forget-me-not (Myosotis sylvatica) with its abundance of small, bright blue flowers, it is sure to leave a lasting impression in your memory. Beyond its role in the garden, the little spring herald also serves as a delightful garnish for soups and salads. And while the edible flowers come with little flavour of their own, they will definitely transform your dish into a unique feast for the eyes.
5. Sage
Sage (Salvia) can be found in almost every herb garden, but few people realise how much the plant actually has to offer. In fact, not only are the herb's leaves edible, but the blooms can also be used in a variety of ways. Depending on the variety of sage, the flowers' taste can vary from bitter to sour or even slightly sweet.
6. Calendula
The radiantly glorious calendula (Calendula officinalis) is a welcome presence in many gardens. Commonly grown as an annual, the pot marigold is cherished for its eagerness to bloom in vibrant yellows, golds and oranges. In addition, calendula is widely recognised as a medicinal plant for its healing effects and used to treat various skin conditions. Calendula petals are edible and make a lovely herbal tea. And what they may lack in flavour, they certainly make up for with their colourful addition to salads and other dishes.
7. Jasmine
With its intense, sweet fragrance and elegant flowers, jasmine (Jasminum officinale) is a popular plant, even though not all types are fully hardy. The beautiful flowers are not only a joy to behold, you can also use them in lots of ways in the kitchen. Enjoy the luscious flowers fresh or dried and use them to make classic teas or desserts, as well as lemonade or ice cream.
8. Wild garlic
Wild garlic (Allium ursinum), also known as ramsons, is probably better known for its leaves, which have a subtle garlic flavour. But did you know that wild garlic flowers are edible, too? Season your salads or fish dishes with the flower's mellow onion taste or preserve them in a vinegar infusion. Exercise caution when collecting them in the forest, as you can easily confuse wild garlic with lily of the valley, which is poisonous.
9. Apple blossoms
Even though the apple (Malus) remains one of the most popular fruits of our time, its edible blossoms are often overlooked when it comes to their culinary uses. Let the delicate apple blossoms captivate your senses with their fruity and floral flavour. Savour them as a candied treat or process them into jam or syrup.
10. Lavender
Nurturing a lavender plant comes with many benefits: As an aromatic plant, lavender is a natural beauty famous for its irresistible scent. Lavender is also known to repel mosquitoes and has earned a reputation as a medicinal plant. To top it all off, you can use the edible lavender flowers in lots of kitchen recipes. Use lavender's intense aroma to enhance savoury meat dishes or to add a sweet note to desserts. Use English lavender (Lavandula angustifolia), as it has the best flavour – other varieties such as French lavender (Lavandula stoechas) or broad-leaved lavender (Lavandula latifolia) are not as palatable.
11. Sunflower
The sunflower (Helianthus annuus) has to be one of the most impressive autumn flowers around. Measuring between one to two metres on average and sporting its classic gold yellow flowers, the majestic sunflower stands out wherever it grows. Proving that it is more than just a pretty face, it also makes for a perfect little snack in between. Sunflowers are undoubtedly best known for their seeds, which are also popular with local wildlife. Their petals are equally safe to eat, so feel free to add them to your salads. And while the edible sunflower petals may not boast an intense flavour, their glowing colour will certainly add an extra touch of happiness to your meal.
12. Rose
The rose (Rosa) is considered the queen of flowers, which is hardly surprising, as it lavishly bestows us with its timeless beauty and dreamy perfume. Use edible rose petals in the kitchen for a splash of colour and a delightfully intense taste. To instantly glam up your cooking, simply sprinkle dried rose petals as an edible floral garnish on top of any dish or dessert.
13. Nasturtium
The nasturtium (Tropaeolum) never fails to captivate with its vibrant flowers and warm summer colours. The flaming little flowers will cheer you up even beyond the garden, having long established themselves as trusty kitchen companions: Treat yourself to their spicy, peppery flavour by using the nasturtium's edible flowers in salads or enjoying them on a sandwich. You can also use the seeds as a substitute for capers: Harvest the nasturtium's edible seed pods and pickle them in a brine made from boiling vinegar, water and salt. This way, your poor man's capers will keep for many months.
14. Dandelion
Growing wherever it pleases, the dandelion (Taraxacum) may still be considered a pesky weed by many gardeners. Yet the dandelion actually makes a good case for why you should welcome it more warmly: the edible weed is both tasty and healthy. Use dandelion leaves to make delicious salads or soups. The dandelion's edible flowers have a pleasantly sweet taste and can be used to make jelly or jam, as well as to decorate cakes and pies.
15. Daylily
Despite the fact that here it is rarely recognised as an edible flower and often misidentified as toxic, the daylily (Hemerocallis) is part of a long-standing culinary tradition in East Asian kitchens. In fact, the beautiful flower is often cultivated there specifically for its sweet and slightly spicy taste. Use it in everything from salads to rice dishes and even ice cream – the flamboyant daylily complements practically everything.
16. Chives
Chives (Allium schoenoprasum) are a classic herb that is found in nearly every garden. They feature beautiful violet flowers which are truly underappreciated in the kitchen. Chive flowers are edible and taste almost like young chives, just not as intense or spicy. Serve these lovely blooms alongside meat or salad or use them to top off desserts.
17. Courgette
Courgette (Cucurbita pepo) is a garden all-star, adorning the vegetable patch with its large yellow flowers and providing delicious vegetables in summer. The courgette flower is a sight to behold and is even deemed a delicacy because of its savoury flavour. Serve the courgette flowers with meat and fish dishes, or stuff them with delicious fillings.
18. Borage
While the edible borage plant (Borago officinalis) used to be a popular herb, it is rarely found in herb gardens nowadays. It is time this changed, as borage is remarkably versatile in the flower bed – fast-growing and undemanding, the plant is suitable for beginners. Borage is certainly a garden showpiece, rivalling many a magnificent garden shrub with its sky blue star-shaped flowers and hairy leaves. Both the leaves and flowers are edible, and their delicate cucumber aroma will enchant you. Use fresh edible flowers to enhance salads and cakes, as well as to make attractive little ice cubes for cocktails and other refreshing drinks.
19. Wax begonia
The wax begonia (Begonia semperflorens) is already a great choice for any garden on account of its delicate blooms and fantastic colours. And the flowers' refreshingly tart citrus flavour only adds to the sensation. Use them to add a citrusy twist to sweet delicacies like fruity desserts and punch bowls. As the wax begonia's leaves tend to be quite delicate, take care not to break them when you harvest the flowers.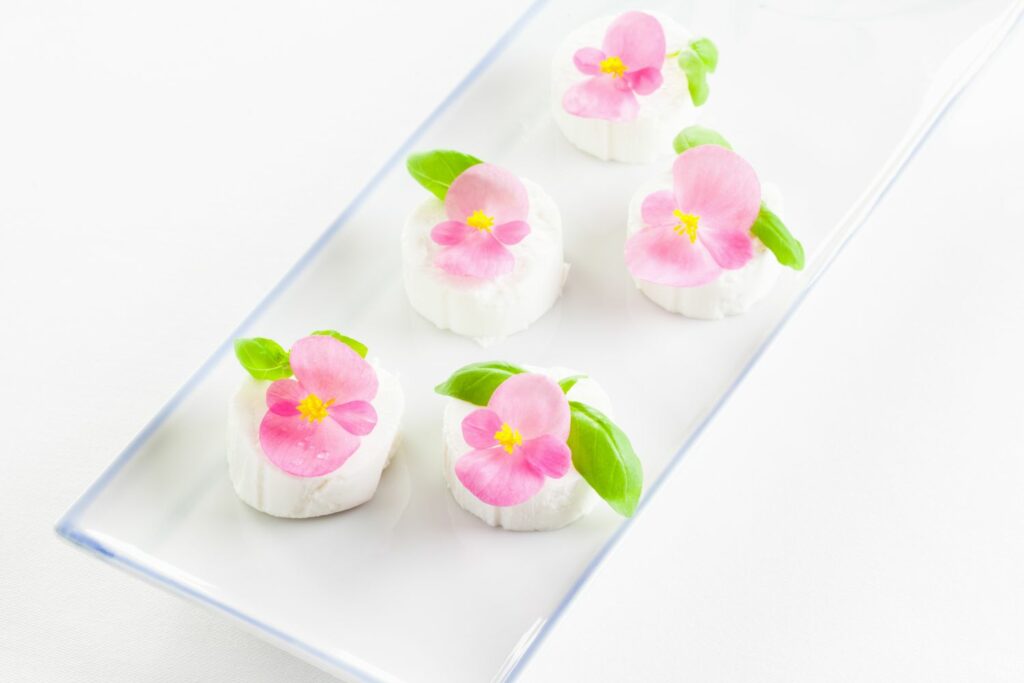 20. Violet
Edible violets (Viola) were once well-known as a candied delicacy – and the violet's flowers are still a pleasure to eat today. While all Viola flowers are edible, the sweet violet (Viola odorata) and the pansy (Viola × wittrockiana)are particularly delectable, as their flowers' lovely smell is accompanied by a delightful taste. Aside from candying, violets add a delicious touch to salads and taste lovely on their own. What is more, you can use these edible flowers as a garnish to bring their vision of loveliness from the garden to the table.
Edible flowers: recipe ideas and preparation
Before eating any of these delectable flowers, you will need to prepare them accordingly. Only use flowers from your own garden or ones that are explicitly sold for consumption. Do not eat flowers from plants you bought at garden centres or florists, as they have likely been exposed to pesticides. Shake the flowers briefly, then wash them in cold water and pat them dry – this will ensure you remove any dirt or remaining insects. Then carefully remove the stems, inner pistil, and outer calyx; as for roses, you can discard the flower's (often bitter) base.
From now on, there are no limits to your creativity: in salads, with meat or fish, as a dessert or pickled in oil – depending on the plant, you can use the flowers in an infinite number of ways. Freeze them in ice cubes or scatter dried edible flowers on your food and watch them steal the spotlight.
That being said, nature has more to offer than just the plants' flowers to turn your dish into a real showstopper. Discover the charm of edible ground cover plants – read on for our top 10.