Home remedies for dry skin: natural skin care from the garden
We are often told that pricey cosmetic creams are the only way to achieve healthy, glowing skin. But there are lots of natural alternatives that you can incorporate into your skincare routine. Here are some simple home remedies for dry skin using natural ingredients from your home and garden.
Many of us suffer the same problem in winter: cold and dry air can irritate our skin, often causing it to dry out. To relieve symptoms such as skin irritation, tightness and dryness, we are quick to turn to expensive creams and medication. This article will help you discover your path to radiant skin with the help of some simple recipes and tricks.
1. Aloe vera
Hardly any plant is as well-known in skincare as Aloe vera. Besides being an exotic houseplant for decorating our homes and a natural remedy for soothing sunburn, Aloe vera has also proven itself quite useful in winter. As a home remedy for dry skin, the plant can work true wonders: the moisturising gel can be easily extracted from the plant and applied to your face, hands and legs. Make sure you don't go outside straight after applying it though, as the cold air quickly draws out the newly absorbed moisture from your skin.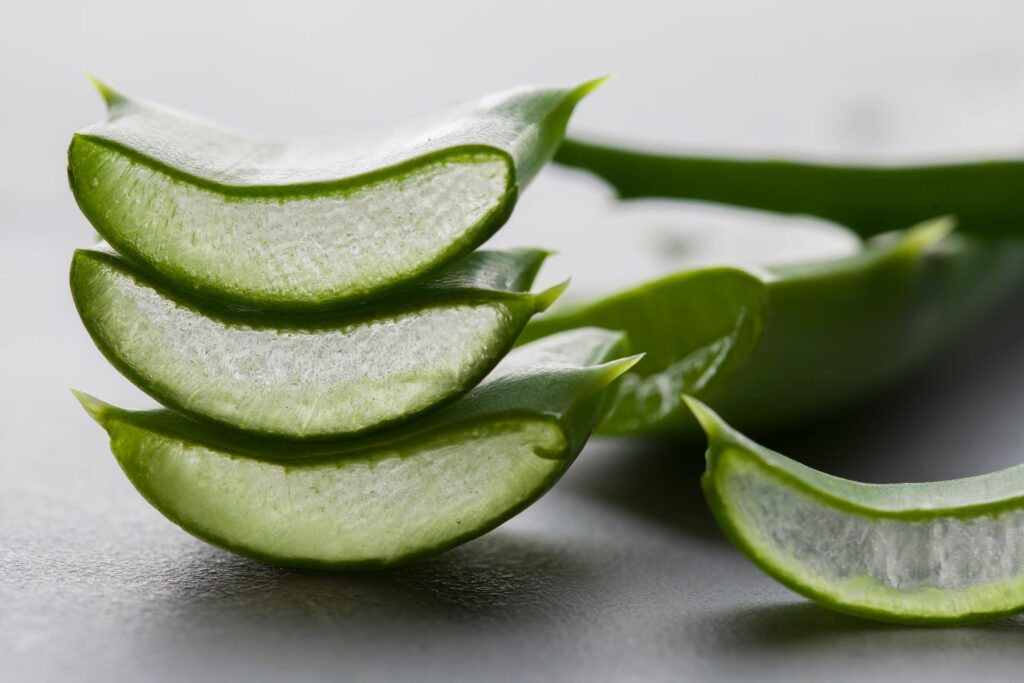 2. Carrots
We all know carrots (Daucus carota subsp. sativus) are a healthy addition to our diets in winter, but not our skin care, right? Well, you might be surprised to learn that the rich source of vitamin A and beta-carotene found in carrots is actually great for soothing stressed skin too. Especially for dry facial skin, this household remedy turns out to be very effective. For a natural "facial toner", simply juice two carrots (ideally organic) and massage it into the affected areas and rinse off after 20 minutes. However, a little caution is advised with this remedy, as frequent use may cause discolouration of sensitive skin.
3. Calendula
Calendula (Calendula officinalis) is a true classic when it comes to home-made skin care. Its essential oils have antifungal, anti-inflammatory and antibacterial effects which fuel skin regeneration. The flower is best-known for its use in calendula balm, which can easily be made at home. Simply mix 250 ml of extra virgin olive oil and 50 g of fresh, finely chopped flowers (if using dried flowers, only use half this amount). Simmer the mixture over a gentle heat for about 15 minutes. Then strain the oil-flower mixture through a linen cloth, leaving behind the flower residue. Add 25g (0,88oz) of beeswax to the strained mixture and reheat until the wax has melted, before bottling the balm. Once cooled, the balm should have solidified to a milky white colour. The healing and anti-bacterial properties of the calendula soothes irritated skin, while the olive oil hydrates the skin. The calendula balm has proven to be a particularly effective home remedy for severely dry cracked hands, feet and face.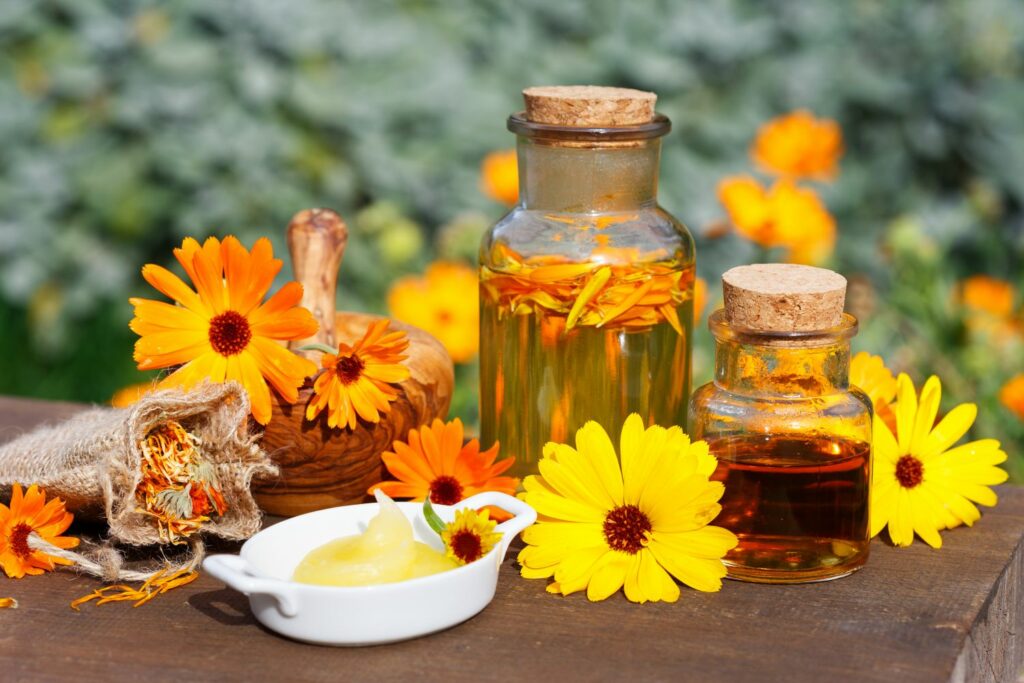 4. Honey
Not all of us are fortunate enough to have bees in our gardens. Those, however, who do keep bees or have access to natural honey can count themselves lucky: the healing properties of honey have proven to be a miracle worker for dry skin. Due to its antibacterial and soothing effect, honey can quickly remedy skin irritations. However, pure honey is never used on its own, but combined with moisturising ingredients in the form of masks or oils. For example, you can easily make an effective home remedy for dry hands. Simply mix one tablespoon of honey with two tablespoons of olive oil. Another treatment for dry skin is a face mask made of low-fat cottage cheese and honey, with lactic acid and honey restoring the skin's moisture. Furthermore, honey has proven itself as a popular cure for chapped lips, thanks to its pleasant taste.
5. Chamomile
Besides being used as a tea to aid digestion, and soothe stomach problems or simple colds, the medicinal plant chamomile (Matricaria chamomilla) also has positive effects on the skin. Its soothing and antibacterial properties can be a great remedy for dry and inflamed skin. Creams and lotions containing essential oils extracted from chamomile blossom are incredibly popular thanks to its soothing and moisturising effects. However, even simple chamomile tea can alleviate ailments too. Simply bathe your hands briefly in lukewarm tea and moisturise afterwards, as the plant only has anti-irritant and antiseptic effects, but not a very hydrating one.
If you suffer from dry skin patches on your head, why not take a look at our article on natural remedies for dry scalp.