Hardy plants for pots: the best winter container plants
Frost, snow, or sub-zero temperatures – which winter plants can survive these harsh conditions and flourish in pots? These 15 hardy plants for pots can stay outside whatever the weather.
Potted plants have always been popular with gardeners. This approach to gardening allows for flexibility. Whether you place the potted plants on your balcony, terrace or next to your front door, they can be a great way to create a lovely atmosphere and add a touch of beauty to your outdoor space. The only problem with potted plants is that they often need to be brought inside during the winter to avoid colder temperatures. For one thing, all this heavy lifting can be a strain, but finding space for the plants can pose a real problem too.
In this article we solve the problem of having to bring your potted plants indoors by recommending our 15 favourite winter hardy plants for pots that can be left outside during the winter months.
1. Japanese maple
Japanese maple (Acer palmatum) is a must if you want to add an oriental touch to your garden. The ornamental shrub is a gorgeous addition with its dark red leaves and autumnal effect. The Japanese maple never fails to impress. It is also low-maintenance and hardy; only requiring frost protection as a young plant.
2. Geraniums
Geraniums (Geranium hybrid), also known as cranesbills, have always enchanted us with their stunning flowers. And it's not just their beauty that makes them so popular, but the huge range of geranium species and varieties. What's more, the plant is extremely winter hardy and a real breeze to look after. This is why geraniums are often used as a low-maintenance ground cover, although they look great as a potted plant too.
3. Box tree
Although the box tree caterpillar has made this plant less popular in recent years, box (Buxus) are still a classic feature in our gardens. The evergreen plant is so popular because it is extremely tolerant to pruning, which is why it is often used in topiaries. Even in winter, boxwood is stunning and is one of the great hardy plants for pots.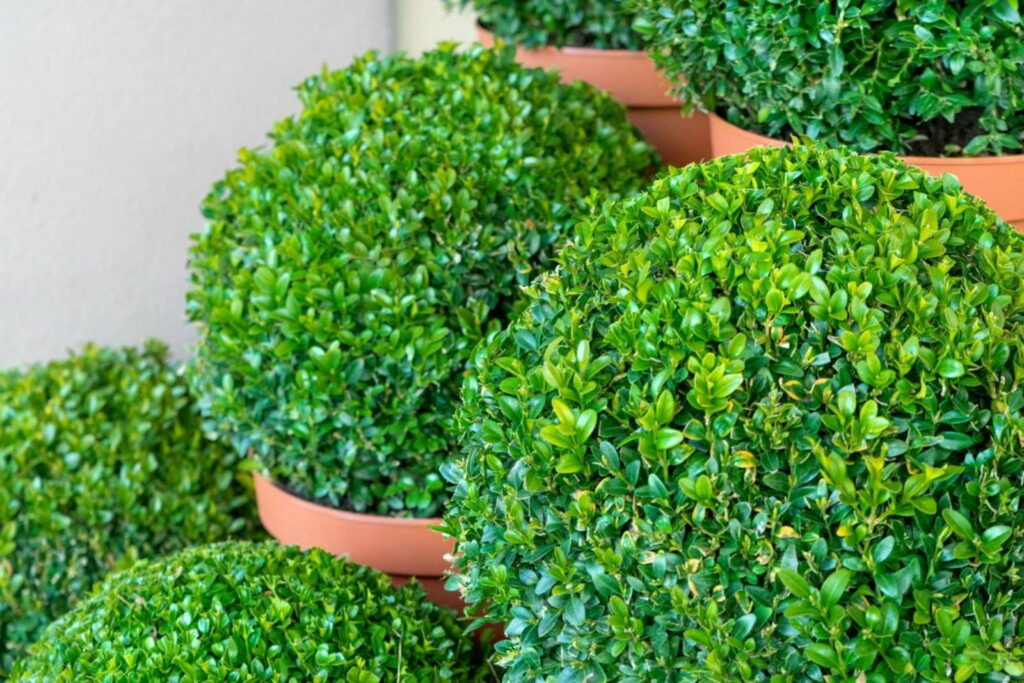 4. Lavender
Lavender (Lavendula angustiflora) is the epitome of a summer in the South of France. Its wonderfully intense aroma and the bright purple flowers make it just heavenly. Lavender can also be an effective insect-repelling plant, making it the ideal potted plant for your terrace or balcony. And it is not just a summer plant. Lavender can survive temperatures as low as -15°C, so it can spend the winter outside in temperate climates.
Tip: Before the start of the growing season in spring, give your potted plants a little fertiliser, such as our Plantura All Purpose Plant Food, to encourage a long flowering period.
Plantura All Purpose Plant Food
With a long-lasting effect, for healthy soil, child & pet friendly
5. Dwarf mountain pine
The dwarf mountain pine (Pinus mugo var. pumilio) is a small but impressive addition to your garden proving that size doesn't always matter. Reaching a height of just 1.5 metres, this winter hardy potted tree is nowhere near as big as its larger relatives, but this can have advantages. The dwarf pine fits perfectly into small gardens and can be a real focal point. Thanks to its alpine origins, the dwarf pine is extremely tough and can be kept outside as an easy-care container plant.
6. Lemon balm
Anyone who loves the sweet and sour taste of lemons should definitely give lemon balm (Melissa officinalis) a try. Lemon balm tastes delicious and can also be used as a medicinal herb. Since the lemon balm's aroma makes it an insect repelling plant, no balcony should be without it. Fortunately, keeping the plant outside is not a problem either as the lemon balm is extremely robust, helping it survive the winter. You can even continue harvesting lemon balm on frost-free days.
7. Holly
Most people are familiar with holly (Ilex) as a hedge, but probably not as a potted plant. In fact, the winter plant is actually very easy to grow in a pot. It looks striking with its red berries and interestingly shaped leaves, especially when trimmed as a ball or a short stem. Holly is a colourful evergreen plant that brightens up the dreary winter months and fortunately, it is frost resistant too.
8. Hydrangea
Hydrangeas (Hydrangea macrophylla) is a popular plant among gardeners because of its abundance of flowers and the diversity of hydrangea varieties. They come in a wide range of sizes, shapes and colours but they all share one feature – their spectacular display of blooms. Another of its key characteristics is the hydrangea's winter hardiness which makes it the perfect winter container plant. You can also use their dried flowers as a home decoration when cutting back hydrangeas in spring.
9. Korean lilac
Korean lilac (Syringa meyeri) not only looks amazing but also smells amazing when in bloom. With its many purple and pink flowers and delicate fragrance, the plant is a delight in spring for people and bees alike. The plant reaches a height of 1.5 metres and its winter hardiness also makes it an ideal potted plant.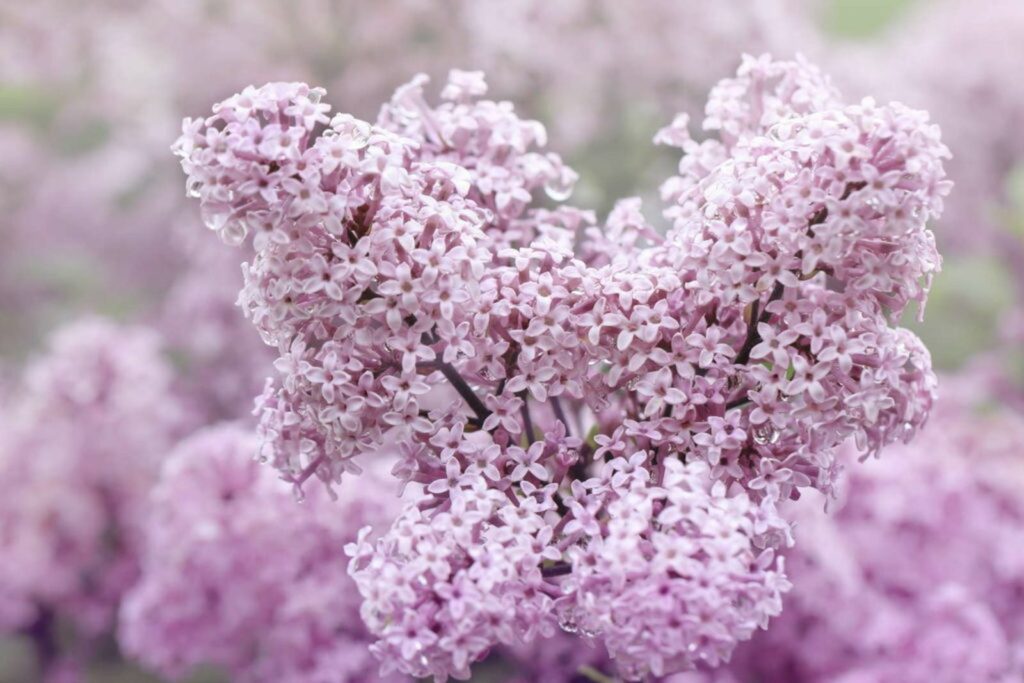 10. Japanese spindle
The Japanese spindle tree (Euonymus japonicus) is a real eye-catcher even when not in flower because of its evergreen foliage. Many varieties of the plant have yellow, white or green patterned leaves that do not drop in winter. Although the evergreen shrub is mainly used as ground cover, the leafy ornamental plant also makes a great potted plant as it is extremely frost-resistant.
11. Checkerberry shrubs
The fruits of the checkerberry (Gaultheria procumbens), also known as boxberry or teaberry, are poisonous but beautifully decorative! The fiery red berries grow in autumn and don't fall until spring. This makes the evergreen shrub a wonderful sight even in winter. The dark green foliage of the shrub, which sometimes turns bronze-red in winter, are not to be sniffed at either, so many people keep them in pots over winter.
12. Winter heath
Winter heath (Erica carnea) lives up to its name. Whilst most plants are in hibernation over winter, Erica carnea is still blooming in white and pink. Depending on the variety of winter heath, it flowers from December to April. It's survival in cold conditions makes it one of the most popular hardy plants for pots to keep outdoors in winter.
13. Ginkgo
Undemanding and yet beautiful – the ginkgo tree (Ginkgo biloba) is a lovely addition to any garden. This extraordinary tree is not just for large gardens; it also grows well in pots. Ginkgo is both hardy in pots outdoors and looks stunning, especially in autumn with intense yellow foliage that attracts everyone's attention.