Hanging plants for the balcony: the most beautiful varieties at a glance
Which hanging plants for the balcony are hardy? Which ones grow in the sun, in the shade or partial shade? And how much maintenance is required? Here is an overview of the best hanging plants for the balcony.
Balconies usually offer a very limited amount of space to cultivate plants. So, it is worth getting creative and using every bit of space available – including the vertical spaces! With an endless array of plants to choose from, it helps to narrow down which species and varieties are appropriate in advance. Read on to find out which elegant hanging plants are suitable for growing on your balcony and what you need to consider when doing so.
Hanging plants for sunny balconies
A south-facing balcony not only offers intense warmth in the summer, but it is also ideal for growing heat and sun-loving plants that can cope with sunny locations. But which hanging balcony plants tolerate sun well? Here are some of our recommendations:
Petunias
Some hybrids of Petunia can also be cultivated as hanging plants and are among the absolute classics. In a full sun to partially shaded location, they bloom between May and October in a wide variety of colours, some even bicoloured, and hang up to lengths of 80 cm. As petunias are not drought tolerant, they need moderately moist conditions, but should never become waterlogged. Regular fertilising and pruning are necessary during the flowering period. Petunia ˈNight skyˈ, Petunia ˈChocolinaˈ and Petunia ˈConchita Doble Blueˈ are among the most beautiful varieties.
Caution: Petunias are poisonous to humans and pets!
Tip: Calibrachoa can be cultivated in a similar way to petunias, but have a slightly more unusual appearance. They need a slightly more acidic soil which is easily achieved by applying a little acidic fertiliser, such as our Plantura Hydrangea Food. The varieties ˈCelebrationˈ, ˈSuperbellsˈ and ˈSweet Bellsˈ deserve special mention.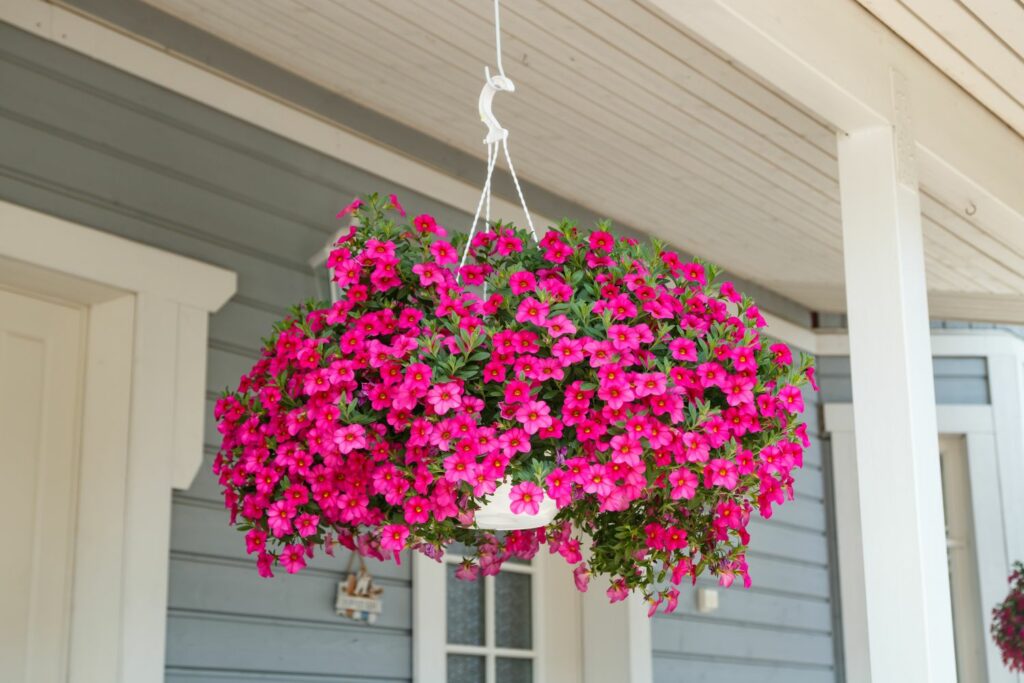 Verbena
Verbena is ideal for planting at the edge of a pot or box and will overhang from there by up to 50 cm. Due to its high-water requirement, you will have to water yours almost daily in the summer. With regular pruning and fertilising, verbena blooms continuously from May to October. It grows as an annual and is not hardy. Popular varieties include ˈLanaiˈ, ˈTemariˈ, ˈBabylonˈ and ˈTapienˈ, within which there are different varieties with different patterns and colours.
Black-eyed Susan
Thunbergia alata is usually grown as a climbing plant, but it is just as good as a hanging plant. Its striking orange, yellow, white, or pink flowers with black centres give it its distinctive name and enjoy full sun on the balcony from June to October. Black-eyed Susans are sensitive to wind and frost, so be sure to plant these flowers in a sheltered location. Due to their high nutrient requirements, regular fertilisation is necessary. Other beautiful varieties include ˈBlushing Susieˈ, ˈAfrican sunsetˈ and ˈBeauty spotsˈ.
Tip: Trailing verbena, black-eyed Susans and petunias all have high water and nutrient requirements. It is therefore necessary to water them regularly during the flowering period and to supply them with a high-quality liquid flower fertiliser once a week to meet their nutrient requirements. For this, you can use our Plantura Liquid Flower Food, for instance. Due to its organic formulation, it releases nutrients to the plant slowly and also introduces important trace elements.
Plantura Liquid Flower Food
Liquid fertiliser with an NK ratio of 3-4, for all flowering plants, promotes healthy plant growth, child & pet friendly
Blue fan flower
Scaevola aemula is particularly well suited to full sun locations. It forms hanging shoots up to one metre long and has high water and nutrient requirements. Blue fan flowers require a slightly acidic environment and should therefore be planted in a high-quality acidic soil like ericaceous compost. Given the right conditions and optimal care, these plants will reward you with continuous flowering. They also recover well if they happen to dry out for a short period of time. Popular varieties include ˈBlue Wonderˈ and the dark blue ˈBlue Lagunaˈ.
Hanging plants for shaded and semi-shaded balconies
Not everyone can enjoy a south-facing balcony with bright sunshine, but there are also hanging plants that are easy to grow on shaded and semi-shaded balconies. We especially recommend the following:
Begonia
Begonia boliviensis is another classic hanging plant for the balcony. It should be grown in the shade as its leaf edges will turn brown from too much sun and dry air. It does not tolerate direct midday sun. It flowers in a wide variety of colours from May to October, combining beautifully with other ornamental plants. Varieties have double or single flowers and hang over about 30 to 50 cm. Despite the water-retaining shoots and leaves, hanging begonias are not drought-resistant and require ample watering. However, they require very few nutrients. To discover some particularly pretty begonia varieties, see our article on the most popular begonia varieties. The so-called garland begonia ˈIlluminationˈ, which forms very long and flexible shoots, is especially striking and comes in a variety of colours.
Small-leaved ivy
Not all hanging plants have to produce colourful flowers. Hedera helix ˈMiniˈ is an attractive evergreen perennial. It grows very slowly and has small leaves that are perfect for underplanting or for using as a border. Ivy likes to grow in shady areas and likes it moderately damp. Avoid waterlogging and drought. During the growing season, fertilise every two weeks to promote healthy growth.
Blue rock bindweed
A real eye-catcher, Convolvulus sabatius features bold, sky-blue flowers and shimmering silver foliage. This annual plant flowers between May and September and prefers a bright location in partial shade. However, this beauty also requires special care. It does not tolerate drought or waterlogging and needs a steady supply of nutrients to grow. In general, the varieties differ only slightly. It is worth highlighting the variety Convolvulus sabatius ˈNeon blueˈ, which produces intense blue flowers.
Tip: Whether they are annuals or perennials, hanging balcony plants usually have high nutrient requirements that cannot be met by the potting soil alone. We recommend using a high-quality liquid fertiliser that can be easily applied by mixing into the water you use to water your plants. Our Plantura Liquid Flower Food, for instance, is excellent for feeding a multitude of flowering plants on the balcony. Furthermore, its nitrogen-potassium (N:K) ratio is well-suited to many of these ornamental plants.
Perennial hanging plants for the balcony
While most of our balcony plants are perennial, overwintering them can often be challenging. Caring for them like professional garden nurseries requires a lot of time and some experience. You also need a suitable location for overwintering, which is why most hobby gardeners do without it and only grow these plants once a year. And those who are willing to make the effort often find that the plants no longer look quite as nice the following year if they have not been properly overwintered, fertilised and pruned. A lack of light is also a problem which is often the case in domestic winter gardens, less so in large plant nurseries. Here are some less demanding hanging plants that are a little easier to overwinter:
Fuchsia
Especially in partial shade, Fuchsia hybrids come into their own with one or two colours and with shoots up to 50 cm long. They bloom between June and October and exude a pleasant fragrance. Fertilise and prune regularly while fuchsia are in bloom to encourage further flowering. They tolerate temperatures down to – 5 °C, but if it gets any colder, you will need to move your hanging fuchsia to its winter quarters. Fuchsias look great with more discreet ornamental plants.
Carnation
Dianthus caryophyllus grow in a striking way, first reaching about 30 cm tall before beginning to arch over. In a wind-protected and sunny to semi-shaded location, hanging carnations bloom between June and October. After flowering, they are cut back close to the ground and moved to a mild winter habitat.
Round- leaved oregano
Origanum rotundifolium tastes similar to the oregano we all know and love and can be eaten without hesitation. It produces hop-like, purple to pink flowers. With a bit of luck, round-leaved oregano may bloom again for a second time if you prune it after the first flowering. Common varieties include ˈPagonda Bellsˈ or ˈKent beautyˈ.
Trailing bellflower (Campanula poscharskyana) and moss phlox (Phlox subulat) are hardy and can therefore be grown as perennials for several years. Find out what these plants look like and how to care for them later in this article.
Tip: Perennials need repotting from time to time, otherwise they may begin to show signs of nutrient deficiencies. If you prefer not to repot annually, you can simply apply a slow-release, organic granular fertiliser, such as our Plantura Flower Food. This feeds the plant for a long period of time, maintains the quality of the soil, and extends the plant's lifespan.
Easy-care hanging plants for the balcony
Because of the stresses of everyday life, there is not always enough time to take care of our beloved balcony plants. However, with these easy-care hanging balcony plants, this is no longer an issue:
Geranium
This classic hanging plant for the balcony is quite undemanding as it does not mind temperature and humidity fluctuations or wind. Between May and October, Pelargonium peltatum forms overhanging shoots around 25 to 80 cm long – some varieties even 150 cm long – in a wide variety of colours. Hanging geraniums only grow as annuals and love sunny to partially shaded locations. Some beautiful varieties include ˈCascadeˈ and ˈVille de Parisˈ, which do not require pruning like most single-flowered varieties. Unfortunately, hanging geraniums are uninteresting for bees and other insects.
Moss phlox
Phlox subulata is an evergreen that feels right at home on a south-facing balcony and can even remain outdoors throughout the winter. With its plain or bicoloured blooms that flower between April and June, phlox is an extremely decorative hanging plant. The moss phlox is one of the lower maintenance hanging plants. It can tolerate drought and has moderate nutrient requirements, even when in full bloom. ˈBavariaˈ, ˈPurple beautyˈ and ˈKimonoˈ are some attractive varieties.
Trailing bellflower
Campanula poscharskyana is truly eye-catching with its white or blue, bell-like star-shaped flowers on shoots that can reach up to 60 cm long. In semi-shaded locations, this hardy flower blooms between June and September. Thanks to moderate water and nutrient requirements, it is very easy to care for, just avoid waterlogging. Popular varieties include ˈE. H. Frostˈ and ˈBlue Vineˈ.