Eurasian blue tit: the bird profiles
Blue tits are a wonderfully colourful, easily recognisable and lively species of tit. But when do they breed? What do they eat? What do their eggs look like? In this article, we answer all of your questions about the Eurasian blue tit.
The Eurasian blue tit (Cyanistes caeruleus) is one of the smallest and most common birds to visit our gardens. Despite weighing just 11 grams, this little bird is anything but inconspicuous. In fact, with its colourful plumage and lively behaviour, the blue tit is one of our most remarkable bird species. It is constantly on the move and even hangs upside down from thin branches in the treetops.
Eurasian blue tits: key facts
| | |
| --- | --- |
| Size | About 12 cm |
| Weight | About 11 g |
| Breeding season | April - May |
| Lifespan | Up to 5 years |
| Habitat | Woodland, parks and gardens |
| Diet | Insects and their larvae, seeds, berries (omnivores) |
| Threats | Decline in natural habitat and food supply |
How to recognise the blue tit
Blue tits are easily recognisable by their blue-green backs and pale yellow bellies. Further distinctive features include a dark vertical streak on their belly, a white face with narrow black eye stripes and a blue cap. The Eurasian blue tit is sometimes confused with the great tit (Parus major), which is slightly larger and has a black head. As the young of both blue tits and great tits look quite similar to their parents, they too can be identified early on by these characteristics.
What does a blue tit's song sound like?
Overall, the blue tit's call sounds very chirpy and bright. Their song begins with two clear, high-pitched sounds and ends with a trill: "Tsee-tsee-hihihi".
How to recognise a young blue tit
Even though young blue tits are not quite as vibrant and colourful as their parents, they are still easy to identify as blue tits. They have a subtle hint of blue-grey on their backs and white-yellow bellies. They also develop their characteristic eye stripe and cap, which is grey at the beginning, quite early on.
How to recognise a blue tit egg
On average, a female blue tit lays about 7 to 13 eggs per brood, although clutches of up to 19 eggs have been recorded. The eggs are cream-coloured with red speckles and about the size of a fingernail. They are laid one after the other and are only incubated once the clutch is complete.
How to tell the difference between male and female blue tits
Unlike many other bird species, there are no significant differences between male and female blue tits in terms of colouring. This makes determining an individual's sex extremely difficult. Male blue tits usually have a more intensely blue cap than females, as well as a slightly wider and darker black collar. However, these features vary between individuals and are not always apparent, especially to the untrained eye.
Which habitat do Eurasian blue tits prefer?
The blue tit's preferred and natural habitat is broadleaved woodland. Not only do woodlands provide plenty of nesting opportunities, but also an abundance of food in the form of insects and spiders. Despite the decline in their natural habitat, blue tits are found all over the UK (except for some Scottish islands) and are one of the most common bird species. They have proven to be extremely adaptable and now colonise man-made structures like parks and gardens.
Where do blue tits build their nests?
Blue tits are cavity nesters, so they build their nests in natural tree hollows and crevices. They use moss and small twigs to make their nests and pad them with animal hair and feathers. In the absence of suitable tree cavities, blue tits will get creative and find refuge in wall cracks, holey facades, or even old letterboxes.
When is the blue tit's breeding season?
The blue tit's breeding season begins around mid-April. The eggs are incubated for about two weeks and, after hatching, the young birds are fed in the nest for 16 to 18 days. After flying the nest, young blue tits are not yet experienced enough to look after themselves and so remain dependent on their parents for some time as so-called fledglings. After successfully rearing the first brood, blue tits will occasionally have a second brood, which can extend the overall breeding period up until the beginning of August.
Where do blue tits spend winter?
In the UK, Eurasian blue tits are resident birds, meaning they stay here over winter instead of migrating elsewhere. However, due to the scarce food supply during the cooler months, they may retreat to reed beds and feed on the insect larvae that overwinter there. It is also common for blue tits to band together and form roving flocks with other small birds in winter, sometimes hunting side by side with species such as great tits or even goldcrests (Regulus regulus).
Help the Eurasian blue tit!
Due to the progressive loss of their natural habitat, the blue tit, like many other bird species, is dependent on man-made habitats. Yet these often lack the kinds of structures ideal for blue tit nesting grounds, such as old trees with hollows and crevices. On top of this, food supplies are also becoming scarce, especially during the winter months. Read on to find out how to help support blue tits in your own garden by offering food and other nesting opportunities, for example.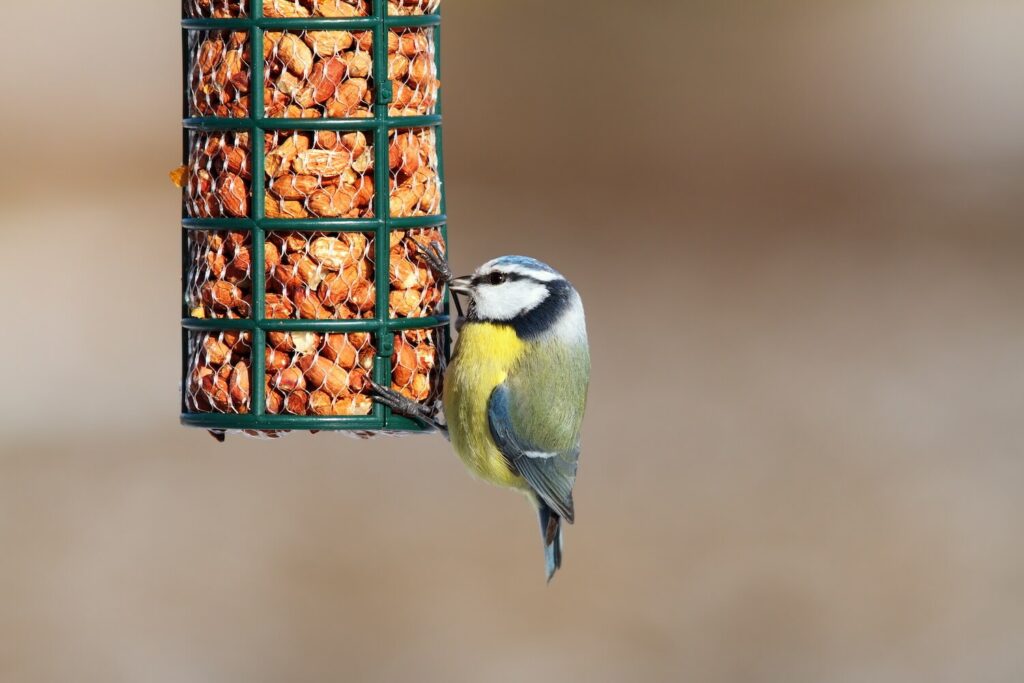 What do blue tits eat?
Blue tits mainly feed on insects and their larvae. Especially when raising babies, caterpillars make up a major part of the diet. However, they also consume various nuts, seeds, and berries and so they are considered omnivorous birds. If you would like to offer additional support in the form of store-bought food, look for bird food that contains sunflower seeds and crushed peanuts. Alternatively, you could also try your hand at making your own homemade bird food. One thing all tit species have in common is that they prefer hanging feeders. Fat balls are also popular among blue tits, but you should avoid buying those in plastic nets. These not only create unnecessary waste but are also dangerous to birds like the little blue tit as they can get tangled and injured in the netting.
Which nesting boxes are suitable for blue tits?
As blue tits are cavity nesters, opt for a nesting box that is closed from all sides except for a round entrance hole. It should, however, be possible to open it for the occasional cleaning. Nesting boxes suitable for all tit species have entrance holes of 32 mm. However, if you would like to support blue tits specifically (and avoid competition with the slightly larger great tit), choose a nesting box with an entrance hole of 26 to 28 mm.
What else can you do to help support blue tits?
There are a few things you can do to support blue tits that are nesting in your garden. You can lend a hand by ensuring that there is sufficient natural food available. Frequently, there are not enough caterpillars in gardens for blue tits to feed their young. Growing caterpillar food-plants such as stinging nettles (Urtica dioica), blackberry (Rubus), goat willow (Salix caprea) or blackthorn (Prunus spinosa) can help remedy this. Ideally, avoid using chemical pesticides in your garden as these are detrimental to caterpillar populations and can also be toxic to birds via the food chain.
Aside from offering extra food, placing a bird bath in your garden can also be helpful, particularly during the hotter months. Just check that the bird bath is shallow enough for birds to stand in and be sure to clean it regularly.
In general, anything that promotes an abundance of insects is simultaneously beneficial to blue tits. Planting an insect-friendly meadow offers a wide range of food and habitat for numerous insect species.
Creating an insect-friendly garden not only helps out blue tits – it also benefits other bird species, such as the great tit.