Common whitebeam: care, properties and varieties of Sorbus aria
In the past and especially in times of famine, common whitebeam was an important source of food. Find out all about this tree, including how to grow one in your own garden, and discover the different Sorbus aria varieties.
Common whitebeam (Sorbus aria) is an insect and bird-friendly tree. Read on to learn more about common whitebeams and get tips on planting, care and choosing a variety.
Common whitebeam: origin and properties
Common whitebeams are members of the Sorbus genus belonging to the rose family, Rosaceae. Some other well-known representatives of this family are the rowan tree (Sorbus aucuparia), wild service tree (Sorbus torminalis) and the true service tree (Sorbus domestica). Common whitebeams are widespread throughout Central and Southern Europe. They are found mainly along the edges of sparse, deciduous forests and on stony, sunny limestone slopes up to 2000 metres above sea level. On average, these small to medium-sized trees reach a height of 6 to 18 metres. When fully mature, their crown diameter is about 4 to 7 metres. Whitebeams grow well in the right environment and gain about 35 cm in height and 25 cm in width when young. These expansive trees can reach up to 200 years old.
Common whitebeam leaves are up to 12cm long and ovoid in shape with toothed edges. The young shoot leaves are white and velvet-like at first, but later turn an olive green to red in strong sunlight. The foliage turns yellow in autumn and stays on the tree for a long time. Whitebeam flowers are very fragrant and appear between May and June in large, broad umbrella-shaped panicles. The numerous white, five-petalled flowers nestle together and provide hungry insects with nectar and pollen.
After pollination, tiny spherical berries form over the course of the summer. Whitebeam berries ripen in October, then become soft and turn an orange-red colour. Common whitebeam seeds look like apple seeds and are light brown in colour.
Our favourite whitebeam species and varieties
Over the years, there has been some natural crossbreeding between the common whitebeam and its close relative the rowan tree. The resulting species are all self-fertile and can be propagated in a genetically stable manner, that is, from their own seeds.
Common whitebeam (Sorbus aria)
'Gigantea': This variety has large foliage and the strongest growth compared to the other whitebeam varieties. It can grow 8 – 12 m tall and is a popular park tree.
'Lutescens': The upper side of this variety's leaves has cream-coloured hairs. This cultivar reaches a height of 8 – 12 m.
'Magnifica': 'Magnifica' forms a conical crown and ovoid, orange-red fruits. This variety reaches a height of 6 – 12 m.
'Majestica': This variety has the same height as the wild form, but it produces larger, blood-red, ovoid fruits. The undersides of the leaves are silvery white.
Finnish whitebeam (Sorbus hybrida)
Also known as oakleaf mountain ash or Swedish service tree, the Finnish whitebeam grows into a small tree between 5 and 7 metres tall. This whitebeam species is a slow grower and only gains 10 to 15 cm in height per year. This tree's crown is very dense due to its steeply sloping shoots. Finnish whitebeam flowers are white, have a strong scent and appear in May. The variety 'Gibbsii' is best known for its large, red-orange fruits that ripen in August.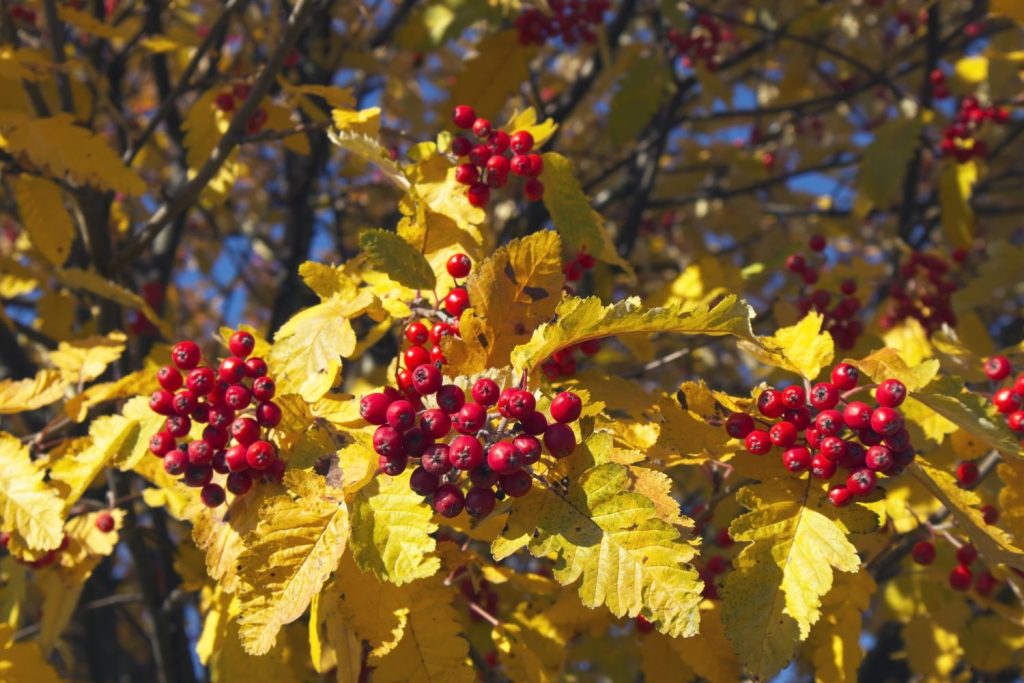 Swedish whitebeam (Sorbus intermedia)
The Swedish whitebeam is a natural hybrid and is found in Scandinavia and the Baltic States. Swedish whitebeams grow to a height of 10 to 12 metres. They have ovate to pinnately lobed leaves which clearly distinguish it from Sorbus aria. Although their brick-red fruits have a pleasant sweet-sour taste, Swedish whitebeams are mainly planted as ornamental trees in towns. 'Brouwers' is the only known cultivar and is known for its resistance to fire blight (Erwinia amylovora).
Bastard service tree (Sorbus x thuringiaca)
Bastard service trees are small to medium-sized trees with sparse crowns. The leaves are pinnately lobed and have small stipules at their base. This hybrid's berries grow up to 1.5 cm in size and taste sweet with a touch of acidity. The berries can be turned into many things, like jam, and are also eaten by birds when ripe.
Tip: If you have no room for a common whitebeam in your garden, opt for a dwarf whitebeam (Sorbus chamaemespilus) instead. This shrubby tree grows to a height of 1 to 2 m and produces pretty pink flowers in May. Dwarf whitebeams can also be grown in pots.
Planting and caring for common whitebeams
Common whitebeams grow to be quite large, so are only suitable for more spacious gardens. They are usually sold as whitebeam trees, but you can also find them in shrub form for wild hedges. In terms of location, whitebeams prefer to be somewhere warm and sunny to semi-shady in slightly acidic to very calcareous, well-draining soils. Dense or compacted soils prone to waterlogging are not suitable, but you can improve them by mixing in some high-quality potting soil, such as our Plantura Organic All Purpose Compost. This soil contains a high proportion of compost which promotes a healthy soil life while also improving soil structure and humus content. However, generally speaking, common whitebeams are not very choosy and can cope well in most places. They are also drought-tolerant and extremely wind resistant.
Organic All Purpose Compost, 40L
Perfect for all your house, garden & balcony plants
For strong & healthy plants as well as an active soil life
Peat-free & organic soil: CO2-saving composition
Planting common whitebeams
The best time to plant whitebeam trees is in late autumn once the foliage has died back. As whitebeams are hardy down to – 20 °C, they do not normally need any winter protection. Here is how to plant your own whitebeam:
Soil preparation: loosen the soil thoroughly, remove weeds, and work in organic matter if necessary
Planting distance: 2.5 – 4m
Dig a large planting hole and place the root ball in it
Fill with substrate and tread down lightly
Secure the sapling by tying it to some stakes with rope in the direction of the wind
Form a watering rim and water well
Spread mulch around the base of the tree or plant some perennial groundcovers
Common whitebeam care
Common whitebeams are easy to care for and do not require much attention. Water freshly planted trees from time to time during prolonged dry spells to help them establish themselves. If your whitebeam tree is not producing many flowers or sprouts, applying some compost or a slow-release fertiliser in spring can help. It is a good idea to fertilise your whitebeam if it is on poor soil to ensure the tree gets enough nutrients. We can recommend our Plantura All Purpose Plant Food that comes in a low-dust granular form and contains all of the most important nutrients. Over time, soil organisms gradually dissolve the fertiliser granules, effectively preventing leaching or nutrient overdoses.
All Purpose Plant Food, 1.5kg
Perfect for a variety of plants in the garden & on the balcony
Promotes healthy plant growth & an active soil life
Long-lasting fertiliser that is free from animal products - child & pet friendly
Although whitebeams tolerate pruning, they do not need it except when kept as wild hedges. If you want to keep your whitebeams small, they can tolerate a heavy pruning. Remove deadwood and diseased or damaged shoots from the crown regularly.
Whitebeams can be propagated by seeds, cuttings or grafting.
Common whitebeam diseases
Although common whitebeams are relatively robust, they can fall victim to the following diseases and pests:
Fire blight: a bacterial disease transmitted by aphids (Aphidoideae)
Apple tree canker (Neonectria ditissima)
Rust fungus (Ochropsora ariae)
Weevils (Phyllobius)
Rabbits, roe deer or fallow deer grazing
Is common whitebeam poisonous or edible?
Common whitebeam berries are edible and pose no risk to humans or animals. Unlike rowanberries, you can consume whitebeam berries raw as they do not contain parasorbic acid. Birds and small mammals like to eat the berries in autumn and winter, thereby contributing to the spread of this tree. After the first frosts of the cold season, whitebeam berries taste sweet and can be made into compote, jelly, purée or juice.