How to eat a kumquat: taste & tips
Kumquats are dense in vitamins – with twice as much vitamin C as an orange. Despite their healthy credentials, they are not as well known as other citrus fruits and you could be forgiven for wondering how exactly to eat a kumquat. Read on to find out!

The kumquat (Fortunella) − sometimes spelled 'cumquat' − belongs to the family of citrus fruits and is thus related to oranges (Citrus × sinensis L.), limes (Citrus × aurantiifolia) and so on. What is notable about kumquats is that they are much smaller than their vitamin C-rich relatives. Consequently, kumquats are not eaten in the same manner as other citrus fruits. In this article, we will go over the best way to eat kumquats, what nutrients they contain and how they can be used in the kitchen.
How to eat kumquats
Kumquats look like tiny oranges, but unlike oranges, these small fruits are eaten whole, peel and all. The peel is full of nutrients and tastes sweet and aromatic. Although they can be eaten whole, wash and dry them thoroughly before consumption. To really get the full enjoyment out of eating a kumquat, roll the fruit between your fingers a few times. This action softens the skin and releases sweet aromas, making the kumquat taste less bitter. The seeds are edible as well, but if you don't want to eat them, cut the fruit in half and remove them with a knife.
Summary: How to eat a kumquat
Wash and dry thoroughly
Rub between your fingers to soften and release aromas
If disliked, remove the seeds
Enjoy the kumquat peel and all
So, what do kumquats taste like? Kumquats have a similar taste profile to oranges, but with a special kick − the skin of the fruit tastes sweet, and the inside is tart. There are now several varieties of kumquats. You can also enjoy limequats (lime-kumquat hybrid) and sunquats (lemon-kumquat hybrid). Sunquats and limequats are eaten whole, just like kumquats.
What makes kumquats so healthy?
Small but mighty − kumquats have many health benefits and are a true superfood. This small fruit is high in nutrients such as vitamins, minerals and fibre.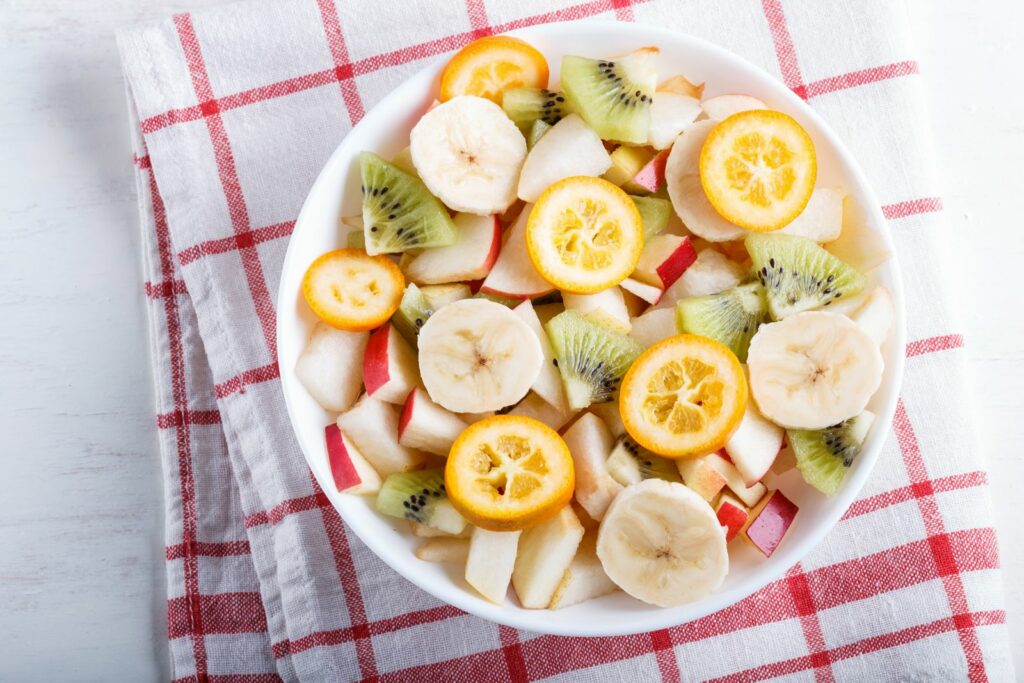 One-stop shop: kumquat nutrients
Vitamin C
Vitamin E
Vitamin B3
Sodium
Calcium
Potassium
Iron
Copper
Beta-carotene
You may find it hard to believe, but kumquats contain twice as much vitamin C as oranges. They help to strengthen the immune system and protect cells from free radicals due their antioxidant properties. Another reason why kumquats are so healthy is their high calcium content. Not only is calcium good for bones and teeth, but it also stimulates digestion and metabolism.
Using kumquats in the kitchen
Kumquats are just as versatile in the kitchen as oranges. They can be used in savoury recipes as a fruity component in salads or in sauces for poultry or lamb. As vitamin bombs, they are a fantastic healthy addition to desserts such as fruit salad or ice cream. Other kumquat recipes include kumquat compote, kumquat chutney or candied kumquats. A sweet and spicy kumquat chutney goes refreshingly well with cheese or meat. To make it, boil kumquats with apricots, carrots, onions, garlic, chillies and a sprinkling of sugar to taste.
Kumquats also pair well with spirits. A simple kumquat liqueur recipe is as follows: mix 500 grams of kumquats with the same amount of sugar. If desired, add some cloves, vanilla and cinnamon. Pour cognac or brandy over this mixture. After two weeks, it will be ready and you can enjoy your delicious kumquat liqueur.
Another popular use of the fruit is kumquat syrup. To make this, simply boil 250 grams of kumquat with 600 grams of sugar and six tablespoons of lemon juice.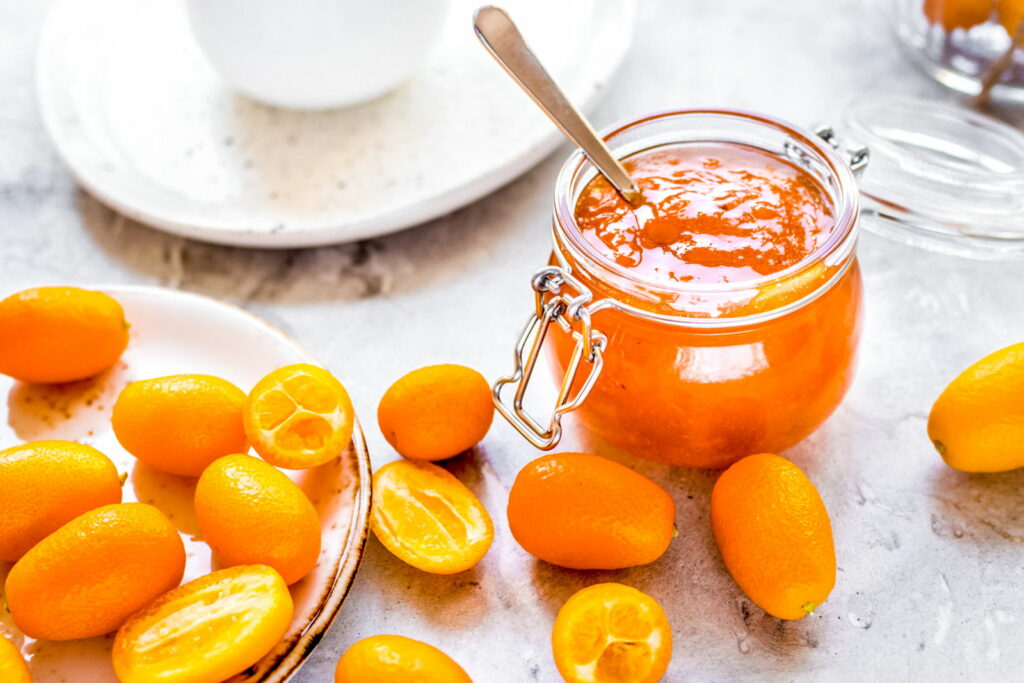 Kumquat marmalade is also particularly popular. The following is a recipe we recommend.
Kumquat marmalade recipe:
1.5 kilos washed kumquats, deseeded
4 to 5 oranges
2 lemons
1 kg sugar
1 vanilla pod
Wash and dry the kumquats and cut them into thin slices. Remove all the seeds with a sharp knife. Peel the oranges and lemons. Put the kumquats and the peels of the oranges and lemons into a large pot. Cut open the vanilla pod and scrape the seeds into the pot. Sprinkle the sugar into the pot as well, but do not stir. Let the pot contents boil over a low heat for three hours − without stirring. After the mixture has boiled down, divide it into jars.
If you just can't get enough of healthy fruit, you can find out more about some fruits that are high in vitamin C here.
Liquid Citrus Food, 800ml
Perfect for all citrus plants & Mediterranean plants
Liquid fertiliser for healthy plants & aromatic fruit
Quick & easy application - child & pet friendly