Daylilies: location, care & the most beautiful Hemerocallis varieties
With their enormous variety of flowers, daylilies add colourful accents to the perennial garden. The bright flowers are edible and also attract bees and other insects.
The genus of daylilies (Hemerocallis) is popular with amateur gardeners because of its ease of use and variety of flowers and varieties. Below you will learn how to plant and care for daylilies optimally to get numerous flowers in the garden.
Daylily: flowering time, origin and characteristics
Daylilies, with a large number of species, form the genus Hemerocallis and belong to the grass family (Xanthorrhoeaceae). Their natural habitat extends from Central Europe to East Asia, with the main distribution center in China. Today, they are also commonly grown in North America, where they can be found in gardens or running wild. The translation of the name of the Hemerocallis means "beauty of the day" and is translated in English as daylily. But where does the name come from anyway?
This is easy to explain, because each individual flower of the daylily is usually open only one day before withering. However, since up to 300 flowers appear per plant in each flowering season, the short-lived nature of the individual flowers is not noticeable.
The Hemerocallis species are perennial herbaceous plants and form clumps over time. Under the ground daylilies continuously form rhizomes, from which the bright green leaf shoots. Long, parallel-veined stem leaves form from the shoots near the ground, often slightly curved and tapering sharply toward the tip. Depending on the variety, they can grow from 20 to 120 cm long. In most species and varieties, the long and thin flower stalks are usually somewhat bent above the foliage. The large funnel-shaped flowers can be found in almost any colour apart from blue. The flowers of the wild species are yellow and orange. Red, dark red, red-purple, pink, almost white or multicoloured flowers are created by breeding.
Are daylilies bee friendly? Daylilies are bee friendly and are also enjoyed by many other insects. However, if you want to do something good for the little animals, you should not plant varieties with double flowers in your garden. These, in fact, do not provide food for the insects.
The most beautiful daylily species and varieties
In addition to the 20 or so different Hemerocallis species, there are more than 50,000 hybrid varieties that you can plant in your garden. To give a small overview, we present below some varieties and species:
Yellow-red daylily (Hemerocallis fulva): Also known as yellow-red daylily, it is one of the most popular wild species of the genus and can grow up to 150 cm tall. It blooms from June to July and is particularly well suited to the edge of a watercourse or a fresh to moist copse.
Yellow daylily (Hemerocallis lilioasphodelus): This species is also very popular and is called yellow daylily because of its yellow flower. The flowers smell of oranges and lily of the valley and bloom from May into June.
Lemon daylily (Hemerocallis citrina): The species known as lemon daylily also has yellow flowers, which it displays late in summer, and grows to about 80 – 120 cm tall. It has a strong scent of lemon.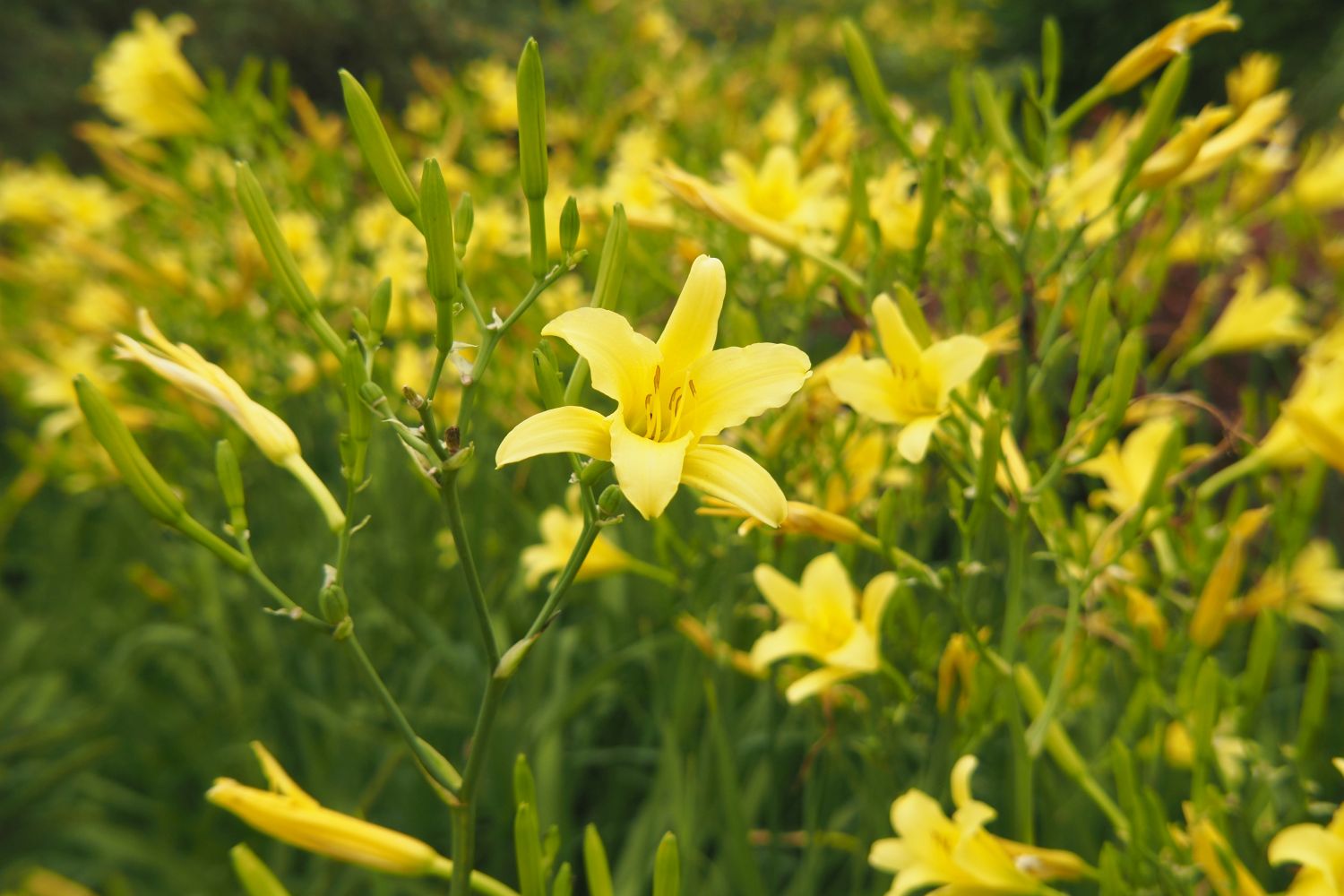 Hemerocallis 'Stella de Oro': This variety grows quite compact with 20 – 40 cm height and permanently forms yellow flowers from June to October. Their long flowering period makes them very popular.
Hemerocallis 'Crimson pirate': This daylily with striking red flowers reaches a height of 50 – 70 cm. It blooms from June to August and is very drought tolerant compared to other daylilies.
Hemerocallis 'Corky': The 'Corky' variety grows up to 75 cm tall and blooms in June and July. Its rich, lemon yellow flowers harmonize well with the dark green stems and create a sunny atmosphere. This variety can be beautifully combined with roses or lavender.
Hemerocallis 'Cherry Cheeks': This cultivar grows to 70 cm tall and develops showy purple flowers with yellow throat. This low-maintenance perennial blooms from June to July and will happily decorate your garden along with delphinium, tall moor grass and blue cranesbill.
Hemerocallis 'Burning Daylight': Another popular variety of daylily is the orange-yellow flowering variety 'Burning Daylight'. It grows up to 60 cm tall and adds a bright splash of colour to your garden.
Planting daylilies: location, sowing and more
Daylilies are best planted in a sunny to semi-shady location. They feel very comfortable in the flowerbed, in the open space, at the edge of the woods and some species such as Hemerocallis lilioasphodelus and Hemerocallis citrina also at the edges of water bodies. The soil should be permeable, rich in humus and from fresh to moist.
The optimal time for planting daylilies is early spring or, alternatively, autumn. For planting, dig a deep planting hole so that the roots have enough space. To provide optimal care for the daylily, it is a good idea to fill the planting hole with nutrient-rich compost such as our Plantura Organic Enriched Compost. It is a particularly suitable soil conditioner due to its high humus content, which has a positive effect on the nutrient as well as water balance of the soil. Then fill the planting hole with soil so that the base of the root is covered with soil about 3 to 5 cm. Finally, water the daylily. In order for the individual plants to develop optimally, a planting distance of 50 to 60 cm must be maintained.
Organic Enriched Compost, 40L
Perfect for all crops and ornamental plants with a high nutrient requirement & for raised beds
Improves soil quality & promotes healthy root growth
Peat-free & organic soil: CO2-saving composition
Our Plantura Organic Herb & Seeding Compost is suitable for sowing daylily seeds, as it provides sufficient nutrients for the seedlings while allowing optimal root growth. The seeds are covered with 0.5 cm of soil and then moistened well. Basically, there are two possible sowing dates. If sowing takes place in the fall, the seeds germinate only the following spring. Germination is supported by the cold stimulus in winter. Alternatively, there is the possibility of sowing in the spring from March. Here, at a sufficient temperature of 15 ° C, the seeds germinate within 2 weeks. However, because they lack the cold stimulus, they will rise slowly and not completely.
Daylilies in containers: If you want, you can plant daylilies in a container. Care is not significantly different from that of planted specimens. However, daylilies in containers require more frequent watering and repotting every 2 to 3 years to ensure optimal growth.
Daylily companion plants: Daylilies are best in small troops of a few plants in colourful perennial plantings such as cottage garden borders, but equally at the water's edge or in grassy areas. Suitable planting partners according to site preferences include flameflowers (Phlox spec.), delphiniums (Delphinium spec.), and three-master flowers (Tradescantia spec.), to name a few. It also combines well with grasses such as tall pipe grass (Molinia arundinacea). In addition, by cleverly combining different varieties of daylilies, you can enjoy the flowers throughout from the end of May to October.
Caring for daylilies: pruning and co.
The famous perennial breeder Karl Foerster is said to have once remarked that daylilies are the plants of the "intelligently lazy". In fact, they require very little care in relation to other perennials. Therefore, they can remain unplanted and undivided in the garden or container for many years and still produce beautiful flowers.
Pruning daylilies
If the daylilies have faded and the leaves are beginning to wilt, it is a good idea to cut the plants back to a height of about 20 cm. After pruning daylilies, if necessary, you can transplant. If you want to transplant daylilies, the rootstock should be dug up and divided into fist-sized pieces. Thus, the plants grow back much better. Also, it is beneficial to remove the faded inflorescences. This way, new flowers are formed faster, because the plant does not put energy into seed production.
Watering
Since daylilies prefer a rather moist soil, water regularly in the summer and do not let the substrate dry out. An additional layer of mulch is helpful, as it prevents the soil from drying out and suppresses the growth of weeds.
Fertilising daylilies
For a lush bloom, the high nutrient needs of daylilies need to be met. For this purpose, our primarily organic Plantura All Purpose Plant Food is suitable. This provides the daylilies with all the necessary nutrients and additionally positively affects the soil life in a natural way. Fertilize Hemerocallis once in the spring before budding and in the summer.
All Purpose Plant Food, 1.5kg
Perfect for a variety of plants in the garden & on the balcony
Promotes healthy plant growth & an active soil life
Long-lasting fertiliser that is free from animal products - child & pet friendly
Daylilies aren't blooming: what to do?
If the daylilies do not bloom, this may be due to several reasons:
Firstly, sometimes it is because the location is too shady. So, if other causes have been ruled out, it may help to replant the daylilies in a sunnier location in the spring.
Another reason for failure to bloom may be a lack of water supply. Therefore, especially in the summer should be watered regularly and keep the soil slightly moist.
In addition, if the daylilies have yellow leaves, there may be a nutrient deficiency that is causing the plants not to bloom. If this is the case, additional fertiliser should be applied.
Daylilies bloom only in the second year after sowing and may not bloom in the same year after division.
Finally, the daylily gall midge (Contarinia quinquenotata) can cause damage to the plant, resulting in failure to bloom.
Common diseases and pests
Overall, daylilies are largely spared from pests and diseases, but sometimes infestation can occur.
Daylily gall midge (Contarinia quinquenotata): Flower buds infested with daylily gall midge are easily recognised by a rather rounded shape. These infested flowers should be cut out regularly to reduce infestation.
Nutrient deficiency: Due to the high nutrient requirements of Hemerocallis species, regular and adequate fertilization is necessary as described above. Otherwise, nutrient deficiency symptoms appear, such as the absence of flowering or discolouration of leaves.
Are daylilies hardy?
All daylilies are hardy and can withstand temperatures as low as -35 °C, although some cultivars from the USA are somewhat more sensitive. If you want to play it safe during the winter, you can spread the leaves or other mulch materials on the rootstock in the fall, protecting the plants from heavy frost. If you cultivate daylily in a container, you should protect it from freezing through. To do this, wrap it with heat-insulating material and lift it off the cold ground with a pad.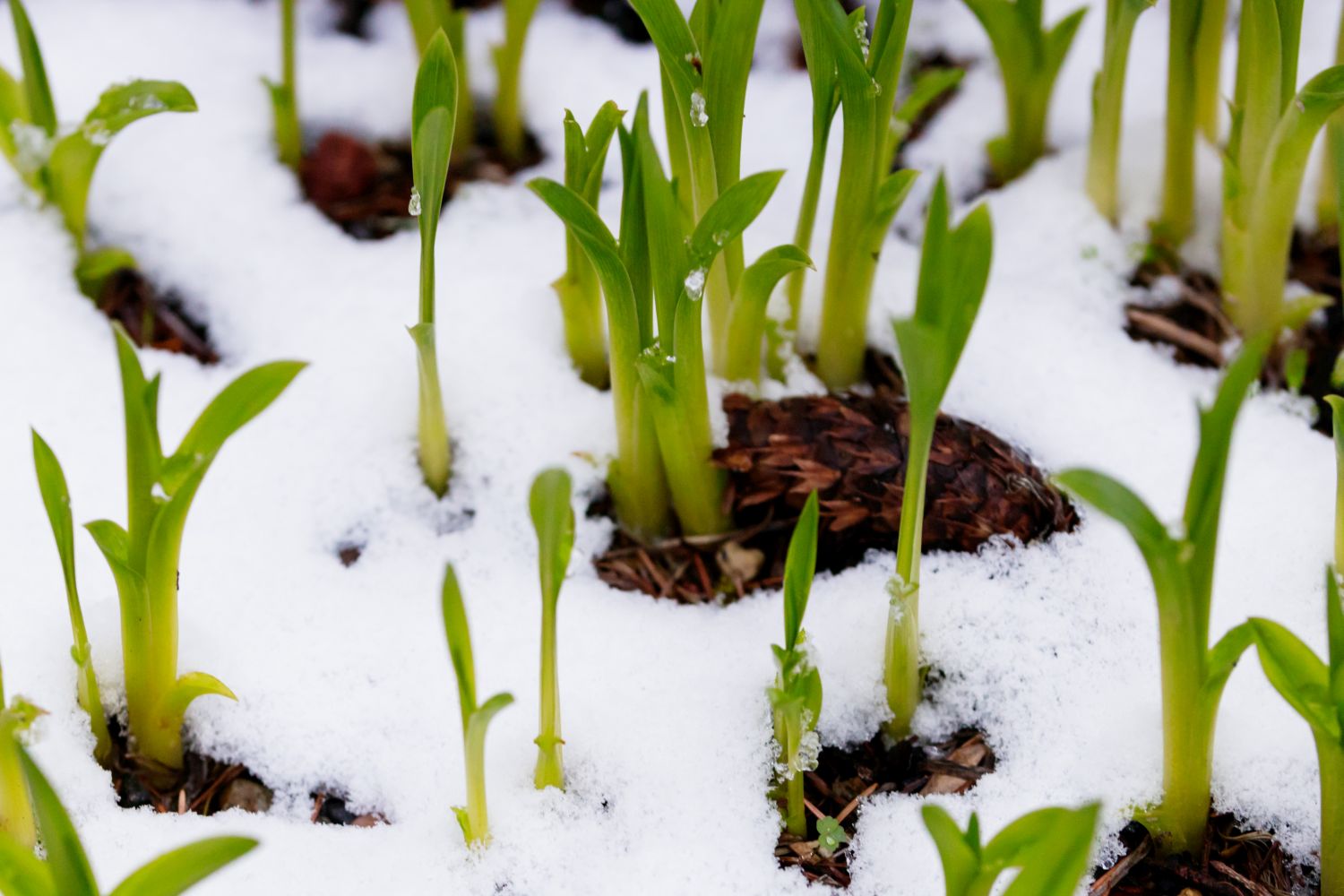 Propagation
Propagation of daylilies is quite simple. Suitable methods of propagation are division of the plant and propagation by seed.
Division of the root ball leads to varietal propagation. To do this, it is best to dig up the rootstock in early spring and cut off part of it with a sharp spade. After that, plant it in the desired place. After planting, make sure that the soil does not dry out for the next few weeks to ensure growth.
To propagate daylilies by sowing, the seeds must, first of all, be healthy. Because daylilies are not self-fertile, it therefore takes at least two genetically sufficiently different plants that also bloom at the same time. Harvesting ripe seeds should be done on a dry day, then the seeds can be dried either in the air or carefully on the heater. Since the daylily is a cold germinator, it is recommended to store the seeds in the refrigerator for a few weeks before sowing to overcome dormancy. In addition, soak the seeds in water for 1 to 2 days before sowing to accelerate germination, and then sow in shallow trays as described above. The seedlings with 2 to 3 leaves are pricked and transplanted outside from mid-March.
Tip: It is best to store the seeds in a bag with a piece of kitchen paper in the refrigerator. The cellulose absorbs the remaining moisture from the seeds.
In rare cases, pedicels also form in the leaf axils of daylilies. These can be planted as soon as they have formed roots in late summer. Be careful not to cut the pedicel too close. The stem gives additional support to the freshly planted plant.
Can you eat daylilies?
All parts of the daylily are edible and are not poisonous to humans or dogs and cats. The flowers are extremely popular in the Asian region and are eaten with pleasure. The use of mature leaves, roots and seeds of daylilies is rarely found in the kitchen.
Use of the daylily:
Its buds can be eaten raw, stuffed, boiled, fried, pickled or baked.
Blossomed flowers are used similarly to zucchini flowers.
The young leaf shoots and roots can be eaten well raw, the older mature leaves are better steamed or boiled.
The seeds are crushed or chopped and put over salad.
The seeds can be dried and then ground into flour.
You may discover more plants on your balcony or in your garden whose flowers can be used in the kitchen. Check out our dedicated article on edible flowers for our top 20 recommendations for your plate.